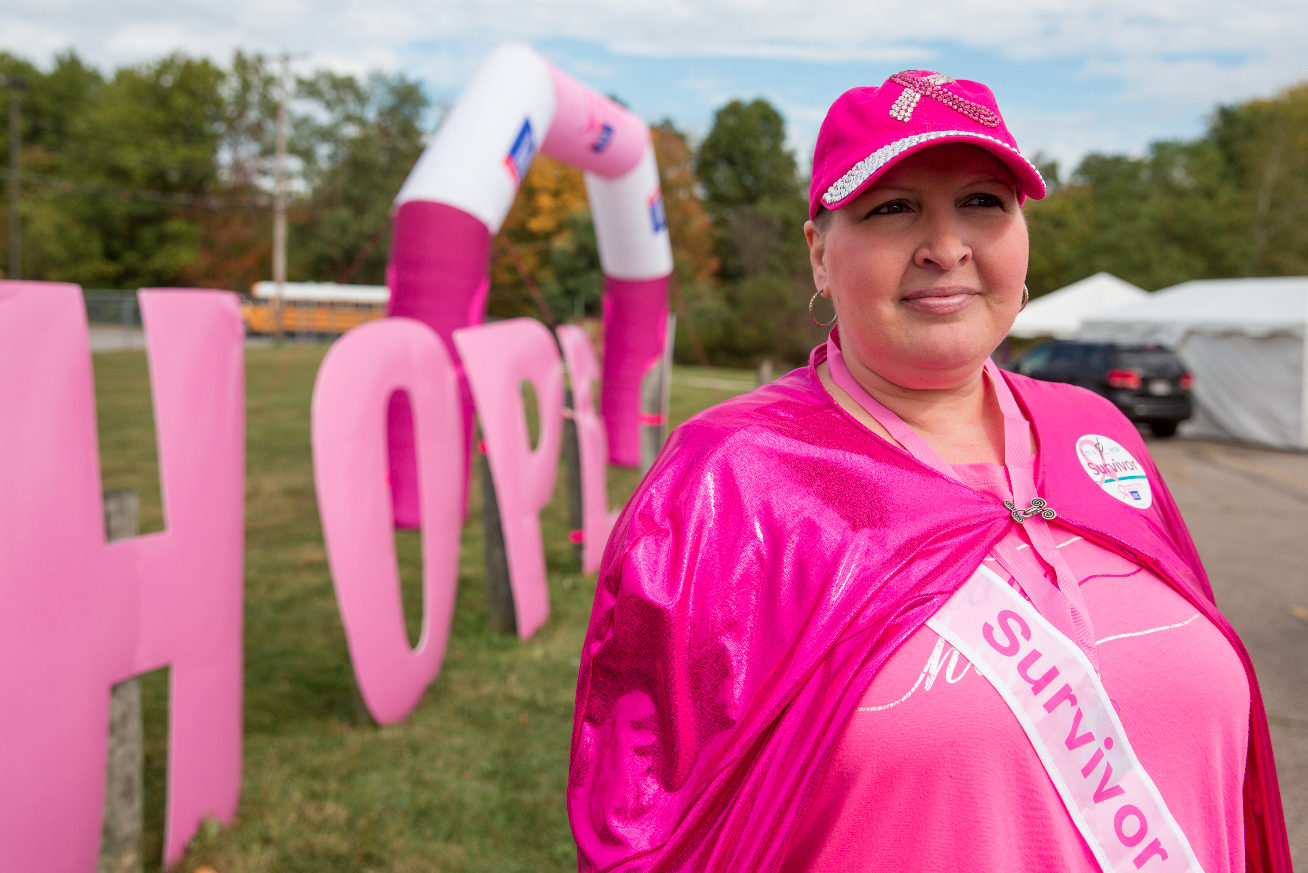 ---
By Sean Barron
AUSTINTOWN
Debbie Fay proudly displayed a handmade cape she wore, though it was much more to symbolize emotional endurance and fortitude than raw physical might.
"I've been described as one tough cookie," the Hubbard woman said about how she's handled the challenges of having to deal with breast cancer. "I've kept a positive attitude, which has been the key."
Even though she was diagnosed with the disease last December and has had to endure six rounds of chemotherapy and 23 radiation treatments – with seven more to go – Fay remains undaunted and determined to maintain such a state of mind while moving forward with her life.
She also moved forward with showing her support to men and women who have survived the disease and honoring those who have lost their battle to cancer by being part of Saturday morning's 2017 Tri-County Making Strides Against Breast Cancer walk and run at Austintown Fitch High School.
Main event sponsors were the American Cancer Society and Walmart.
An estimated 30 teams with names such as "Forever Fighting with Debbie" and "April's Avengers" made up the 3-mile walk and run, which largely was to support survivors, remember those who have lost their battle with breast cancer and raise awareness of the disease, noted Kathy Hoffman, event chairwoman. A primary goal was to raise $40,000 on behalf of the American Cancer Society for research, education and mission work, Hoffman explained.
Also, October is Breast Cancer Awareness Month.
"I'm honored to have our community come together to celebrate our breast cancer survivors," said Sydney Campanaro, community manager for the American Cancer Society's Akron facility. Last year's walk brought in $61,000, she noted.
Fay had no idea she was sick until a routine examination revealed a lump, she recalled. From there, she received tests and treatments at the Joanie Abdu Comprehensive Breast Care Center and Mercy Health at St. Elizabeth Youngstown Hospital, and she had nothing but praise for both.
Also at the walk and run was David Sisk, a co-founder of the Kul Open Foundation, who lost his mother, Marie Sisk, to breast cancer in 1996.
The foundation hosts golf tournaments each year on the second Saturday in July at Pine Lakes Golf Club in Hubbard to celebrate and support survivors and remember those who died from the disease, he explained. The golf scramble was named after Ron "Kul" Mikula, who lost his battle to cancer in 1995, Sisk continued.
Since its inception, the event has raised more than $200,000 for the American Cancer Society, said Sisk, who came to the walk and run with his twin brother, Jim Sisk, a cancer survivor.
Before the walk, men and women cancer survivors were recognized and honored. The gathering also included a disc jockey, a Zumba class, T-shirts and other merchandise for sale, an auction, face-painting and a booth for survivors to share their stories. In addition, a small fence was set up to allow participants to affix ribbons to remember loved ones battling cancer or who have died from the disease.
Receiving a diagnosis can be traumatic for many people, and compounding that feeling for some is the sense that they're fighting it alone. Nevertheless, it's critical that people who have cancer realize that plenty of advocacy and help are out there, Fay stressed.
"Realize that there's a lot of support and that you're not alone, and friends, family and the community will rally around you," she advised. "Seek support, and you will find it everywhere. Embrace people who want to embrace you, and stay focused on the love you're getting."
For additional information and resources, go to www.cancer.org or call the ACS' cancer help line at 800-227-2345.