Couple rounding in on 50th state for long-distance bike ride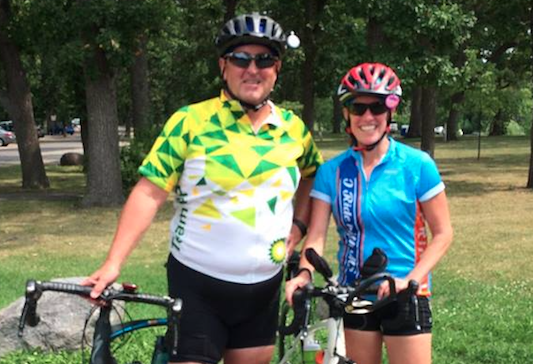 ---
By Billy Ludt
YOUNGSTOWN
Koreen Burrow rode in her first Bike MS event simply because she wanted to see if she could do it.
Despite being diagnosed with multiple sclerosis, Burrow has remained active. Living in Alaska at the time, she frequently hiked, backpacked and rode mountain bikes.
A long-distance road biking event was something she'd never done. After doing a training regimen with a friend, Burrow completed the distance ride on a borrowed road bike.
That first ride was about 10 years ago. On Saturday in Sunset Beach, N.C., Burrow and her husband, David Fox, took a two-day, 150-mile Breakaway to the Beach, marking the 50th state the two have participated in Bike MS rides.
"It's kind of surreal right now," Burrow said in an interview before the ride. "We're literally driving to our 50th state, and we weren't sure if we'd get there. We're sad that we're going to have to keep riding, in a way, because there isn't a cure. We're ready to keep supporting MSS [Multiple Sclerosis Society] until there is a cure."
Burrow and Fox grew up in and were married in Ohio. They moved back to the Buckeye State and lived in Canfield for about a year and a half in 2014.
There they met the team with Pure Cycle Studios, 4120 Boardman-Canfield Road, Canfield, which also has participated in a number of Bike MS events. Owners Shelly and Chuck Colucci joined Fox and Burrow for their 50th state ride.
Burrow and Fox live in Las Vegas during temperate seasons and spend summer months traveling the country in a camper, volunteering and riding in Bike MS events.
"For me, the exercise is a really important part to manage my MS, and it's given me a purpose to give something back to those who are not doing as well as me," she said. "To share our story, I hope it gives other people hope to continue to stay active."
For people with MS, exercising is necessary. Inactivity can lead to flare-ups in a number of symptoms, but cardiovascular and aerobic exercise can help deter them. That's where riding bikes comes in.
National Multiple Sclerosis Society organizes distance bike events in the U.S. year-round with Bike MS. Participants can ride any length they are able. People are able to make donations to individual riders or teams through www.nationalmssociety.org.
For the near decade Fox and Burrow have ridden in Bike MS events, they have garnered a crew of cyclists that will join them in rides across the nation.
Fox has a tattoo on his leg for each state the couple has ridden in Bike MS events. The tattoos are a symbol to remind Fox and Burrow of something from each state, and, he said, it's a way to make sure they don't double down on states.
Burrow and Fox are making preparations for a six-month hike on the Appalachian Trail in 2019 to continue raising money for MS, their largest endeavor in both length and time.
More like this from vindy.com