Common Wealth opens cooperative office space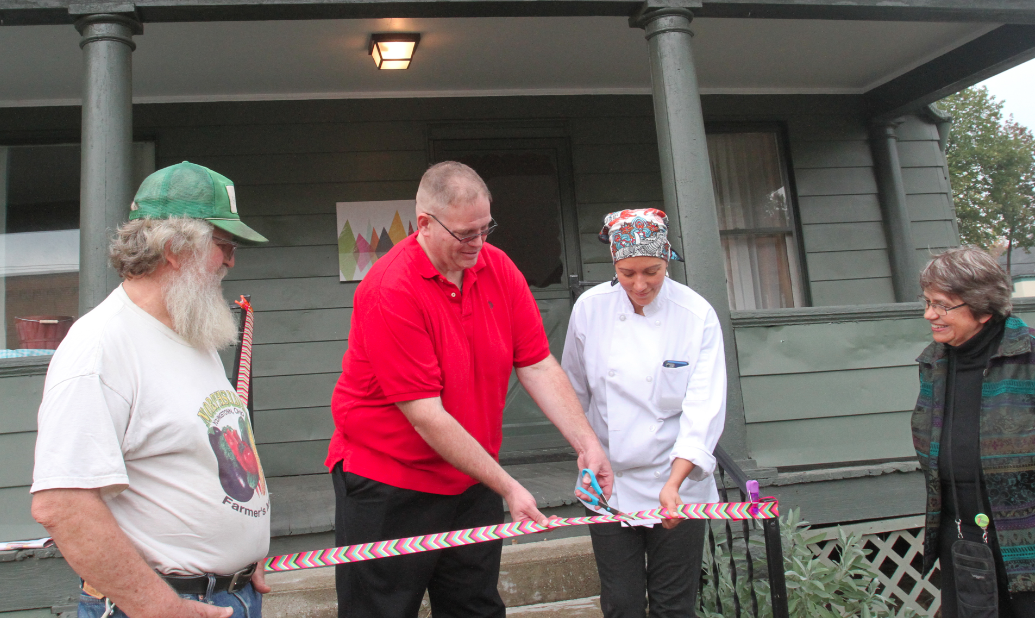 ---
By Billy Ludt
YOUNGSTOWN
A newly opened cooperative workspace on the North Side will provide amenities for new business owners, freelancers and start-ups seeking access to office space.
Common Wealth Inc. opened the doors to its latest incubator, the Co-Work Center, 906 Elm St., in a ribbon-cutting ceremony Friday. Co-Work will join a strip of Common Wealth's businesses on Elm Street, including the Common Wealth Kitchen Incubator and Lake to River Food Cooperative.
"It saves people money, rather than buying an official office," said Jim Converse, regional economic development coordinator at Common Wealth. "It's very affordable space, as is the space in the incubator, too."
Previously a home, Co-Work converts living space into a functioning office with wireless internet access, meeting rooms, printers, storage and desks. The shared-use workspace can be rented by day, week and month.
"We're really proud to be part of revitalizing this neighborhood between Wick Park and the university," said Pat Rosenthal, executive director. "We think that it's just at the tipping point and that we see more and more people walk by."
The Kitchen Incubator has assisted a number of food-based start-ups and in many cases created sustainable careers for its clients. The same idea goes for Co-Work, which, Rosenthal said, can provide clients with affordable space, privacy and equipment they need to start their business.
"We have a lot of people who have both put time in and helped make part of their living out of these efforts here, and that's our whole idea is to have locally based jobs helping meet the food-service needs of our region," Converse said.
Common Wealth has made it a mission to sustain economic development in the Valley by means of cooperative businesses, business incubators, farmers' markets and creating awareness for availability of foods grown in the area. Their Cultivate: A Co-Op Cafe boasts a menu of dishes containing ingredients that are locally sourced.
Rosenthal said, however, that Co-Work will not solely serve clients with food-based businesses.
Opening Co-Work was a kickoff to the Elm Street Fall Festival. Food and live entertainment will be available all weekend at the festival. Rev's Ribs BBQ, a business born out of the Kitchen Incubator, will park its food trailer on Elm Street for the duration of the festival.
Today there is a corn roast from 11 a.m. to 4 p.m., and the Northside Farmers Market has extended its hours to 10 a.m. to 2 p.m.
More like this from vindy.com