Waid, Indians crush Warriors
Brookfield vs Girard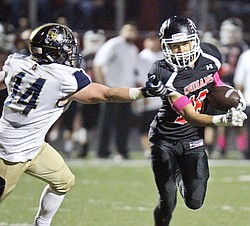 Gallery
Girard QB accounts for 381 yards, 4 TDs
By BOB ETTINGER
GIRARD
Immediately following a game, Girard quarterback Mark Waid probably won't be able to recite any stat beyond what the scoreboard tells him
But he will, however, be happy to talk about how hard his teammates have worked and how easy they make his job, as he did following the Indians' 56-7 victory over Brookfield at Arrowhead Stadium on Friday night.
Photo Gallery: Brookfield vs Girard
"[The offensive line] played amazing tonight," Waid said. "It starts in the offseason. I've never seen anyone work so hard. It makes me emotional. It shows on the field now. I have all the time I want to throw the ball. I have open lanes to run. They're a special group."
Waid amassed 310 yards and two touchdowns on 19-of-27 passing and ran for 71 yards and two more scores in leading the Indians (7-0). It was his teammates, though, that he was happy to mention.
"I'm only focused on the scoreboard," Waid said in regard to his own stat line. "The whole week, we've been clicking. They were motivated to go out and do what we did. Everyone did a tremendous job. The other 10 guys performing the best they can makes my job easier. Give me Michael Belcik and Anthony Backus and my job's easy. The offensive line made it easy."
Belcik caught eight passes for 128 yards and a touchdown and Backus added four receptions for 95 yards and a score. Three other players had two catches each and another had one.
"The best part of this team is we have 20-some guys making plays," Girard coach Pat Pearson said. "A lot of guys are making plays and that makes it fun. They all love to support each other. It's a fun group to be around."
"[Waid] reads the defense very well and he gets rid of the ball when he's supposed to," Brookfield coach Randy Clark said. "He's got a gun and he's got a good supporting cast. They also have a nice line."
The Warriors (2-5) used 16 plays and the first 6:54 of the game to march 79 yards for a touchdown. Alex Clark did the heavy lifting with 11 carries for 56 yards while quarterback Haden Gibson scored from three yards out for the early advantage.
"When they went to man coverage and loaded up the box, we had some trouble," Clark said. "We don't throw the ball well, but we did move the ball."
Alex Clark finished with 131 yards on 30 carries.
Waid scored on a 2-yard run and it was 7-7 through 12 minutes. Belcik caught a 10-yard strike from Waid and A.J. Clardy scored on a 20-yard scamper to make it 21-7 at the break.
Clardy returned the kick to open the second half 68 yards for a score, Waid ran 22 yards for another, Backus took a pass 35 yards for a 42-7 Girard lead and Daryl Smith rumbled six yards to make it 49-7 heading to the fourth period.
Jordan Culver added the exclamation point for the Indians in the fourth.
"We didn't have a good week of practice," Clark said. "Our first five games were a gauntlet then we had this team. I'm proud of the kids. They played hard. It's hard to block eight guys with five. That's a good team. My hat's off to them."
More like this from vindy.com