Boardman snaps three-game skid with O'Horo TD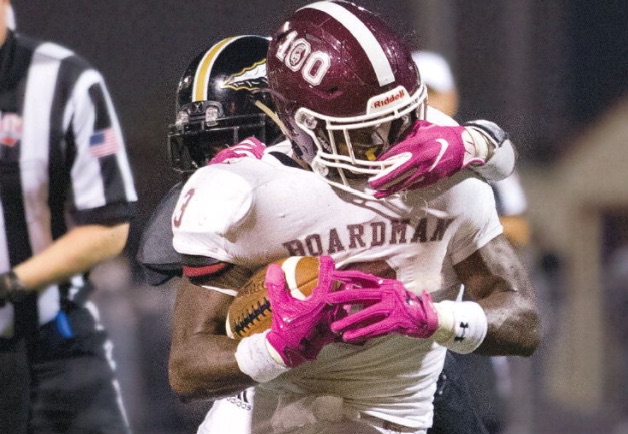 ---
Harding vs Boardman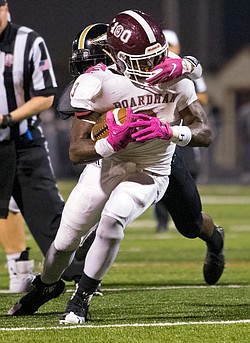 Gallery
Boardman snaps
three-game skid
with O'Horo TD
By MIKE McLAIN
WARREN
Fans in attendance at Mollenkopf Stadium on Friday night had double the pleasure.
While many were undoubtedly glued to their phones following the extra-innings exploits of the Cleveland Indians' win over the New York Yankees, they also kept close watch on an entertaining All-American Conference Gold Tier game between the Warren Harding Raiders and Boardman Spartans.
The Raiders made it exciting with a second-half comeback from a 15-point deficit to tie the score, but the Spartans had the final celebration when quarterback Michael O'Horo scored on a 1-yard sneak with 33 seconds remaining to give the Spartans a 28-21 win.
Photo Gallery: Harding vs Boardman
Boardman (4-3 and 1-0 in the Gold Tier) began the deciding drive from its 20 with slightly more than five minutes on the clock. Spartans coach Joe Ignazio mixed the runs of O'Horo and running back Domonhic Jennings, along with a couple of jet sweeps by Maurice Pickard and Noah Falleti to drive 80 yards on 11 plays.
"Our offense did a great job of responding that last series to take it 80 yards," Ignazio said.
The drive summed up the success the Spartans enjoyed throughout play in accumulating 320 yards of offense, including 294 rushing yards on 54 carries. The 202-pound Jennings was a workhorse, rushing for 154 yards and one touchdown on 28 carries. O'Horo added 99 yards and three touchdowns on 22 carries.
"We knew we had to win this game," Jennings said, obviously thinking of the three-game losing streak the Spartans had been on. "We knew we had to be 4-3 tomorrow. We knew we had to push each other. Like coach said before the game, 'We have to love each other.' We had to get into the end zone. The line did what it had to do, and we got in."
It was a tough loss for the Raiders, who are 1-5 and 1-2 in the Gold Tier. Harding managed just six points in the first half on a 75-yard punt return by Jeremy Wilson, but coach Steve Arnold made things interesting by changing his offensive game plan in the second half.
Instead of using quarterbacks Chris Chew and Sterling Frazier, as he had in the first half, Arnold went with a "wildcat" formation featuring running back Kayron Adams at quarterback. Adams ran the read-option with Geivonni Washington, who ran with authority. Washington, who had 90 of his 99 rushing yards in the second half, scored on runs of 6 and 13 yards after the Spartans had opened a 21-6 lead, and he tacked on a two-point conversion to tie the score at 21-21.
"We had basically our two best offensive players behind our offensive line, and it gave us some success," Arnold said. "We just needed a change. Obviously it helped, but it didn't help enough."
The Spartans took a 7-6 lead after Wilson's punt return on a 2-yard run by Jennings at the 2:06 mark of the first quarter. Tommy Fryda made the extra-point kick.
Boardman continued to move the ball successfully on its next possession, which resulted in a 2-yard touchdown run by O'Horo. Fryda's point-after kick gave the Spartans a 14-6 halftime lead.
It appeared that Boardman might pull away in the third quarter when O'Horo followed strong blocking up the middle on a 13-yard scoring run. Fryda's kick gave the Spartans a 15-point cushion.
"They [the Raiders] are still a good football team," Ignazio said. "They have skill that we don't see often. I know they're bit by the injury bug themselves. This place is hard to win. To win on the road is important, and that will help us in the long run."
More like this from vindy.com