Big second quarter lifts McDonald over rival Ridge
McDonald vs Mineral Ridge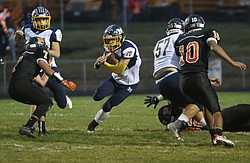 Gallery
McDonald vs Mineral Ridge
By Steve Ruman
MINERAL RIDGE
For the first quarter of Friday night's game between McDonald and Mineral Ridge, the Blue Devils and Rams resembled a pair of boxers trading blows while trying to get a feel for one another.
In the second quarter, the Blue Devils delivered the knockout blow.
McDonald scored 28 second-quarter points and rolled to a 48-6 win over its backyard rival.
With the victory, the Blue Devils move to 6-1 (4-0 in the Mahoning Valley Athletic Conference). Mineral Ridge falls to 4-3 (2-2).
Junior running back Alex Cintron rushed for 148 yards and three touchdowns, and for good measure he tossed a 12-yard touchdown pass just before halftime that put the Rams on the mat for good.
Cintron's pass to the end zone on a sweep play found a wide open Tyrese Johnson, giving the Blue Devils a 28-0 advantage with 28 seconds left before half.
Photo Gallery: McDonald vs Mineral Ridge
"I feel like if I wasn't five-foot-five I could be a quarterback," Cintron said. "We noticed when we were sweeping, (Mineral Ridge) was pressing the corners pretty hard, so the coaches put some trust in me to throw the ball, and I was fortunate to deliver."
"I absolutely love to run behind this line, they are great. But getting to throw like that was pretty cool."
McDonald opened the scoring on the first play of the second quarter on a Josh Celli (14 carried, 66 yards) four yard run.
The Blue Devils' next possession belonged to Cintron. He returned a punt 70 yards to the Mineral Ridge 21, then from that spot he needed just one play to score, giving the Devils a 14-0 lead.
McDonald needed just three plays on its next possession to build a three touchdown lead, with Cameron Tucker capping the short drive with a four-yard run.
Down 21-0, Mineral Ridge gambled and came up short on a fourth-and-one at its own 21. That set up McDonald's final score of the first half.
"This is a very emotional rivalry, and we rode that emotional roller coaster the first quarter before we settled in," said McDonald coach Dan Williams. "We gained some momentum in that second quarter, and we just ran with it. Our offensive line did an outstanding job."
"Defensively, we did a really nice job of stopping [Mineral Ridge] from running the ball. We always talk about progressing each week, getting better each week, and I think we did that tonight."
Cintron added touchdown runs of 13 and 21 yards in the third quarter. Tucker added a four-yard scoring run early in the fourth. Mineral Ridge then scored its lone touchdown on a Dakota Edwards two-yard scamper in the waning moments of the game.
Afterward, Rams coach Steve Wyllie was left searching for answers.
"McDonald stopped what we thought we could do, and from there it was downhill," Wyllie said. "I don't have any answers, I'm awestruck."
Wyllie was also disappointed with his team's lack of discipline and togetherness.
"I don't know how we can regroup, our players were fighting with each other most of the game," Wyllie said. "I thought they were going to beat each other up. It's hard enough playing a team like McDonald, fighting ourselves it's a losing battle."
McDonald, which was ranked 10th in the computer rankings, is expected to move into the top eight in region 21.
"I told our players that every game from here on out is a playoff game," Williams said. "We're battling for a league title and playoff spot, so every game is huge."
Friday was the 73rd meeting between the backyard rivals. McDonald leads the series 49-20-4.
More like this from vindy.com