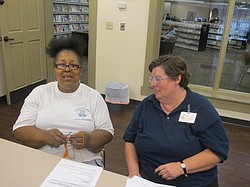 Photo
Neighbors | Zack Shively .Pictured, from left, Carol Bell and Karen Saunders during the All About Yarn event on Aug. 18. Saunders helped Bell remember and better some crochet techniques. The event is held monthly in Boardman library.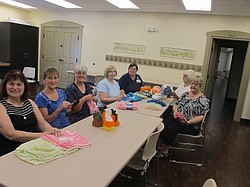 Photo
Neighbors | Zack Shively .The Loose Knit group met Aug. 18 in Boardman library's meeting room to organize projects and donations.
By ZACK SHIVELY zshively@vindy.com
Boardman library hosted two separate, but related yarn events on Aug. 18.
Librarian Karen Saunders hosts the first event, All About Yarn, in a small meeting room in the Boardman library. Saunders and the library designed the event for people who have just started or plan to start working on yarn projects. She also said people who are stuck in a project come in during the time and work on fixing the issues they have. A participant of the event, Carol Bell, went to it to start crocheting again, as she used to crochet as a child, but she had lost some of the finer techniques. Saunders helped her fine-tune her style of crocheting.
The other event running concurrently with All About Yarn was a meeting of the Loose Knit group. This group discussed future projects and charity events. The group works on knitting or crocheting and then donates the finished products. In the past, they have donated to Akron Children's NICU in Boardman, Habitat for Humanity and William Holmes Mcguffey Elementary School, as well as many more. Loose Knit currently has 1600 baby blankets that they are looking to donate.
All About Yarn and Loose Knit have some overlap. Many people who start in All About Yarn go on to make projects and help the Loose Knit group. All About Yarn runs once a month at Boardman library, while Loose Knit meetings occur on the first and third Fridays in a month. While All About Yarn is set up for beginners, the members of the Loose Knit group are willing to help anyone just starting to work on yarn projects.
More like this from vindy.com