Union Elementary celebrates first day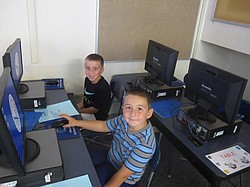 Photo
Neighbors | Zack Shively.Two Poland Union Elementary students enjoy their first day in Nick Blanche's technology class on Aug. 28.
By ZACK SHIVELY
Students and staff of Poland Union Elementary experienced the first day of the 2017-2018 school year on Aug. 28.
For some students, this was their first day back to the school, but for the kindergartners, it was their first day at the school. Principal Michael Masucci said that they had "few tears" during the school day, and none came from any fears or anxiety of school, but instead from uncertainty with schedules, although he noted the students were usually correct and needed reassured. He complimented the families of the children for getting the students ready for school mentally, resulting in a day with very few problems.
The first day set out to create a routine for the children. The classes go right into instruction and learning. The staff expects the students to be ready and have materials for class. For example, today started the first day of physical education and students needed to bring their gym clothes.
Masucci explained that the classes that day would build the foundation that the students will use throughout the rest of their schooling. The students began the routine of going to class and lunch, a routine that they will use from now until high school.
While not on the first day, the school did have a fire drill, to instill the rules of the drill and information on fire safety into the students.
The children also met with important figures in their school careers. They gathered in the gym and met with their principal Masucci to start the day. Student Resource Officer Steve Kent walked through the classrooms and introduced himself. Officer Kent moves between the Poland schools throughout the day and gets to know the children from their first day to their graduation day. Superintendent David Janofa also visited the school today.
Poland Union Elementary School houses students from kindergarten to second grade. They have about 385 children in the school. Masucci and the staff planned out these first few weeks thoroughly during the summer and hope to have a great school year.
More like this from vindy.com