Poland leadership program connects high school and K-2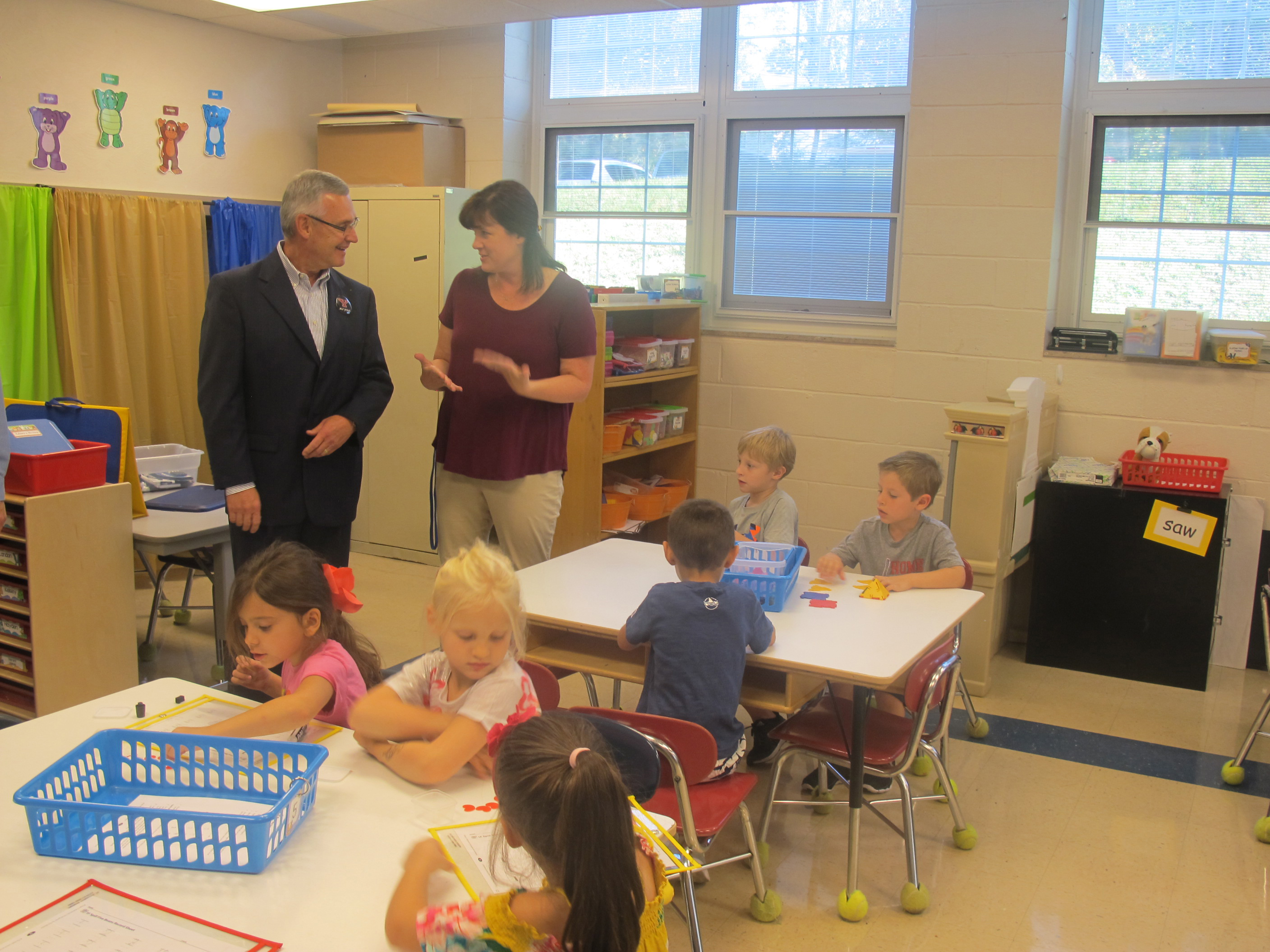 ---
by ZACK SHIVELY
The Poland Schools hosted their weekly Big Dogs-Little Dogs program on Sept. 26 at Poland Union Elementary School.
The program brings high school students to the elementary school to help with schoolwork. This week, Youngstown State University President Jim Tressel visited the school to see the program in action.
Tressel called Big Dogs-Little Dogs "inspiring," and said he enjoyed the way it connected the students to mentors.
"In education, if we can get help from all sides... we can accomplish spectacular things," he said.
He continued to say that education can solve most problems, such as the opioid crisis and crime.
Poland Union Principal Michael Masucci, Tressel and Poland Superintendent David Janofa visited classrooms to see the students participating in the program. Tressel talked to the students and teachers about education, the class and the schoolwork.
Masucci said Big Dogs-Little Dogs began in order to "capitalize on the terrific kids at the high school" and give the high school students a chance to give back to the community.
The Big Dogs spend part of the Tuesday morning helping the teachers with whatever they need. In Kirsten Jacobs' kindergarten class, the Poland Seminary High School students helped with making shapes and reading. In physical education, the Big Dogs demonstrated how to run a course created by teacher Mark Wesolowsky. Then, the students assisted the Little Dogs through the course.
Big Dog Marlie McConnell, an eleventh-grade student, spoke highly of the program.
"I love working with kids," she said, going on to say she enjoys giving back and helping the community. She got involved in Big Dogs-Little Dogs last year through her mother, a tutor at the school. She helps the students mostly with reading and spelling.
The program started in the 2015 school year. The students can only participate during their study hall hours, so they do not miss any academic work. The school rewards the students with a scholarship chance sponsored by Union's PTO and the Comprehensive Psychiatry Group. Four senior students win the scholarship, which the little dogs present to them.
More like this from vindy.com