CVMS seventh-grade football defeats Struthers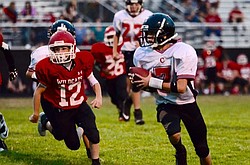 Photo
Neighbors | Submitted .Canfield Village Middle School football player Jeff Demarco sprinted to the end zone in a recent game against Struthers.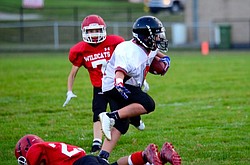 Photo
Neighbors | Submitted .Canfield Village Middle School's Jack Fabry returned an interception against Struthers. The Cardinals finished the match with a 36-6 victory over Struthers.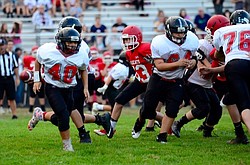 Photo
Neighbors | Submitted .Canfield's Augie DeMartino and Caden Kohout led the charge versus Struthers in a recent game. The Cardinal victory over Struthers improved the team's record to 4-0 this season.
The Canfield Village Middle School seventh-grade football team improved to 4-0 when they traveled to Struthers recently and came away with a 36-6 victory.
Canfield took the opening kickoff and drove 65 yards in eight plays to take a 8-0 lead. Quarterback Broc Lowry keyed the drive with a 34-yard run and Ryan Schneider plunged two yards for the touchdown. Lowry then added a conversion toss to Gavin Ramun.
Lowry picked off a wayward Wildcat aerial on the next possession and sprinted 60 yards to paydirt; he then tacked on the extra point to make it 16-0.
Canfield's Jack Fabry intercepted a Struthers pass at the Canfield 46 to end the next Wildcat drive.
The Cards made it 24-0 when they drove 54 yards in nine plays with Lowry converting fourth down passes of 35 yards to Aiden Rogers and a 15 yard scoring strike to tight end AJ Havrilla. Lowry also tacked on his second conversion run.
Canfield's defense struck again when Chris Lorelli stepped in front of a Wildcard toss at the Struthers 37. Evan Williams then sprinted eight yards to give the seventh graders a 30-0 halftime lead. Jeff Demarco took a toss and sprinted 22 yards for the Cardinal's final touchdown. Struthers had a late score for the final margin. Cardinal defenders Rogers, Hunter Kanotz, Mateo Riccardi, Dom Marzano, Evan Parker and Caden Kohout were standouts.
More like this from vindy.com