Scary fun and family events this month in the Mahoning Valley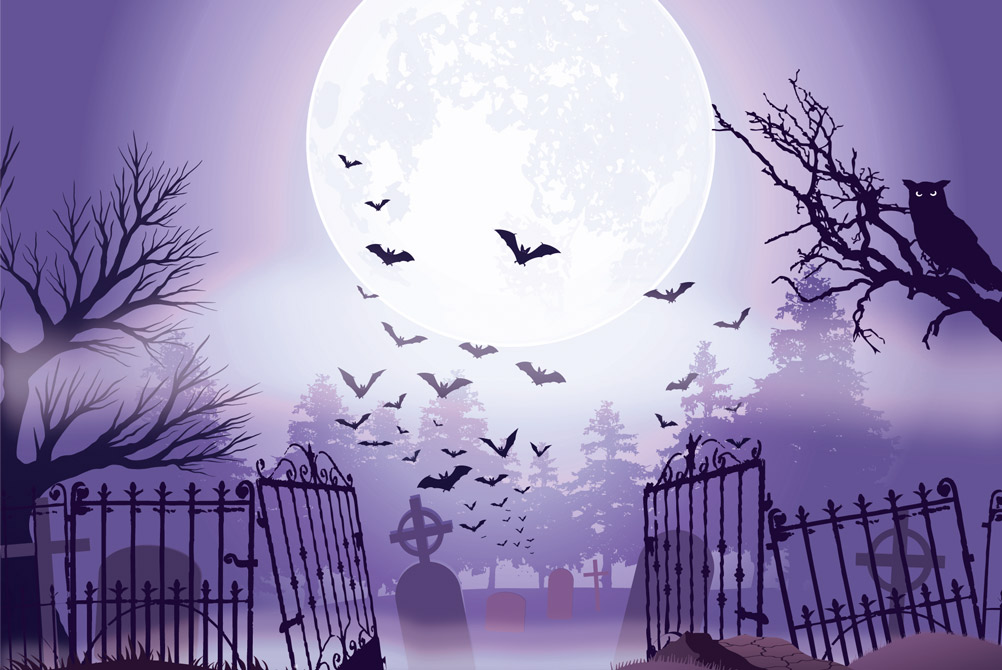 ---
DANCES
Family Halloween Bash at the Old Mill: 3:30 to 6 p.m. Oct. 21 at Lanterman's Mill, off Canfield Road, Youngstown. Dress in your Halloween finest for a family-friendly Halloween party with music, dancing, games, snacks, a costume competition and more. Children must be accompanied by an adult. Register and pay at Ford Nature Center by Oct. 19. Late registration and walk-ins will be accepted if space permits.
Youngstown Zombie Prom: Oct. 21 from 10 p.m. to 2 a.m. at Calvin Center for the Arts, 755 Mahoning Ave., Youngstown. Presented by Rust Belt Theater Company, the prom is a building-wide Halloween event that will include live music, theater, dance, screenings of classic zombie films and guided tours of the notoriously haunted building. Admission is $10 at the door. All proceeds will benefit Calvin Center for the Arts.
FILM
"Jekyll and Hyde": Oct. 29 at 4 p.m. at Stambaugh Auditorium, 1000 Ffith Ave., Youngstown. A screening of the landmark 1920 silent horror film, with live pipe organ accompaniment by renowned organist Dorothy Papadakos. Tickets are free but must be ordered in advance at the box office, online at stambaughauditorium.com or by phone at 330-259-0555.
"Nightlights": A spooky and spectacular show in the Ward Beecher Planetarium, at Youngstown State University. Guests can come in costume. This year's show has all-new visuals, and is good for all ages (small children might be scared of the loud music and darkness). Shows are at 8 p.m. Fridays and Saturdays, Oct. 13-28, with Nightlights Lite at 2 p.m. Saturdays. Call 330-941-1370 or go to wbplanetarium.org.
HAYRIDES AND HAUNTED HOUSES
Blood Moon Farm: At the Canfield Fairgrounds through Oct. 29. Hours are 7 p.m. to midnight Fridays and Saturdays, and 7 p.m. to 11 p.m. Sundays and Oct. 12. There are four dimensions of terror: the hayride, Blood Moon Farmhouse, the Slaughterhouse and the Bayou. Prices vary, but an all-inclusive adult ticket is $18. Go to bloodmoonfarm.com.
Cedar Point HalloWeekends: More than 20 new frightening features at this seasonal event at Cedar Point amusement park in Sandusky. Go to cedarpoint/halloweekends for information and pricing. The park has six haunted mazes, six outdoor fright zones, a parade and Halloween-themed experiences, shows and rides. Includes Deprivation, Fearground Freakshow, Harvest Fear, Midnight Syndicate Live and Rides Reincarnated. For not-so-scary fun, visit the park for the family-friendly Great Pumpkin Fest, Saturdays and Sunday through Oct. 29.
Catalpa Grove Farm & Market: 10 a.m. to 5 p.m. Sept. 30, Oct. 7, 14 and 21. Take a hayride through the woods to the fields to select pumpkins, plus a petting Zoo and straw and corn mazes. Available for purchase are apple cider, Indian corn, corn stalks, fall decorations, mums, gourds and more. Located 1 mile west of Columbiana Burger King on state Route 14.
Detwiler Farm: 4520 Renkenberger Road, Columbiana, is open 11 a.m. to 5 p.m. Saturdays and Sundays through Oct. 29. There will be hayrides to the 10-acre pumpkin patch, straw maze, a four-acre cornfield maze and petting zoo. Farm grown fall decorations, apples and cider for sale. For more information, call 330-482-2276 or go to detwilerfarm.com.
Fear Forest: Haunted house, haunted hayride, Forbidden Cornfield and the Psycho Path. Open Fridays and Saturdays from 7 p.m. to midnight, and Sunday from 7 p.m. to 10 p.m., through Oct. 29. Go to Fearforest.com for information. Located on state Route 45 in Lordstown, behind Dairy Queen.
Fearhaven: Open every Saturday (7 to 11 p.m.) and Sunday (7 to 10 p.m.) in October, behind Fairhaven School, 420 Lincoln Way in Niles. Admission is $8 ($5 for children); cash only.
Ghost Lake: Open weekends (7 to midnight Fridays and Saturdays and 1 to 11 p.m. Sundays) through Oct. 29 at Conneaut Lake Park, Pa. The old Conneaut Hotel is transformed into 13 levels of fear. Admission is $25 ($20 on Sundays) for adults. Go to ghostlake.net.
Ghost Walk: Tour Warren's historic district while learning about mysterious and tragic tales of people who lived and died in the area. It begins at First Presbyterian Church, 256 Mahoning Ave. NW, Warren, at 6:30 p.m., with groups departing until 9 p.m., every Friday and Saturday in October. Tickets are $8 ($5 for children 12 and under). Go to trumbullarts.org.
Haunted Schoolhouse and Laboratory: Located at 1300 Triplett Blvd. in Akron. Hours are 7 p.m. to midnight Fridays and Saturdays through Oct. 29; 7 to 10 p.m. Sunday; and 8 to 11 p.m. Oct. 19, 26 and 31. Tickets are $30 on weekends; $25 on Thursdays and Sundays and Halloween night. Go to hauntedschoolhouse.com.
Hell's Hollow Haunt: Hell's Hollow Farm, 340 Bestwick Road, Mercer, Pa. The Bloody Barn, Haunted Haywagon of Horror and the Frightening Field of Corn await. All-inclusive adult tickets are $20 ($13 for children 12 and under). Go to hellshollowhaunt.com.
Original Haunted Hayride: 7:30 to 10:30 p.m. Oct. 7, 14, 21, 27 and 28, at Storeyland Christmas Tree Farm, 5148 state Route 7, Burghill. Nonhaunted hayrides from 5:30 to 7 p.m. Guests can also cook hot dogs over a bonfire. Go to hartfordoptimist.com.
Steel Valley Nightmare and Escape: 165 Trumbull Ave., Girard, open every Friday, Saturday and Sunday with games at 4, 6, 8 and 10 p.m. Enter into the escape room with a group of people or friends to find clues and solve puzzles while trying to get out within the time limit. Groups can be as little as two and as big as eight people. Go to steelvalleynightma.mixsite.com or call 330-360-8496.
Phantom Fright Nights: Kennywood Park, Pittsburgh, 6 p.m. to midnight Fridays and Saturdays through Oct. 28, also two bonus Sunday dates, Oct. 8 and 29. Includes haunted mazes, scare zones filled with more than 200 costumed actors, and thrill rides in the dark. Tickets available online for $29.99 or at the gate for $33.99. Not recommended for children younger than 13. Go to kennywood.com/pfn or call 421-461-0500.
The ExFEARience: At Eastwood Field in Niles through Oct. 29. Six haunts in one location, including the Guest House, the Hunted, Isolation, Eastwood Estate, the Factory and Thorne Funeral Home, plus additional adventures. Discount coupons are available at select locations including Eastwood Mall. Admission is $20 ($10 for children 10 and under). For information, go to theexfearience.com. Ticket booth open from 7 to 11 p.m. Fridays and Saturdays; and 7 to 10 p.m. Thursday and Sundays (closed Oct. 12).
"The Legend of Sleepy Hollow": Performed live with the Headless Horseman at 4 p.m. Oct. 20, 21, 27 and 28, at Greene Eagle Winery, 2576 Davis Peck Road, Cortland. Admission is free. The day's events include live music, hay rides, pumpkin painting and children's activities. Call 330-282-2596.
NIGHTLIFE
Zombie Crawl: Oct. 27, noon to 5 p.m., registration at B&O, 530 Mahoning Ave., Youngstown, for this annual downtown event. The Thriller Dance will take place at 5 p.m., and registration will resume from 6 to 8 p.m. The Zombie Crawl begins at 7 p.m., with the entire group shambling across the bridge to the downtown bars. Registration is $3. First 100 people to register get Zombie Crawl T-shirts. There will be makeup artists on site for professional zombie makeup application. Free trolley available for transportation throughout the crawl.
Rock 'N' Roll Vampire Ball: Oct. 21 at The Embassy, 5030 Youngstown Poland Road, Boardman. Presented by rock band Generation Rock. Doors open at 6:30 p.m., and bands start at 8. Special guests include Acoustic Jones. Price is $35 in advance and $45 at the door. Ticket includes heavy hors d'oeuvres and a night full of spooky Halloween surprises. Cash bar. Dressing up is optional but encouraged. There will be a rock 'n' roll silent auction featuring items from Led Zeppelin, The Eagles, Bruce Springsteen, Star Wars and also a ticket auction that includes some items from the area's establishments. Proceeds benefit Creative Bridge Coalition. Tickets sold in advance at The Embassy and Inner Circle Pizza in Canfield.
NONFRIGHTFUL FUN
Boo Through the Woods: In Boardman Park, 375 Boardman- Poland Road, from 1 to 3 p.m. Oct. 15. This free event is at the Hofmaster Pavilion. Children can trick-or-treat through the park with treats offered by area businesses.
Coolspring Corn Maze: Open Fridays (4 to 11 p.m.), Saturdays (11 a.m. to 11 p.m.) and Sundays (11 a.m. to 8 p.m.) through Nov. 5, at 537 Franklin Road, Mercer, Pa. Includes the Trail of Fear haunted attraction from 7 to 10 p.m. Oct. 20, 21, 27 and 28. Go to coolspringmaze.com.
The Great Pumpkin Fest: Cedar Point, from 11 a.m. to 7p.m. every Saturday and Sunday for kids and families, through Oct. 29. Includes Hexed Spellbound, Camp Spooky, the Magical House on Boo Hill, Monster Under My Bed, Spooky Snoopy Eye Spy and Pigpen's Corn Box. Also includes The Great Pumpkin Parade, Sally's Craft Corner, Woodstock's Crazy Cornstalks, Count Snooptacula's Costume Contest and Show and more. Go to cedarpoint.com/halloweekends.
Family-Friendly Haunted Wagon Rides: At Boardman Park, off U.S. Route 224, Oct. 13, 14, 20, 21, 27 and 28. Ticket sales from 6:30 to 9:30 p.m. ($5, $3 for children 12 and under). In addition to wagon rides, there will be Jocko the Clown, balloon art, a bonfire, a climbing wall and a bouncer. A lighted pumpkin display will be up between Oct. 20-31.
Irons Mill Farmstead Corn Maze: Open 10 a.m. to 10 p.m. Fridays and Saturdays, and 10 a.m. to 7 p.m. Sundays and Columbus Day. Last hayride leaves at 6:30 p.m. Day pass is $14. It's at 252 Greenfield Road, New Wilmington, Pa.; ironsmillfarmstead.com.
Salem Public Library and Salem Parks and Recreation: The annual Scarecrow Display will at 11 a.m. Oct. 14 on the grounds of the library and Memorial Building, 821-785 E. State St., Salem; Everyone is invited to participate, including individuals, school classes, sports teams, businesses, civic groups, churches, scout troops, first responders, etc. Scarecrows will be on display until Oct. 21. For information, call the library at 330-332-0042.
Maze Craze: 14070 Woodworth Road, New Springfield. Beauty and the Beast is this year's theme. Four separate interactive mazes in 20 acres of corn. Find all 18 checkpoints, play Farm Scene Investigation and Farm Tracks. Hayrides and Barrel Train rides available on Saturdays and Sundays in October from noon to 5 p.m. Hours of operation are Wednesdays from 5 to 10 p.m.; Fridays 5 p.m. to midnight; Saturdays 11 a.m. to midnight; Sundays 11 a.m. to 9 p.m. Admission for all four mazes is $10 for age 12 and over, $8 for age 5 to 11, and age 4 and under are free. Hayrides are $3 each (free for age 3 and under). Barrel Train rides are $1. Maze is open through Nov. 5. Other activities include Kiddie Zip, Cornzooka corn cannon, gemstone mining, corn box, straw pyramids, jumping balls, food concessions, swing set and corn hole. Pumpkins, gourds, straw bales and corn stalks are available for purchase. Call 330-549-9000 or go to getlostatmazecraze.com for information.
Pumpkin Walk at Twilight: 5:30 to 8 p.m. at Mill Creek MetroParks. Experience the magic of the fall season in this popular annual event. Take a stroll along the jack-o-lantern-lined paths of Fellows Riverside Gardens, 123 McKinley Ave., Youngstown, as day turns to night. Enjoy live entertainment and family-friendly activities. Free and open to the public.
Trick or Treat at Eastwood Field: Children can grab some goodies in a safe environment ($1 admission), on Oct. 24 from 6 to 8 p.m.
Spook-Tacular Costume Contest: Children are invited to Eastwood Mall center court at 6 p.m. Oct. 26 for Halloween fun. Costume prizes will be awarded in four age groups, up to age 12. Go to eastwoodmall.com.
ONSTAGE
"Young Frankenstein": Oct. 20-22 and 27-29 at the Youngstown Playhouse, off Glenwood Avenue. Mel Brooks' classic musical comedy performed live on stage. Show times are 7:30 p.m. Fridays and Saturdays and 2:30 p.m. Sundays. Tickets are $15 ($12 for seniors and students); call 330-788-8739 or go to theyoungstownplayhouse.com.
"Evil Dead, the Musical": Oct. 27-29 and Nov. 3-4 at Salem Community Theatre, 490 E. State St., Salem. This cheesy and bloody comedy spoofs elements of several classic and modern horror films. Tickets are $15 ($11 for seniors, $9 for students 17 and under); call 330-332-9688.
"Whatever Happened to Baby Jane": Oct. 20-21, 27-29 at the Hopewell Theatre, 702 Mahoning Ave., Youngstown. The psychological thriller based on the cult-classic 1962 film. Tickets are $13 ($10 for seniors and students). Call 330-746-5455.
"Living Dead, the Musical": Oct. 13-14, 20-21 and 27-28, at Rust Belt Theater Company, inside Calvin Center, 755 Mahoning Ave., Youngstown. This original musical show spoofs "Night of the Living Dead" and other genre films. For tickets, call 330-507-2358.
"Carrie, the Musical": 7:30 p.m. Oct. 30 and 31, presented by Oakland Center for the Arts and Millennial Theater Company, at Ford Family Recital Hall, 260 W. Federal St., Youngstown. Tickets are $18; call 330-744-0264.
PUMPKINS
Autumn Pumpkin Festival: Oct. 14 and 15, from 10 a.m. to 6 p.m., in Volant, Pa. There will be a farmers market Oct. 14 at Volant Mills. Both days will feature live music, doughnut making, face painting, crafts for kids and everything pumpkin in the shops of Volant. Go to volantshops.com.
Fall Pumpkin Fest: Conneaut Lake Park, Pa., Route 218, Conneaut Lake, Pa., from 2 to 7 p.m. Oct. 13, 10 a.m. to 7 p.m. Oct. 14, and 10 a.m. to 5 p.m. Oct. 15. Giant Pumpkin Drop will take place Saturday at 5 p.m. and Sunday at 4 p.m. There will be 150-plus vendors, a home show and great food. Entertainment will be on two stages along with strolling performers on the midway. Admission is free, with a $5 parking fee. Fall Pumpkin Fest Parade will take place at 10 a.m. Oct. 14. Go to newconneautlake.com or call 814-720-5833 for information.
Ohio Valley Giant Pumpkin Weigh-Off: The event takes place at 9 a.m. Oct. 14 at Parks Garden Center, 9010 state Route 62, Canfield. The giant pumpkins will remain on display through the day. Go to ovgpg.com.
Pick and Paint Pumpkin Workshop: Oct. 10 and 14 at Eastwood Mall, Niles, from 11 a.m. to 1 p.m. in the mall's center court. The pumpkins will be on display in the mall pumpkin patch until Oct. 15. Children may pick up their pumpkins Oct. 16.
Pumpkin Carving: 9 a.m. to 3 p.m. Oct. 12, 13 and 14, at Fellows Riverside Gardens, 123 McKinley Ave., Youngstown. Families can carve pumpkins that will be displayed at the Pumpkin Walk at Twilight on Oct. 15. Carving area is outdoors. Carving tools will be available, or bring your own. While pumpkin supplies last.
Pumpkin sale: Open daily from 9 a.m. to 6 p.m. through Oct. 31 at the Hartford Orchard, corner of state Route 7 and state Route 305 in Hartford. Pumpkins, gourds and squash of all sizes, plus straw, Indian corn, apple cider and more for sale.
Pick a Pumpkin: 1 to 4 p.m. October 8, 15, and 22; 10 a.m. to 2 p.m. Oct. 7, 14 and 21 at Mill Creek MetroParks Farm on state Route 46 in Canfield. Take a tractor-wagon ride to the pumpkin patch to pick a pumpkin, then decorate your pumpkin to take home. Barns are open. Rides are $1, and pumpkins are $3.
Great Pumpkin Carve-Out Contest: At Boardman Park on Oct. 13 (6 to 9 p.m.), Oct. 14 (noon to 9 p.m.) and Oct. 15 (noon to 5 p.m.). There is a small charge per pumpkin, and prizes will be awarded in all age categories. Bring carving tools and newspaper for the waste.
White House Fruit Farm Fall Festival: Every Saturday and Sunday (11 a.m. to 5 p.m.) through October. The farm is at 9249 Youngstown-Salem Road, Canfield; whitehousefruitfarm.com. The event features horse-drawn wagon rides, a petting zoo, pony rides, kids play area and food vendors.
More like this from vindy.com