Mercy Health undergoing active shooter training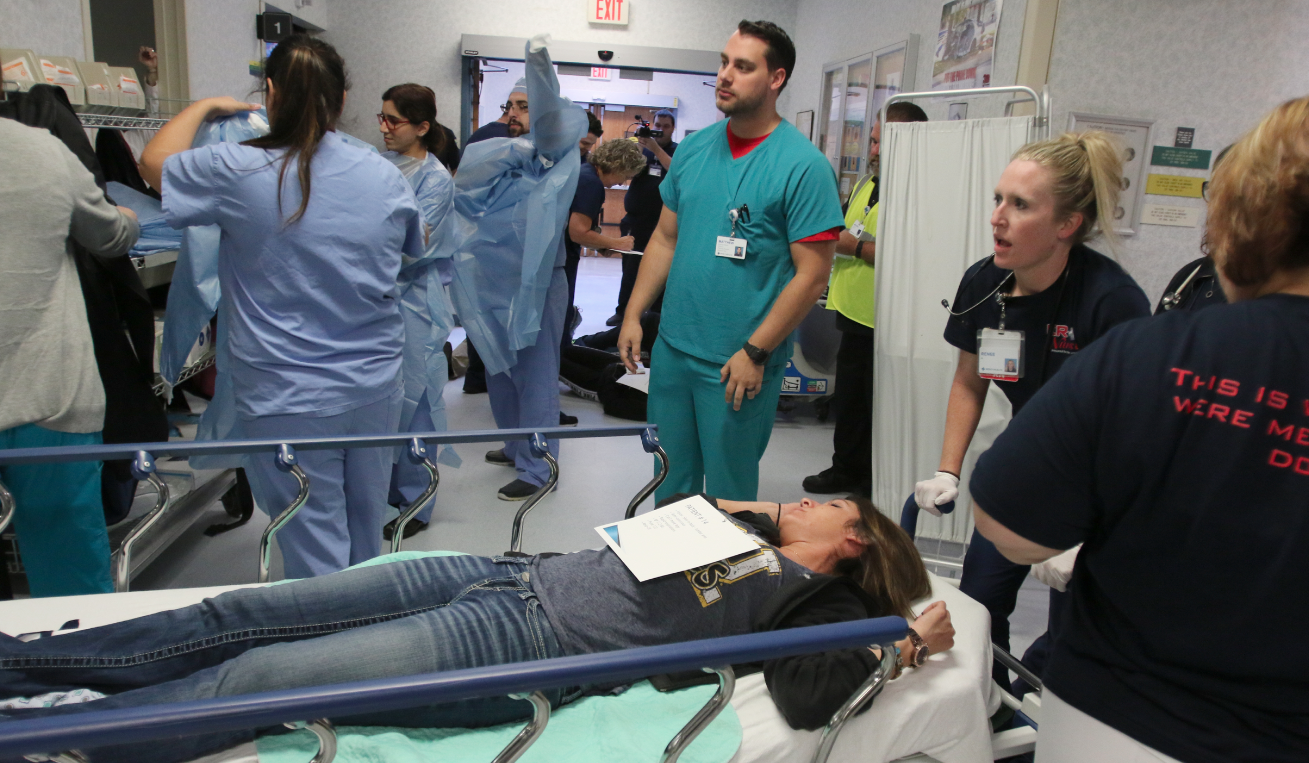 ---
By Joe Gorman
YOUNGSTOWN
Mercy Health Police Chief Ryan Bonacci was a little out of character Wednesday morning in the emergency room at St. Elizabeth Youngstown Hospital.
Bonacci pretended he was a gun-wielding husband on a search in the ER for his wife. He shot several people with his imaginary handgun before hospital police tracked him down.
The scenario was part of an exercise on how hospital police and staff would respond to an active-shooter situation in the emergency room.
Don Koenig Jr., regional chief operating officer and hospital president, said the exercise had been in the planning stages for six months. Its timing with the massacre in Las Vegas, where a gunman killed 59 people and injured more than 500 with rifles from a hotel room Sunday evening, was coincidental, he said.
He said it is important hospital staff and police know how to deal with unexpected and dangerous situations because, as the area's only Level One Trauma Center, the hospital will serve an important role in treating the most seriously injured in any mass-casualty event.
Dr. Chad Donley, an ER physician, said the idea was to expose ER staff members to different scenarios to get them used to working in conditions even more stressful than they usually experience. If those scenarios ever happen, their training would kick in automatically and help them to function.
"We'll try to make it as real as we can," Donley said.
In the drill, Bonacci, dressed in dark clothing, bursts into the emergency room holding a fake gun and shouting as loud as he can about his wife.
"Where's my wife? Where is she? Tell me where she is! BANG! BANG! BANG!" he says, and each time he says that while mimicking firing a gun, the nursing students who were patients for the drill fall to the floor.
Bonacci leaves a trail of bodies in his wake, and seconds later, hospital police in body armor and carrying semiautomatic rifles clear the emergency room, ordering everyone to hold their hands up to show they do not have a weapon.
After they leave the ER, an officer comes in a few minutes later and says "the threat is neutralized." Then doctors, nurses and others begin treating "victims," who are coaxed to moan like they are in pain. One woman constantly asks where her mother is. "I need my mom!" she yells.
As the patients are treated and wheeled into operating bays, one worker can be heard asking someone to get rid of a person's body on the floor.
"I got a dead body here!" he says. "What are we going to do with this? I don't want this here!"
Bonacci said the hospital has its own special-response team in case of situations such as an active shooter, and he tries to schedule one of those officers per shift at each of Mercy Health's three area hospitals in case they are needed on the spur of the moment.
Besides the drill, officers also undergo an additional 40 hours of training a year individually, including active-shooter training.
Bonacci said one of the prime tenets police follow when responding to an active shooter now is to go directly after the shooter. In the past, officers often would wait for a SWAT team, but since the Columbine High School shooting in Colorado in 1999, police doctrine has changed, he added.
Police officers are now trained to seek out and actively engage a shooter as soon as possible.
Another drill will take place at St. Elizabeth Boardman Hospital today. A drill also took place Tuesday at St. Joseph Warren Hospital.
More like this from vindy.com