Forum is part of the fifth annual Ohio Nonviolence Week 2017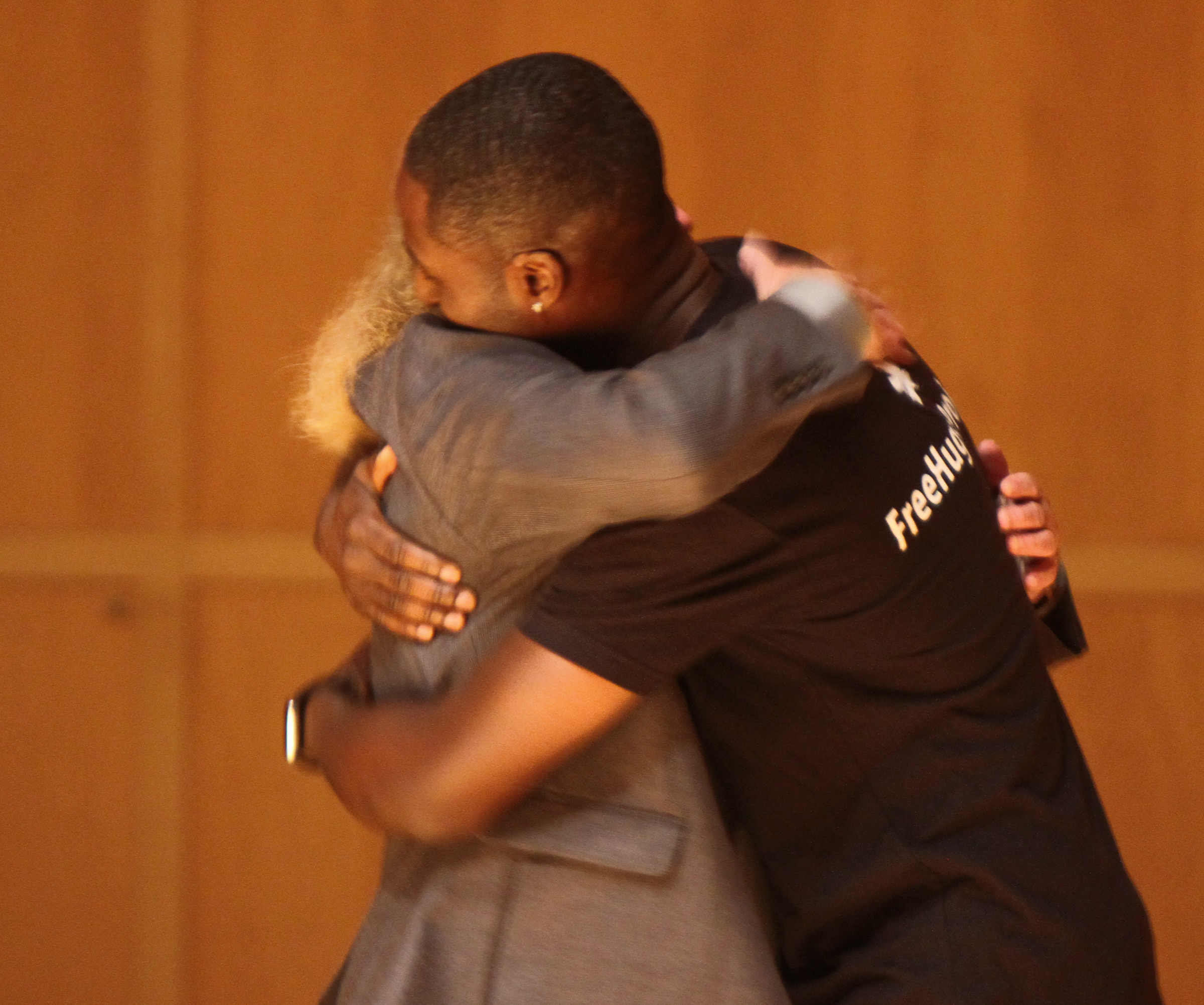 ---
Presentation part of annual Ohio Nonviolence Week 2017
YOUNGSTOWN
Terry Vicars, a case worker for Catholic Charities Regional Agency known for his work with the homeless in the Mahoning Valley, received the Simeon Booker Award for Courage on Tuesday at the DeYor Performing Arts Center's Ford Theater.
The Courage Forum, part of October's fifth annual Ohio Nonviolence Week 2017 here, was presented by the DeBartolo Corp. and was free to the public through the sponsorship of The Muransky Companies.
Members of the panel who discussed tolerance in today's America were Ken E. Nwadike Jr., a peace activist, founder of the Free Hugs Project and recipient of the National Simeon Booker Award for Courage; Anita Grey, director of the Cleveland Anti-Defamation League; and Wajahat Ali, a journalist and lawyer who helped launch Al Jazeera America network.
The award is given in honor of Simeon Booker, a Youngstown native and award-winning journalist nationally known for covering the death of 14-year-old Emmett Till in 1955. He was a pioneering African-American journalist during the Civil Rights Movement, was the first full-time black reporter at the Washington Post, and his work is said to have helped unify America's fight for equality.
Vicars, who is originally of Alliance and has lived in Youngstown for 30 years, said he helps clients put together a plan to get them out of homelessness and back into a home.
"The No. 1 cause of being homeless in the Mahoning Valley is underemployment, and the majority of the homeless are single moms who lack support systems," Vicars said.
Vicars and his wife, Vicki, started Our Village Kitchen, which serves a meal and brings together the homeless and people "with the means and the heart" to provide that needed support system.
"Our Village is a celebration of diversity and an opportunity for people to break bread with people who might not normally come into contact with each other," he said.
Vicars said he is "grateful to be connected in any way, shape or form with Simeon Booker."
Nwadike, who has attended protests offering hugs to both police and marchers, said there is a need for protesters to see police as more than robots, and for police to see African-Americans as more than just the color of their skin.
"My advice is to create activism in simple ways, like hugs. It's very easy to get involved in activities to bring peace and civility and to step out of our comfort zone and ask someone to share their story," he said.
When she was a child, Grey said she was with a group of friends and a black child asked to play with them – and the group said '"no."
"I saw the hurt on the little boy's face and told my group to go on and I played with him. That was the day I realized we are all members of the world," she said.
"All we all want is justice and fair treatment. It's becoming increasingly important to get to know the other ... people different from us," said Grey, who cofounded Ishmael & Isaac, a coexistence organization between Cleveland's Jewish and Arab communities.
"Tolerance is the lowest-hanging fruit of America. It is the easiest thing to accomplish," said Ali.
"The next step is to break out of our comfort zone and enter into uncomfortable places ... taste meatloaf and enchiladas," he said with a smile.
More like this from vindy.com