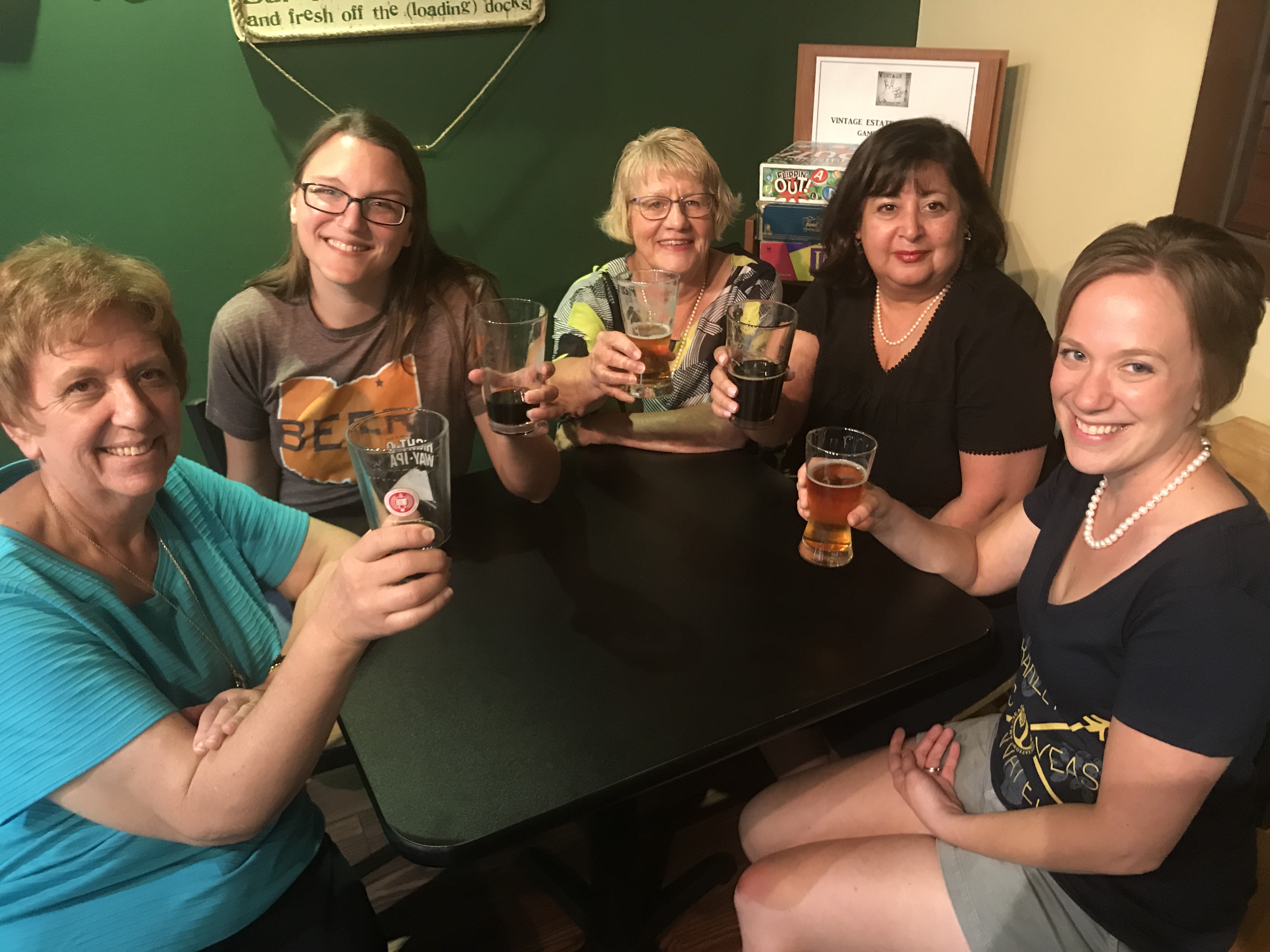 ---
Ruth Vukovich is mad at me.
It's not that she's a hothead, but more a hophead.
In a letter, she wrote:
"I am disappointed that The Vindy is perpetuating stereotypes and promoting the 'good old boys' myth in your choices of beer and burger tasters. The 'Flight Crew' and the 'Burger Boyz' indicate that only men can identify tasty burgers and beers."
She explained:
"There are equal numbers of males and females. If you visit local restaurants, there are numbers of women who could evaluate the quality of food and drink."
She jabbed:
"You seem to be content with bolstering the outdated view that only men drink beer and that only men can tell when a burger is good."
She continued:
"Please update your taste-tester groups to be more inclusive of folks who are not just white males to better reflect your readers."
She was done. Hurricane Ruth had hit.
VIDEO: Beer ladies share craft beer passion
With that line drawn, I did what seemed most appropriate:
Ruth and I had a beer. Or three.
She tried to convince me she's just a quiet, retired English teacher from Hubbard. But "quiet" doesn't throw down beer talk at the Croatian club with a guy named Heineken Ed.
She brought to our beer summit a posse of ladies – not to protect her because that's surely not needed. Ruth's group was more to demonstrate what she believed to be unknown to us: Women like beer.
"Girls with Pearls" is what they call themselves, and they've been going for a few years, having met at a key crossroads in their lives – Vintage Estates in Boardman, which is where we gathered for this summit. They are about 10 ladies ranging in age from their 20s to their 60s. On this night, Ruth and I were joined by Tricia Litwiler of Girard, Mary Ann Shepherd of Poland, Renae Bowman of Boardman, and Angela Kukla, formerly of Boardman and now of Akron.
Angela's beer passion is so deep, it was her wedding theme.
"Phill Reda (Valley beer guru and owner of Magic Tree) became ordained to marry us," she said.
The beer theme continued with home-brew beers of Slovak (her) and Irish (him) origin at the wedding. Guests took home a bottle of each beer, and ...
"Instead of doing a unity candle, we did a unity beer. We took each of our beers and poured them together to tie together our beer nerdiness."
And the taste? "It was a good beer together," she said, laughing.
And with that kind of passion, the pearls group rolls. They've been on craft-beer trips, several beer schools and a host of beer events plying and practicing their fancy.
"I get 'Really? Why do you want to drink beer?' " said Renae.
"It's my husband who likes the fruity, wheat beers," said Tricia. "I like the [more bitter] IPA, especially when it's really hoppy. And since our son was born, somehow the home beer-making has shifted to me."
"There's an ongoing joke at Croatian club," said Ruth, "that I know more about beer than any of them [guys]."
Well, except Heineken Ed, allegedly.
"He and I spar all the time," she said. "He tells me it's the only good beer in the world. I tell him he cannot disdain every other beer until he tries them all. And [Heineken is] all that he drinks, so he'll never do that. So yeah – they know me as the beer expert."
They laugh that the world thinks that to know a good craft beer these days, you need a beard. Ruth says that within the craft-beer community itself, there is actually great gender acceptance.
"When you go to a brewery, I'm never conscious of a dominance of either gender," she said. "Everyone there is just a beer lover, and beer lovers are just darn nice people."
Renae said her children think it's cool she's into beer – for about 10 years now. It was actually them who got her into it. Iron City Beer scared her away from the beverage years ago.
"My son-in-law got a flight of beers. I started with an IPA," which she called grass in a glass.
"As we got through it, we got to a porter, and I said, 'Ooh! That's not too bad.' And that started the journey."
It is neat to drink beers with five ladies and talk beer, because the gathering does journey around many other life things – marriage, children, retirement, death, etc.
Not that beers with the boys does not go to those topics. But to get there, you are usually first getting through the cliches of sports, politics, F-bombs and fun-gestured putdowns and chirping.
All of the latter was oddly nonexistent over three hours of beers with the ladies.
One lesson learned from their beer journey is the accepting culture they find in craft communities. Retirees Ruth and Renae came into adulthood years ago with bars being one of two things – dusty gin mills for factory men or clubby meat-markets for singles. Neither worked for ladies when they were coming of age, thus they were places to avoid.
Today, Renae has no hesitation to go enjoy the latest craft beer by herself at a local brew pub and sit next to whoever might be sitting there.
She loves to cook and loves flavors. The beer world is as flavorful to her as the food world.
"The profiles and flavors are just incredible. They just make you go 'Ooh!' When I grew up, beer was just beer. It's not anymore."
But while they like to get with the boys over beer, they still take the girl with them – hence the "Girls with Pearls."
As an anniversary present, Angela received pearls from her husband – given to her while at beer school one night.
She was wearing a T-shirt, and asked Ruth: "Do these pearls go with my T-shirt?"
Said Ruth: "Pearls go with everything."
Even beer.
Todd Franko is editor of The Vindicator. He likes emails about stories and our newspaper. Email him at tfranko@vindy.com. He blogs, too, on Vindy.com. Tweet him, too, at @tfranko.
More like this from vindy.com