Two new breweries coming to the Mahoning Valley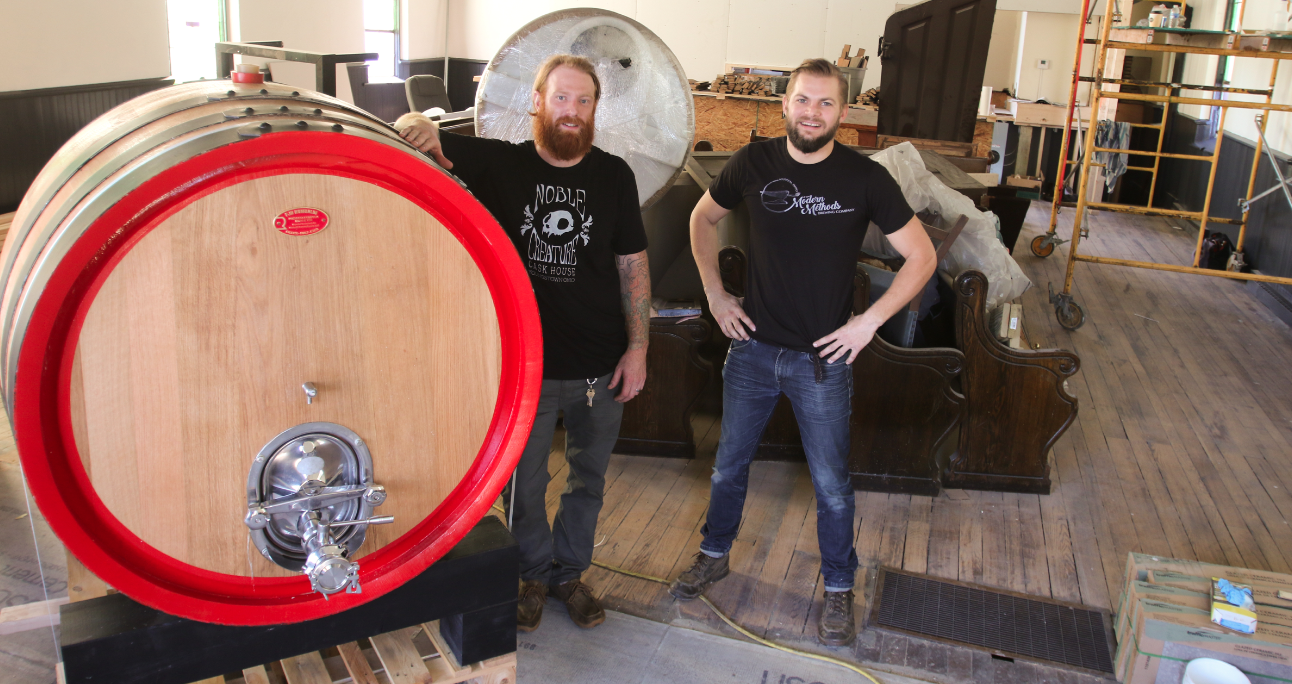 ---
By JIM CYPHERT
YOUNGSTOWN
Beer lovers won't need to wait much longer for their favorite beverage to begin flowing at two new craft breweries in the Mahoning Valley.
Noble Creature Cask House, 126 East Rayen Ave. in Youngstown, is set to open this month. Modern Methods Brewing, 125 West Market St., Suite W2 in Warren (in David Grohl Alley), is expected to open before the end of 2017.
Each brewery will be an important part of its respective downtown's revitalization. Both will feature brewing operations and beer-tasting rooms.
Noble Creature and Modern Methods are part of a two-year wave of craft brewery openings across the Mahoning Valley, including Birdfish Brewing in Columbiana, Paladin Brewing in Austintown, Numbers Brewing in Lisbon and Biker Brewhouse in Austintown.
Several breweries also have opened in the past two years in Lawrence and Mercer counties in Pennsylvania, including Brewtus Brewing in Sharon, Stone Church Pizza House and Brewpub in Hermitage, Crooked Tongue Brewing in Edinburg and Brew 32 in Pulaski.
More craft breweries are on the way throughout the region and the country.
In its June 30 midyear report, the Brewers Association in Boulder, Colo., reports there have never been as many breweries operating in the U.S. – 5,562. That figure represents 906 more breweries than last year's midyear report. An additional 2,739 breweries are in the planning stages.
Both soon-to-open Mahoning Valley breweries are part of the State Line Brewers Guild, an association of breweries in the Mahoning Valley and Lawrence and Mercer counties. The guild serves as a resource where brewers can get information related to brewing operations, permits and regulations and sales and marketing.
Noble Creature owner Ira Gerhart and Modern Methods owner Adam Keck have benefited from sage counsel from other Brewers Guild members. Both have received support as they have ridden the roller coaster of ups and downs during the process of opening craft breweries from scratch.
"It's definitely been challenging," Gerhart said. "Getting into permitting, construction and financial issues is a little different for someone who's typically been focused on the love of brewing. But it feels good to know everything is coming together and we're getting very close to opening."
Keck is going through some of the challenges Gerhart already has experienced.
"We're awaiting some permits to get pushed through," Keck said. "It's a little frustrating, but it's all part of the process. Everyone along the way has been supportive and eager to help us get open as soon as possible."
Gerhart has brewed beer for several weeks on Noble Creature's brewing system.
"We've got to take care of a few drywall touch-ups, do a little painting, finish off the restrooms and wrap up a few things with our tap system," Gerhart said. "We should be open by mid-October, Halloween at the very latest."
Keck's brewing equipment is on site, but installation cannot begin until all permits are in place.
"Our best-case scenario for opening would be Halloween," Keck said. "But it's looking more like November. Then again, I thought we would have been open by spring. I guess that's why I'm starting a brewery and not a commercial construction firm."
Noble Creature will brew on a four-barrel system. The brewery has four seven-barrel and two 10-barrel fermentation tanks, allowing the production of single and double batches of beer.
Gerhart said Noble Creature is committed to producing quality beers of all styles, with a focus on barrel-aged sours, fine lagers, ales and kombucha. He expects to feature eight to 10 beers on tap at the time of opening.
Gerhart has brought in wine and bourbon barrels from multiple locations, including Luva Bella Winery in Lowellville and also Napa Valley. He also brought in a 10-hectoliter cask from Italy and plans to condition some sour red beers in that cask.
Gerhart wants to keep things local, so he's working on building relationships with local organizations.
"We've partnered with the Purple Cat," Gerhart said. "They'll use our spent grain in their gardens. And, we continue to look for additional mutually beneficial community partnerships."
Modern Methods will brew on a five-barrel system. The brewery has an oversized fermentation tank set-up, with five 10-barrel tanks. Modern Methods also will be able to brew single and double batches of beer.
Keck said Modern Methods will have some smaller tanks for experimentation with new and different beers. Modern Methods expects to open with between six and eight beers on tap.
Keck enjoys brewing India pale ales (IPAs) and sour beers. He's tried some late-hopping and fermenter-hopping with his IPAs, which makes them fresher and juicier. He's also been working on some sours, one of today's most popular styles, by taking the breweries base beers and adding blueberry, strawberry and even rhubarb.
"These are sours, but they're very well-balanced beers," he said.
Keck looks forward to serving his community.
"We don't yet know what beers the people of Warren want to drink," Keck said. "So we want to have some flexibility to make beers the people want. We'll try some new things and have a little fun. People want variety, so that's what we're going to offer."
Gerhart knows his patience will pay off.
"My passion is brewing craft beer," Gerhart said. "I'm certain that going through some of the challenges we've faced will be well worth it when we're finally able to serve our beers to the good people of the Mahoning Valley."
More like this from vindy.com