Valley students receive feedback on Mars rover models from NASA engineer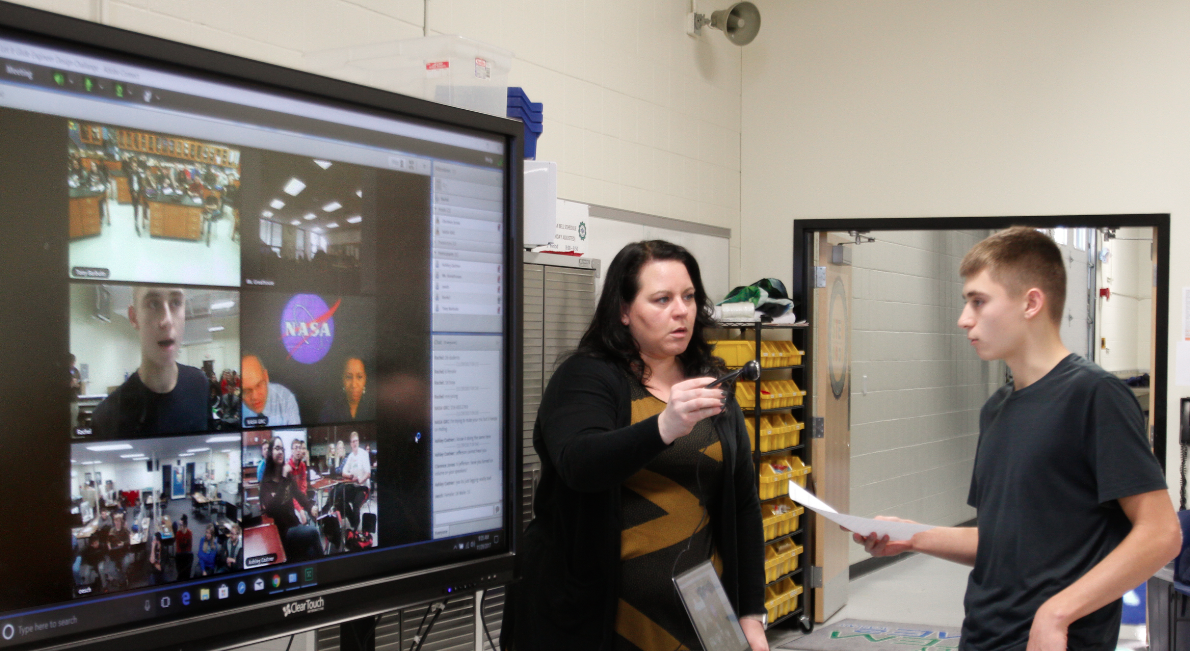 ---
By Billy Ludt
CANFIELD
A class of local high-school students has the chance to see its work drive across the surface of Mars.
Freshmen in the Valley STEM Academy had a video conference with a design engineer from Cleveland's NASA Glenn Research Center Wednesday morning for feedback on their NASA Mars Rover Project. The project includes students from about 10 other school districts, who are all designing and testing Mars rover models that could contribute to the design of a rover sent into space in 2020.
"It was really exciting for them to learn a real-world experience," said STEM coach Rachel Young. "That's what we try to do here – provide students with real-world experiences like this in the classroom."
The Valley STEM Academy is located at the Mahoning County Career & Technical Center.
Young said students have spent a lot of time on independent studies. They spoke to Steve Bauman, a design engineer who has been with NASA for 30 years.
"We are not able to send people [to Mars] yet," Bauman said. "People are very delicate in terms of needs to survive."
Space travel, as of now, takes about six months to go to Mars, and the return trip is about eight to nine months. That would be the longest time a person has traveled – not orbited – through space. The resources for life support and the risk of losing a human life in space travel has deterred that option so far.
The easier, and publicly accepted, solution, Bauman said, is sending rovers to scout the red planet instead.
Inventor Cloud, a 3-D printing education organization, gave the students Mars rover assembly kits for the project. The past few weeks, students have assembled rovers, 3-D-printing self-designed wheels for testing on simulated terrains.
That meant questions for Bauman from students during the meeting were primarily focused on wheel designs.
"We thought that there were some other features on Mars that were a lot worse, and that's why the wheels failed," said freshman Colin Smith.
Past rovers have had issues with wheel damage, but those stemmed from engineering decisions. Bauman said Mars has surprisingly simple terrain to navigate, save for sharp rocks. But nobody at NASA at the time had much experience designing tires.
Smith's group figured, from its research on the planet's surface, that the rover would need to be able to make steep climbs.
"But they told us it was just the design fault, and we don't have to make it climb steep angles, because it can go around rocks; so we can add a little more speed into it," Smith said.
Initial rover tests were conducted on a straight wooden track. Students had their rovers attempt to climb the track at different angles; and after receiving feedback from Bauman, they'll redesign rovers for another test that will mimic Mars' surface further by adding sand.
More like this from vindy.com