State officials visit Y-town to roll out prescription opioid awareness campaign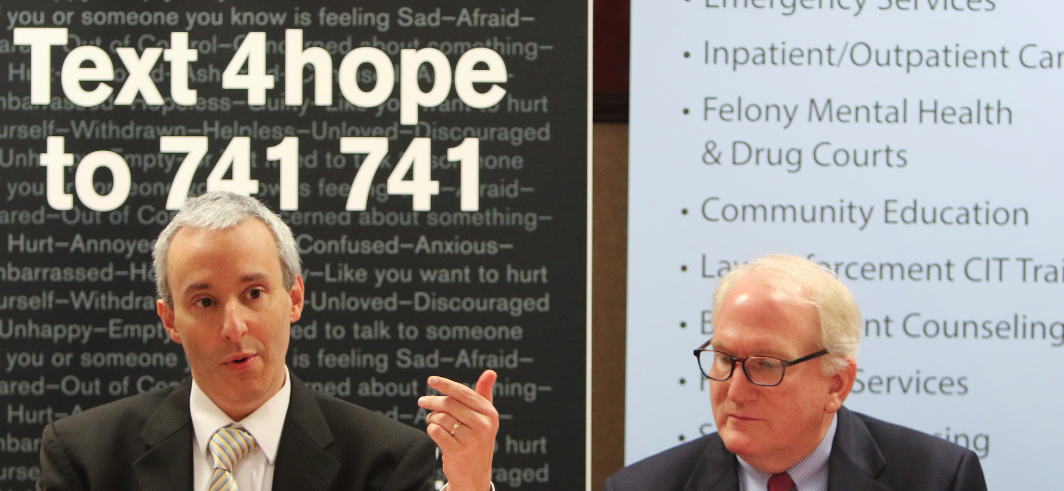 ---
YOUNGSTOWN
Of the 88 drug-related deaths that have been confirmed in Mahoning County so far this year, 49 percent were linked to prescription drugs.
That fact, shared Tuesday by Mahoning County Health Commissioner Patricia Sweeney at a meeting between local and state health officials, highlights the significant role prescription drugs play in Ohio's opioid epidemic.
A new statewide public-awareness campaign, developed by numerous state agencies that are part of the Governor's Cabinet Opiate Action Team, seeks to further reduce the overprescribing of opioids. "Take Charge Ohio" aims to educate prescribers, patients and the general public about safe prescribing of opioids and nonopioid alternatives to pain management.
As part of the campaign rollout, Ohio Department of Health, Ohio Department of Mental Health & Addiction Services, and State of Ohio Medical Board officials visited the Mahoning County Mental Health & Recovery Board's downtown office Tuesday to unveil the campaign and talk with local public health officials.
Dr. Mark Hurst, medical director for ODMHAS, commended Mahoning County's efforts at combating the opioid crisis.
"It's noticeable. We notice it in Columbus," he said. "Headway is being made."
He noted, too, the progress that has been made statewide: Last year, Ohio recorded its lowest number of prescription opioid overdose deaths in seven years.
Prescription opioids nonetheless continue to play a significant role in overdose deaths and also are a gateway to using illicit opioids such as heroin and fentanyl, he said.
Dr. Clint Koenig, ODH medical director, said one goal of the campaign is to get doctors to "press pause" before prescribing an opioid medication.
Instead, doctors are encouraged to consider alternatives such as physical therapy, aerobic exercise, and chiropractic care to manage pain.
"Really we're trying to stop avoidable opioid prescribing at the point of care, because we know it often leads to heroin and fentanyl use," he said, adding that state officials know opioids are appropriate in some circumstances.
A.J. Groeber, executive director of the state medical board, noted progress that's been made with the state's prescription monitoring system. A year ago, 80,000 prescriptions were checked each day; now that number is 400,000, he said.
"We've done a lot, but I think what this program does so well is start to address that gap between prescribers and patients," Groeber said. "We want to encourage that dialogue in an honest way."
Local officials expressed support for the campaign.
"The public health crisis is enormous, and I think this program is great to start looking at the front end," said Don Koenig, executive vice president and chief operating officer for Mercy Health Youngstown and president of St. Elizabeth Youngstown Hospital.
"It absolutely will take everyone's involvement to help our many practitioners to become more comfortable and conversant in opioid alternatives," he said.
Sweeney outlined some of the anti-opioid initiatives that have been implemented locally, such as the start of a prescription drug overdose coalition that aims to reduce overdose deaths.
She also provided some statistics: In 2014, there were 66 opioid pills dispensed for every Mahoning County resident. In 2016, there were 64.
"So we have a long way to go," she said.
Take Charge Ohio is funded by a federal Centers for Disease Control & Prevention grant. For more information about the campaign, visit TakeChargeOhio.org.
More like this from vindy.com