YSU Womens vs Bucknell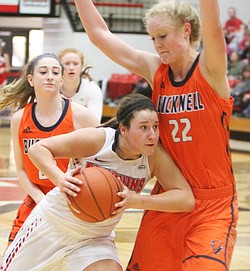 Gallery
By Greg Gulas
YOUNGSTOWN
Kaitlyn Slagus scored 21 points, Kyi English added 11 and Bucknell used a decided height advantage for a 66-60 win over the Youngstown State women's basketball team Friday at Beeghly Center.
It was game that saw the Bison (3-3) jump out to the early 11-2 advantage, own a 44-27 rebound advantage and not allow the Penguins (2-3) the lead except for a mere 38 seconds the entire game.
The game also featured nine of 14 Bison roster members that stood six-feet tall or better.
Photo Gallery: YSU Women's vs Bucknell
"They're obviously a lot bigger, a lot more athletic and they killed us on the boards — you can't win many games when that happens," Penguins head coach John Barnes said. "I thought our kids played really hard.
"I also thought that we took care of the ball really well as we only had 10 turnovers," Barnes said. "Mentally, we had some things that we needed to execute, but didn't."
Bucknell was coming off three consecutive losses after winning two games to start the season. They are the Patriot League's defending regular-season and tournament champion, and the preseason favorites to retain their crown.
"I thought they were hungry coming off three straight losses and they're a good team," Barnes said. "We knew it was going to be tough.
"We would have liked to have had a little better mental game, but it didn't happen," Barnes said. "Plus, they had a couple critical runs. We have to regroup now and get ready for four straight road games."
In their first four games, YSU has outscored opponents 78-26 and raced to double-digit leads over the first 12 minutes of action.
Bucknell put an end to that streak, opening an 8-0 lead before the Penguins' Natalie Myers found the bottom of the net at the 5:54 mark.
A triple by Chelsea Olson and jumper by Indiya Benjamin helped YSU cut the margin to 11-7, but back-to-back triples by Slagus extended the Bison lead to 17-7.
A third triple by Slagus extended the Bison margin to 20-12 just 27 seconds into the second quarter, but buckets from beyond the arc by Morgan Brunner and Nikki Arbanas keyed a 10-4 run as YSU cut the margin to 24-22.
It was the first of two triples for Arbanas in the game as she now has 149 for her career.
A triple and three-point play by Bucknell, and a long bomb by YSU's McKenah Peters ended the scored for the half as the Bison opened a 30-25 halftime advantage.
As hot as the Bison started the game, that's how hot the Penguins began the second half.
Benjamin hit two quick buckets, added a triple and then assisted on Allison Smolinski's hoop, helping with a 9-3 run to start the third period to give YSU its first lead, 34-33.
A Mary Dunn three-point play at the 6:13 mark helped YSU regain the lead at 38-37, but a 12-2 run by the Bison to end the period made it 49-40.
Of the 12 points scored by Bucknell during the run, all but two came from non-starters
"No matter who is in the game, we can't let a run like that happen," Benjamin said. "Bench players or starters, it doesn't matter.
"We hate to get behind and have to play catchup, but ultimately if we get our job done we won't have to do that," Benjamin said. "It's us and we have to take accountability for that."
The closest the Penguins could get in the final period was 63-60 on a triple by Smolinski with 28 seconds remaining, but a three-point play by Slagus put the game away.
Slagus and Kate Walker each hauled in six rebounds for Bucknell while Sarah Cash also had six caroms for the Penguins.
More like this from vindy.com