Boardman clothing store celebrates more than 40 years in business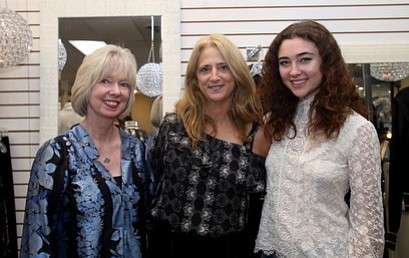 ---
Suzanne's Clothing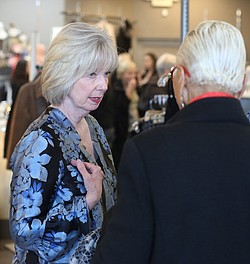 Gallery
BOARDMAN
As customers streamed into her store for a special shopping event, Suzanne Kessler and her staff greeted them by name, asking about family members and personal events in their lives.
That's the way business is done at Suzanne's, a women's clothing store on U.S. Route 224 that's celebrating more than 40 years in business.
What began as a tennis apparel store in the 1970s has evolved into a destination for high fashion that caters to a loyal customer base.
Photo Gallery: Suzanne's Clothing
Kessler marked her store's anniversary with an event featuring another Mahoning Valley success: Nanette Lepore, the Youngstown native who has made her mark as a prominent fashion designer. Lepore, a longtime Kessler family friend, visited Suzanne's on Friday to meet customers, show off some of her pieces and help choose outfits for customers.
"I do a lot of travel and trunk shows, but this one is particularly close to my heart," said Lepore.
The New York City-based designer praised Kessler's approach to running her business.
"I love how she's evolved her business, and I love her eye, and I love that it's a family business," Lepore said. "I think it's fabulous how Suzanne's business has evolved from tennis and golf wear to one of the high-fashion places in Youngstown."
Kessler, at 20, started the store with her sister in 1975.
It began as a tennis and golf apparel store, filling a need the women saw in the area.
"It was the tennis boom," Kessler said. "There was no place to buy tennis clothes, and my mom was teaching tennis at the Avalon Inn."
She recalled how her mother would use her Singer sewing machine to make tennis clothes for customers in between teaching lessons.
"We said, 'It's time to find a storefront,'" Kessler said.
The store got its start in Niles, then later moved to its current location in a township plaza located at 813 Boardman-Poland Road.
"When we moved to Boardman, we started evolving more into a boutique," Kessler said. "Now we have fashion, jewelry and accessories."
The store carries a variety of brands, including Nanette Lepore, Bailey 44, and Michael Stars. Store staff members said there is something for any age group, noting some customers who started shopping there 40 years ago now come in with their children and grandchildren.
That kind of loyal customer following is Suzanne's specialty.
Staffers help customers put together outfits, and they know many of them so well that they're familiar with their personal lives and what events they might be shopping for. They'll call customers when something comes into the store they think the customer would like.
Kessler even has individual customers in mind when she visits markets such as Chicago and New York City. She'll see a piece and order it, knowing it will appeal to a certain customer.
Debbie Smith of Canfield was among those who attended the Lepore event. She and her daughter are fans of the designer.
"The fact that she's from the area and made such a success of herself – I try to support local people and businesses," she said. "I like when people come back to the area, if they make a success of themselves. It gives the younger generation some hope and motivation."
It was her first time at Suzanne's, and she liked what the store had to offer.
"I love it – lots of different varieties. I bought a scarf and a few other things," Smith said. "I like boutique shopping as opposed to mall shopping. It's more personal."
Also shopping Friday was Nancy Marsh-McGarry of Liberty, who gushed about the "beautiful, beautiful things" Suzanne's offers.
Shopping with her was Carol Morris of Youngstown, who said she appreciates the store's selection of designer clothes. She appreciates Kessler and her staff, too.
"They really try to please you and help you out," she said.
More like this from vindy.com