Take an adventure and shop small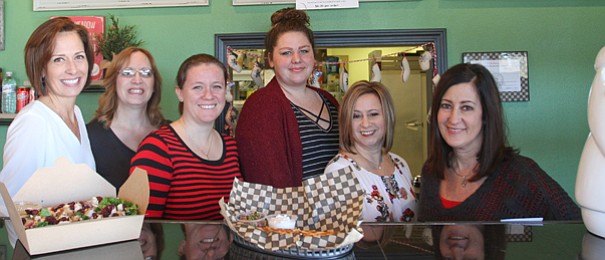 ---
By Kalea Hall
YOUNGSTOWN
Local business owner Jessaca Brickley suggests shoppers take an adventure today and explore their community's local businesses.
"You'll be amazed at what you find," she said.
Today is Small Business Saturday, a day launched by American Express in 2010 to encourage more holiday shopping at small businesses such as Brickley's artisan shop Reclaimed Rose.
"It's really important for your local economy," said Brickley, of Youngstown.
Brickley grew up in Brownlee Woods on the city's South Side and would shop with her grandmother at the small, locally owned shops nearby.
"As I got older, I would always seek out communities that had quaint small businesses," she said. "I thought they were charming."
Her 2-year-old shop at 10 N. Main St. in downtown Columbiana is now one of those stores. It's filled with wares made by 30 local artisans. It's a whimsical artisan collaborative with vintage items that have been reborn as well as new, boutique items.
There are custom-made jewelry, home decor, children's outfits and cat toys in one room. In another room, there are candles, wax melts, soap and bath bombs.
In the back, Brickley uses paper and fabric to make the items she sells at the shop.
"I make handmade notebooks, and I will sew items like headbands, pillows, aprons and bags," she said.
She's also selling an experience.
"A lot of people online shop, and when they go outside, they want a unique experience," she said. "But when you go to a small business, the product is different. The interaction is different. I think people are seeing the value of that."
In Ohio, there are 939,317 small businesses in operation, making up 99.6 percent of all the businesses, according to data from the Office of Advocacy's Small Business Profiles, an annual analysis of each state's small-business activities.
Sweet Melissa's Good Eats, 6810 Market St., Boardman, is a new small business that opened in March and is already prepping to expand into the space next to its plaza location. It will go from 12 seats to 28 seats with a conference room and more storage space early next year.
"We grew out of the space within less than a year," said Melissa Poland, the fast- casual restaurant's owner.
Sweet Melissa's Good Eats sells salads, wraps and sliders all made with fresh ingredients from scratch.
"It's better eating," said Poland, of Poland. "I realize that food is all about texture and flavor. To me, food is about putting together different flavors. I want you to have fun when you are eating it."
On the day after Thanksgiving, Poland's employees were at the restaurant decorating for the holidays. It's a warm atmosphere that feels inviting. The eight employees here feel and act like family.
"It's a labor of love," Poland said of her first business venture.
In this adventure so far, Poland has learned you have to have quality in the food industry – especially in the Mahoning Valley where people are serious about the quality – and solid customer service.
"Treat people the way you would want to be treated," she said. "Customer service is the most important thing to every business."
To Poland, supporting small businesses and the efforts made by them to have quality, unique products and atmosphere grows the local community.
"When you bring attention to small businesses, it allows the community to know what's out there," she said. "It's planting the seed. It gets people wanting to come back."
More like this from vindy.com