Subaru gifts Boardman's science department with books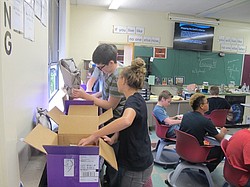 Photo
Neighbors | Zack Shively.Scott Lenhart's students Victoria Colovos and and William Parker look through boxes of books to see what new science books the district received from Boardman Subaru.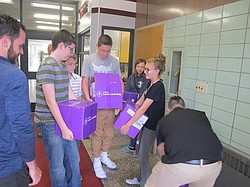 Photo
Neighbors | Zack Shively.Students from Scott Lenhart's eighth-grade class move boxes of books to his classroom on Oct. 4. Pictured are, clockwise from left, John Stanko of Boardman Subaru, students William Parker, Justin Yocum, Joseph Sferra, Olivia Garland and Victoria Colovos and Donnie Nameth from Boardman Subaru.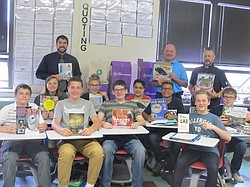 Photo
Neighbors | Zack Shively.Scott Lenhart's class at Boardman Glenwood Junior High School unpackaged books donated from Boardman Subaru as a part of Suburu Loves Learning program on Oct. 4. Subaru donated 150 science books to Boardman High School. Pictured are, from left, (front) Justin Yocum, Joseph Sferra, William Parker, Devont Montford, Thomas George; (middle) Olivia Garland, Victoria Colovos, Adam Mohammad, Daniel Gordiejew; (back) Scott Lenhart, Rob Fellman and Donnie Nameth. Fellman and Nameth are members of Boardman Subaru's staff.
By ZACK SHIVELY
Subaru gave 150 award-winning books to the science department at Boardman schools on Oct. 4.
The whole science department, from kindergarten to high school sciences, received books through the donations. These donations come from Subaru's national "Subaru Loves Learning" program.
Rob Fellman, owner of Boardman Subaru, donated the books to the school because he wants his company to do right and give back to the community as much as possible. He explained that helping the community is a part of his business model.
Eighth-grade science teachers Scott Lenhart and Laura Frost chose the books from a list from the American Association for the Advancement of Science (AAAS). The AAAS worked with Subaru to bring this program to schools.
The Boardman science department often applies for and receives grants and donations similar to book donations. The department tries to find ways to constantly improve.
Since 2015, the department has garnered $26,000 in grant funding, including a $16,000 grant from the EPA for a composting system. They also have gotten funding for hydroponic and aquaponic gardens that the science department gives to the school cafeteria for salads and sandwiches.
More like this from vindy.com