East Side church celebrates its 100th anniversary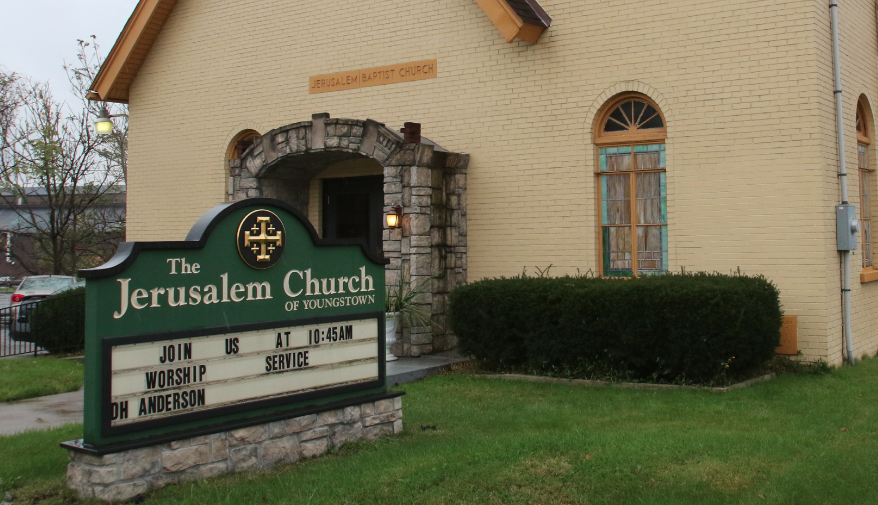 ---
By SEAN BARRON
news@vindy.com
YOUNGSTOWN
You could safely say Elizabeth Miller is a walking encyclopedia and historian of all things Jerusalem Church of Youngstown.
That's not difficult to conceptualize, though, when you take into account that she's a 70-year member.
"I joined because my husband belonged here," Miller, 94, recalled. "He joined after he got out of the Army. He's a World War II veteran who served in Germany."
To put it another way, Miller has been part of the church for about 70 percent of its existence, so it's quite befitting she soon will be among those celebrating the 100th anniversary of the family-oriented church, 2003 Wilson Ave., on the East Side.
The centennial celebration, themed "The Battle is not Yours, but the Lord's," is to begin at 4 p.m. Sunday at the church.
Included will be special worship services with additional pastors and a homecoming celebration for former members. Guest speaker will be Bishop C. Shawn Tyson of Mount Calvary Pentecostal Church on the South Side, said the Rev. D.H. Anderson Sr., Jerusalem Church's pastor.
"We're commemorating a 100-year journey that God has brought us through," the Rev. Mr. Anderson said.
Miller also was among those who recently shared their recollections and fond memories of the church, as well as some of its longtime community-outreach efforts.
For many years, the church hosted formal affairs called seasonal teas that were fundraisers on its behalf. The events took place until the late 1990s and were every autumn. Tables were decorated to fit a given season, Miller said.
In the 1950s, the building was remodeled and enlarged, and at one point it had three choirs and an estimated 350 members.
"It was a very thriving church at one time," Miller said, adding membership was bolstered by those working in the Mahoning Valley's many stores and a bakery in the area, along with the bustling steel mills that flanked the nearby Mahoning River.
For his part, Miller's husband of 74 years, William D. Miller, has served in several capacities, including as treasurer, president of the male chorus group and Sunday school superintendent during his 75-year association with the church.
William, a retired mail carrier who's said to be the congregation's oldest male member, remains active, she continued.
He also organized and became president of the Haselton Old Timers No. 2, which is still active. Among other things, the group makes monthly visits to shut-ins as well as patients at area nursing homes and hospitals, Elizabeth said, adding members also distribute food vouchers during the holidays to those in need.
Joseph Jennings of Youngstown recalled joining in 1955 after having arrived in the Valley from Winding Gulf, W.Va., and moving next door to the woman who became his wife, and who was a lifetime church member. Jennings worked 32 years for Youngstown Sheet & Tube Co., and had an aunt who lived in the city, he said.
In addition, Jennings, who helped build a new roof on the church, served in various capacities such as trustee, deacon, financial secretary and choir director.
In the mid-1970s, he became an ordained minister at Jerusalem Church, then was called to serve as pastor of Shiloh Baptist Church in Campbell before retiring and returning to his original church and becoming pastor emeritus, explained Jennings, an Army and Korean War veteran.
Marlene McIntosh-Robbins and Wilma Ingram, both of Campbell, are sisters and the third of five family generations who have ties to the church.
"When I joined at age 8, the church had a lot of young people. At that age, I jumped up to join, and we all did," Ingram said. "My friends then got baptized, so I followed them."
The siblings' father, Wilbert McIntosh, also belonged and was Campbell's first black councilman, McIntosh-Robbins added.
Also at Sunday's celebration, certain members will receive awards and gifts as tokens of appreciation for their commitment and service to the church, noted Gladys Williams, anniversary chairwoman and a 16-year member.
"We want to make this a beautiful, blessed day God has given us for our 100th year," Williams said.
Tammy Galbreath and Sonya M. Gordon, both of Youngstown, also are part of the committee assisting with the centennial gathering.
More like this from vindy.com