Akron Children's family is thankful for local care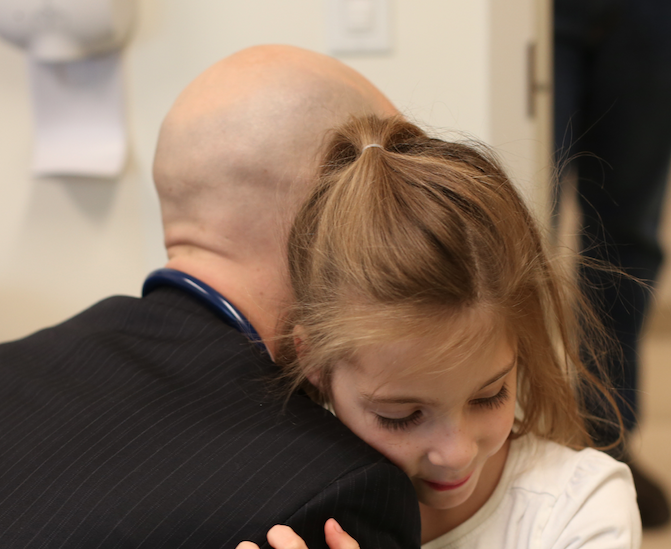 ---
By KALEA HALL
khall@vindy.com
BOARDMAN
Rebekah Plant is as full of life as any 6-year-old.
She runs, she plays, she giggles.
But this little girl's beginning is a stark contrast from where she is today.
Rebekah was born with two holes in heart – holes that had to be patched.
Her parents, Sarah and Chris Plant of Mineral Ridge, thought there was no chance Rebekah would survive beyond her first few days of life.
"I was holding her, and I said, 'What a cute noise she's making,'" Sarah said.
The nurse knew the noise was not cute: It meant something was wrong and rushed away with baby Rebekah.
She was taken to a neonatal intensive care unit at St. Elizabeth Youngstown Hospital that was run by Akron Children's Hospital. Within two days, her parents watched as doctors and nurses surrounded their baby who was now on a ventilator.
"We were waiting for them to come tell us to say goodbye," Sarah said. "She was totally gray and not responding."
Then, Dr. R. Peter Vande Kappelle Jr., pediatric cardiologist for Akron Children's Hospital, and the Plant family's "trusty hero," came into the room.
"She essentially had heart failure," Dr. Vande Kappelle said. "She had the pediatric version of heart failure. Both have build-up of fluid on the lung."
But Dr. Vande Kappelle knew Rebekah's heart could be fixed with some patches.
At 4 1/2 months old, Rebekah had her surgery at Akron Children's campus in Akron.
"He did a good job of prepping us for surgery," Chris said of the doctor.
The care the Plant family received from Akron Children's led them to have a second child, Sam, who is now 4. The hospital did a fetal echocardiogram to make sure his heart was OK. It is.
Now, the family feels complete and thankful.
"We feel blessed to live where we do," Sarah said. "I tell people [about my experience] all the time. We would not have ever even attempted to have a second child had we not had such good care here from our doctors and nurses and the cleaning staff."
Rebekah, now a kindergartner who just celebrated her sixth birthday, comes in for routine checkups on her patches.
"She actually is still blossoming today," Dr. Vande Kappelle. said. "I went in knowing that there's hope and she's going to do well. We are happy to provide that hope. That's the best part of my job."
Next year, Akron Children's will celebrate 10 years with its Beeghly Campus on Market Street. The campus opened in 2008 to provide more services locally to its young patients.
The location is the former Beeghly family homestead.
"They wanted to see it do something for kids," said Bill Considine, CEO of Akron Children's. "It definitely is doing something for kids now."
The Akron Children's Beeghly campus houses a 25-bed pediatric inpatient unit; an emergency department; surgical, radiology, endocrinology, laboratory, rehabilitative (physical, occupational and speech), rheumatology, transport, behavioral health and gastroenterology services; an 18-bed special care nursery; and an EEG lab.
In June, the hospital cut the ribbon on a new 51,000-square-foot building on the campus. The $20 million investment consolidated all of Akron Children's services in the Mahoning Valley onto one campus. Previously, some specialty services were at St. Elizabeth Boardman Hospital on McClurg Road.
Since 2008, Akron Children's has invested $90 million in capital improvements at the Beeghly campus, plus the $20 million recent expansion.
Akron Children's focuses on bringing the care closer to home, educating and community service.
"We take seriously that we want to be a citizen in the community," Considine said.
Most important to Akron Children's are the children.
"We take all children," Considine said. "We don't worry if they are Medicaid or no pay. We believe we need to be a fair organization and a caring organization."
More like this from vindy.com