YSU struggles past Division III Westminster
YSU vs WC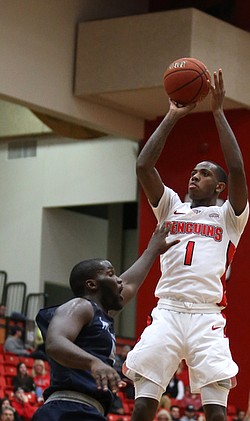 Gallery
By Greg Gulas
YOUNGSTOWN
For the better part of 29 minutes Tuesday night, the Westminster men's basketball team held Youngstown State in check.
This Division III team was not Franciscan, a recent 134-46 victim of the Penguins.
The Titans led by as many as 11 points and didn't fall behind by more than six until the end.
Trailing 64-63 at the 10:46 mark of the second half, Penguin freshman Garrett Covington had enough and decided to do something about it.
His bucket six seconds later gave the Penguins (2-2) the lead for good at 65-64 as Covington ignited a 19-9 run with 10 of his team-high 18 points as the Penguins posted a 91-83 win over the Division III Titans at Beeghly Center.
Cam Morse also had 18 points, Braun Hartfield added 12 and Devin Haygood had a double-double (10 points and 10 rebounds).
"Basically, we didn't have the intensity we needed to have in the first half so that was emphasized by coach [Jerrod Calhoun] at halftime. We're playing a Division III team, but can't take them lightly," Covington said. "We played very relaxed, soft and didn't play with enough energy. The game plan is to give a lot of effort and maintain the intensity."
Head coach Kevin Siroki's Titans entered the game having won their first three contests with nine Mahoning Valley residents on their 15-man travel roster.
Niles graduate Cameron Kane-Johnson torched the nets for a game-high 30 points with East High alum Deontay Scott adding 18 points and 10 rebounds). Canfield's Jarret Vrabel added 14 points and nine rebounds and Austin Armwood had 10 points.
Scott's bucket with 8:19 remaining was the 1,000th point of his college career. He fouled out with just under six minutes to play.
"I loved playing in front of the hometown crowd. It's really very special to be able to score my 1,000th point right here at Beeghly Center," said Scott, a senior.
A sophomore, Kane-Johnson didn't have the type of game he had hoped to a year ago — when the Penguins beat the Titans 97-67 — and it weighed on his mind for the last 364 days.
"I had a lot of support here tonight with friends, family and relatives that came up from Atlanta," Kane-Johnson said. "I really wanted to come to YSU, but didn't get the opportunity. To take a Division I program like the Penguins down to the wire will only help us build our confidence."
A nip-and-tuck battle the first eight minutes, Scott's bucket at 12:09 of the opening half gave Westminster a 23-19 lead.
Four points by Naz Bohannon keyed a 10-4 run for the Penguins as they built a 29-27 advantage.
Trailing 38-37 with 4:31 left in the opening frame, two buckets by Scott then keyed a 12-3 run to close the half as Westminster opened a 49-41 halftime margin.
YSU's Ryan Strollo came off the bench to hit all three of his shots from beyond the arc as he contributed nine points in just 10 minutes of action.
"Sometimes you need a couple games like this. I thought Westminster was really prepared, has really good players and I think they'll win their league. I think people should go see that team play," Calhoun said. "In the first half, I think our guys were a little shellshocked to be honest. Hopefully our guys realize where we're at because we're not a very good defensive basketball team, and that's the fact of the matter. We've got to get better.
"The only way you get better is to do what Garrett Covington does and you do what Braun Hartfield does. If we had 10 Garrett Covingtons, we win the league because he plays the game the right way, prepares the right way, doesn't ask questions and doesn't second-guess the coaches. He gets in the gym and works."
More like this from vindy.com