Habitat for Humanity dedicates new house in Boardman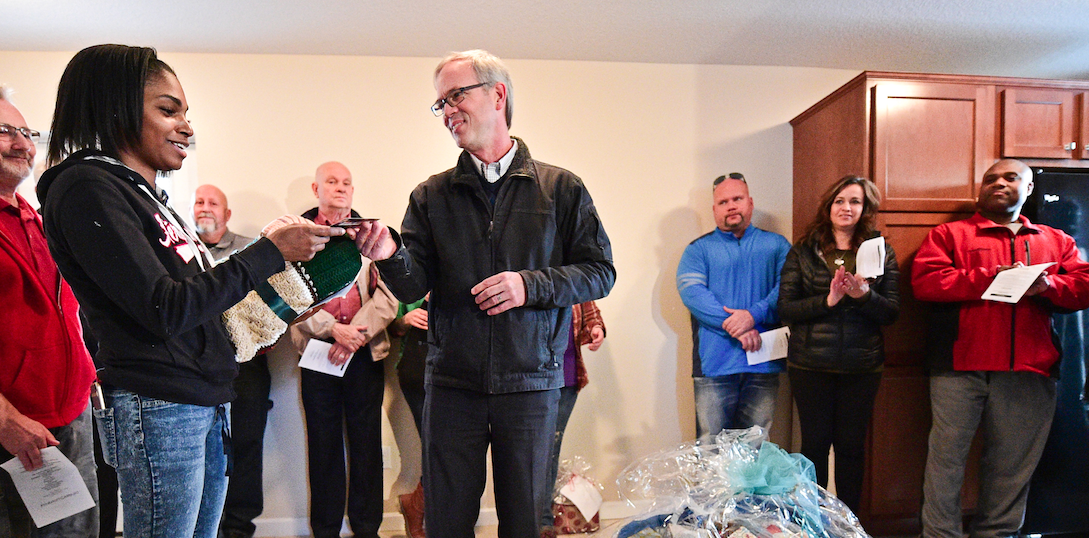 ---
BOARDMAN
Angel Thompson will be home for Christmas – a brand-new home, in fact.
Habitat for Humanity of Mahoning Valley on Tuesday dedicated the Erskine Avenue house the organization and its volunteers built for Thompson and her two children over the past six months.
The house marks the 139th house HFHMV has built in the Valley since the organization was founded in 1989.
Habitat for Humanity provides housing opportunities to low-income families. The organization sells the houses at no profit, and Habitat homeowners pay affordable mortgage rates with zero percent interest. To purchase a Habitat home, families must attend homeowner classes and volunteer between 250 and 500 hours.
Thompson put in 250 hours of time. She was joined by approximately 300 volunteers who donated thousands of hours.
Thompson was no stranger to Habitat for Humanity when she applied – she grew up in a Habitat house as a child.
Next week, she'll be moving into her own home with her two kids, a 9-month-old daughter and a son who turns 3 next week.
"I just wanted somewhere for my kids to grow up in a nice, stable environment, because we live in an apartment complex," Thompson said.
Habitat broke ground on the Erskine Avenue house in the spring. Leading the building effort was HFHMV construction manager Michael Ondrey.
Ondrey noted that the three-bedroom house is energy-efficient, which will help keep Thompson's utility bills down.
"It's fulfilling to be able to help somebody achieve the dream of homeownership, something a lot of us take for granted," he said.
The project was aided significantly by the Youngstown Columbiana Association of Realtors, which worked for about two years to raise tens of thousands of dollars for the project and provided volunteers for construction.
"On behalf of the Youngstown Columbiana Association of Realtors, we'd like to welcome the Thompson family to their new home," said Maureen Cline, YCAR 2017 president.
At Tuesday's dedication ceremony, one of the final steps was to hand the keys over to Thompson.
Standing in her new kitchen, a smile lit up her face.
"I would like to thank y'all for blessing our family with this house," she said.
More like this from vindy.com