Mohip defends actions as lawmakers seek ethics review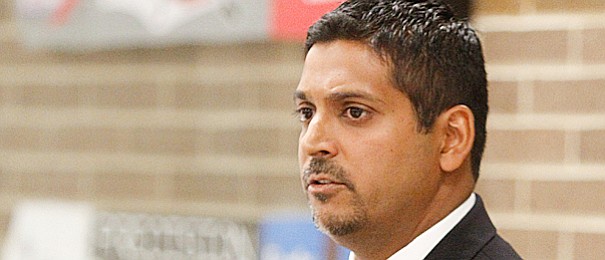 ---
YOUNGSTOWN
The Youngstown City Schools CEO is defending recent actions that three Mahoning Valley state legislators have asked the Ohio Ethics Commission to review.
A story in Sunday's Vindicator said CEO Krish Mohip conducted business with a company that partnered with a firm for which he was a paid consultant.
DOCUMENT: Valley legislators send letter to Ethics Commission on Youngstown Plan
Mohip late Monday responded with a news release defending his use of an instructional resource called i-Ready, in response to questions about consultation he provided to the Educational Research and Development Institute, or ERDI.
Mohip strongly denied any implication that he was ever paid by i-Ready or any other vendor: "I have never received a dime ...," he said.
Earlier Monday, state Rep. Michele Lepore-Hagan of Youngstown, D-58th, state Rep. John Boccieri of Poland, D-59th, and state Sen. Joe Schiavoni of Boardman, D-33rd, united to request clarification from the ethics commission on guidelines that apply to school CEOs appointed under House Bill 70.
"We will wait for results from the ethics commission, and if the results indicate some kind of violation, we will immediately drop legislation to correct it," Lepore-Hagan said.
HB 70, commonly referred to as the Youngstown Plan, was signed into law by Gov. John Kasich in July 2015. It enabled a state-appointed academic distress commission to hire Mohip to lead the district. The bill gives Mohip complete operational, managerial and instructional control.
Letter to Ohio Ethics Commission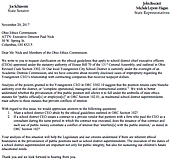 Document
YOUNGSTOWN- State Rep. Michele Lepore-Hagan (D-Youngstown), State Rep. John Boccieri (D-Poland) and State Sen. Joe Schiavoni (D-Boardman) sent a letter to the Ohio Ethics Commission regarding recent developments with the Youngstown City School District CEO.
The legislators' letter to Paul Nick, commission executive director, says in part:
"Our local Youngstown City School District is currently under the oversight of an Academic Distress Commission, and we have concerns about recently disclosed cases of impropriety regarding the Youngstown CEO's relationship with contracting companies that received taxpayer dollars.
"Analysis of the powers granted to the Youngstown CEO ... suggest that the position retains carte blanche authority over the district. ... We wish to better understand whether the privatization of this public position still allows it to fall under the umbrella of state ethics statutes. ..."
The Valley lawmakers ask specifically: "If a school district CEO issues a contract to a private vendor that partners with a firm who paid the CEO as a consultant during the same period in which the contract was executed, does the issuance of that contract and such use of public money constitute a conflict of interest ... ?"
On Facebook during his "Mondays with Mohip," the CEO renewed his call for people to tie orange ribbons around trees as a show of support for the city school district. As for the Vindicator story, he would only say: "It was a misunderstanding with not a lot of fact to it."
Two hours later, Mohip issued his news release, saying he chose i-Ready because it helped him turn around some of the lowest-performing schools in Chicago.
The Vindicator reported that Mohip was a paid consultant for ERDI during the time he contracted for i-Ready with partner company Curriculum Associates.
The newspaper reported Sunday that Curriculum Associates was not the same company but a partner of ERDI, listed on ERDI's website. It also was reported that Mohip said he reaped no economic benefit from Curriculum Associates for choosing its product.
He reiterated Monday: "I have never received a dime from Curriculum Associates or i-Ready."
Mohip started providing limited consultation for ERDI while he was employed by Chicago Public Schools in 2014.
"The ERD Institute does not own or have an interest in i-Ready or the company that develops and markets it," the release said. "Curriculum Associates and i-Ready do not own or have an interest in the ERD Institute. The ERD Institute provides feedback for a wide range of education companies, from companies that develop instructional tools such as i-Ready, to education media outlets such as the Discovery Channel, to education technology providers such as Apple, Hewlett-Packard and IBM."
Mohip said the decision to bring i-Ready to the district had nothing to do with his consulting work with ERDI.
"We brought in i-Ready because our students were behind in reading and math. This program is helping us bridge the gap," he said.
Mohip said his consultation with ERDI "is an independent issue" and that he will answer any questions that either the public or any independent body may have. "There is nothing here," he said.
Mohip said he understands that the position of CEO and decisions he makes have "constantly been under the microscope because school boards and some state legislators may hope to overturn parts of House Bill 70."
"I have no problem with citizens, schools boards or legislators who disagree with the law," Mohip said. "That's their job to represent their constituency's feelings and opinions. However, my job is to turn around this district and give our students a chance to succeed."
More like this from vindy.com