Faith Community Covenant Church celebrates 2 centuries of ministry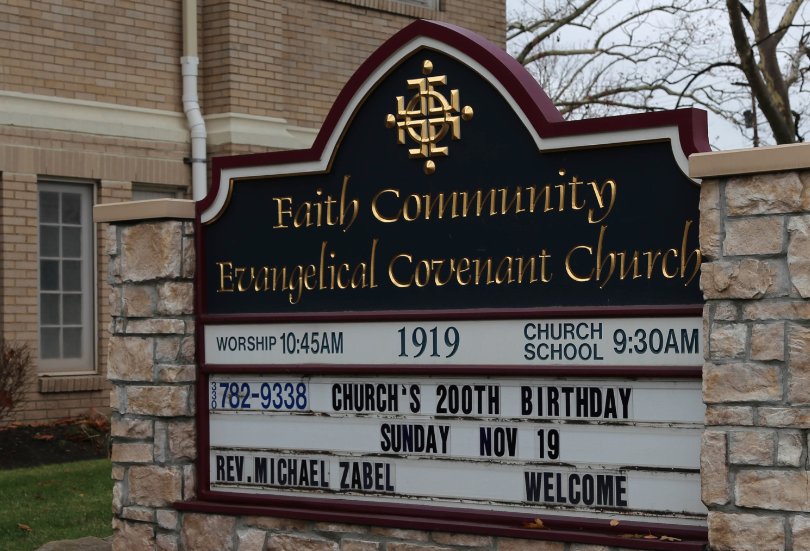 ---
By Sean Barron
YOUNGSTOWN
The length of Addison Cool's affiliation with a longtime nondenominational church is a mere fraction of how long it's been in existence, but the impact the church has had on her looms large.
"I've been here since I was baptized," around age 18 months, the 9-year-old Struthers Elementary School fourth-grader recalled, referring to Faith Community Covenant Church. "I love the outdoor fun days."
Addison also was among dozens of people of all ages who celebrated Faith Community Covenant's 200th anniversary during a special worship service and luncheon Sunday at the church, 1919 E. Midlothian Blvd., on the South Side.
To highlight 200 years of ministry, Addison and her brother, Declan, 4, lit candles on cupcakes as part of the service. The siblings came with their grandmother, Ginger Young, who joined the church in the 1980s.
Faith Community Covenant also was the setting for Addison's ninth birthday party that included plenty of friends and family members, she added.
The church's history began in 1817, when a log chapel was built on a parcel now known as Lake Park Cemetery, off Midlothian. Since then, the church has undergone a series of name changes and mergers, including of Pilgrim Collegiate Church and Bethlehem United Church of Christ, both in Youngstown, noted the Rev. Michael Zabel, pastor.
"It was like a wedding ... to bring our history and culture together," he said.
During his sermon, the Rev. Mr. Zabel cited Joshua 1:1-9 to urge the congregants to use the church's past as a guide to plan for its future. Specifically, it's important to remember that God is with them, to live by his example and be strong and courageous in the face of challenges, he told attendees.
Joshua 1:1-9 talks in part about how God will not fail or forsake the Israelites and other people as they cross the river to the land bestowed upon them after Moses' death, and for them to be courageous on the journey.
"Just as it was true for Joshua ... it is also true for us today," Mr. Zabel said about moving the church forward and recognizing new ways to reach others.
Making additional comments and words of encouragement were the Revs. Robert F. Kobele and Gary Marcy, who served as Faith Community Covenant Church pastors from 1974 to 1985 and 2004 to 2009, respectively.
Many people today are going through a variety of tribulations and are upset by much strife in the world, so it's imperative to recognize that the church has the potential to "reach out more in this community" and make a difference in others' lives, the Rev. Mr. Marcy said.
Margaret Ohl Grace of Poland, who became a member in 1987 after having returned to the Mahoning Valley, said she's tried to make an impact, in part by twice serving as council president as well as on many committees and as part of the choir since the mid-1990s.
"The door just opened for me to be here," Grace said, adding she also takes part in Wednesday evening prayer gatherings.
Grace echoed part of Mr. Zabel's sermon, saying she's glad to see an infusion of younger people making some of the church's core decisions. Their impact also has been felt in the musical selections, which are a mix of older and modern songs, she continued.
"All of the past has made us who we are today spiritually," Grace added.
Jack Barton recalled having joined in 1999, the year of the merger between Pilgrim Collegiate and Bethlehem United. Barton, who served as property manager, also has been instrumental in spearheading many of the church's upgrades and improvements, he explained.
Projects included adding new flooring and carpeting, a new roof, rebuilt bell towers and new boilers. Also on the to-do list was landscaping work, along with erecting new signs, air-conditioning and heating units and outdoor security cameras, he noted.
"It was just a mess," Barton said about the church's condition before the work.
Despite Faith Community Covenant Church's long and storied history, as well as the more recent improvements, the factor that remains constant in ensuring the church's direction, vision and continued success is the people, Mr. Zabel said.
"For together, we have made this church what it is today," he added.
More like this from vindy.com