Y'town schools paid firm linked to 1 that paid CEO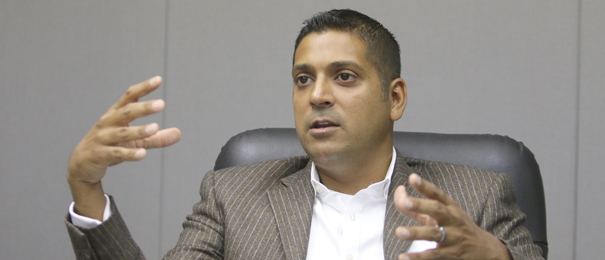 ---
VINDICATOR EXCLUSIVE
By AMANDA TONOLI
atonoli@vindy.com
YOUNGSTOWN
The Youngstown City School District contracted with a company that is a partner of a firm for which CEO Krish Mohip was a paid consultant.
The school district has paid $261,914 to Curriculum Associates, a partner company of Education Research & Development Institute, which used Mohip as recently as August as a paid consultant.
In October 2016, Mohip, in his capacity as CEO, contracted for the services of iReady, a program developed by Curriculum Associates, for students in the afterschool program.
He said Thursday he wasn't aware that Curriculum Associates' iReady program is an ERDI partner.
Asked by The Vindicator if he knew of any other programs that are affiliated with ERDI that he's implemented since starting in Youngstown in July 2016, Mohip also said he did not know.
"I can't pinpoint where I learned about each educational program I've implemented," he said. "I don't know if I learned about them before or after I did consultant work [with ERDI]."
ERDI reviews educational services and products with educators. Curriculum Associates is listed as a partner on ERDI's website.
iReady is a computer program that helps to assess the student's academic abilities. A lesson plan is developed by iReady to accommodate students through interactive problems, games and more.
In the curriculum market, iReady comparable competency based education programs include others such as iStation and Achieve 3000.
Prior to using iReady, Mohip said the district instead utilized a school literacy program called Literacy Collaborative.
Mohip said he picked iReady because he saw a need and believed iReady would succeed in Youngstown.
"As a [Chicago Public Schools] principal I used Curriculum Associates and it worked well for me in Chicago," he said.
In late 2013, Mohip was part of a group of Chicago Public Schools representatives that reviewed proposals by companies and selected iReady for the Chicago school system. This predated Mohip serving as an ERDI consultant. He became a consultant in 2014.
Mohip said he reaped no economic benefit from Curriculum Associates for choosing its product.
"The program was chosen from past experiences because it works," he said.
Tech companies, and their partners, reach superintendents by paying private businesses to set up conferences or small-group meetings with them.
"One prominent provider is the Education Research and Development Institute, or ERDI, which regularly gathers superintendents and other school leaders for conferences where they can network with companies that sell to schools," the New York Times reported on Nov. 3.

Relationships
The relationships between education companies and superintendents or CEOs like Mohip can be complicated.
In Mohip's case, its moreso since as a state-appointed CEO, a board of education does not have to have to approve his actions. Essentially, he has carte blanche to contract with partners of his choice.
In February, for example, Mohip hired Atlantic Research Partners to search for city school district principals at a cost of $12,500.
Both Atlantic and ERDI have ties to two men – David Sundstrom and Joseph Wise.
Sundstrom and Wise were both founders of Atlantic. Sundstrom left in March to co-own ERDI. Wise was said to join shortly after. Both are now listed as ERDI governing board members on ERDI's website.
In August, Mohip acknowledged he was paid $4,000 in 2017 by ERDI for his position on two educational review panels.
When questioned by The Vindicator on Aug. 9 about the relationship between Atlantic and ERDI, both of Chicago, Mohip quit being a paid consultant for ERDI that very day.
Sundstrom, Wise and Atlantic have been part of past controversies in education. In June 2015, Atlantic acquired parts of a company called The SUPES Academy, a training program for principals and superintendents. SUPES was part of a multimillion-dollar kickback scandal that sent former owners Gary Solomon and Thomas Vranas and former Chicago Public Schools CEO and SUPES consultant Barbara Byrd-Bennett to prison for seven years, 18 months and four years, respectively.
Sundstrom said Atlantic acquired parts of SUPES in an agreement stipulating that it wasn't involved in any criminal misdoings. About six months later, Sundstrom said he and Wise rescinded the deal after the kickback scandal was revealed. Sundstrom said he was the victim of a misrepresentation.
In 2007, Sundstrom and Wise were asked to leave their positions as chief of staff and superintendent, respectively, at Duval County (Fla.) schools. Sundstrom explained that he and Wise were in positions of transformation for an academically challenged school district.
Sundstrom and Mohip said during their August visit that in positions of transformation and power over school districts faced with adversity – such as failing academics – public scrutiny is inevitable.
HAPPENSTANCE
"We do everything we can to avoid the appearance of impropriety," said Sundstrom, who visited The Vindicator editorial board in August with Mohip.
Both Sundstrom and Mohip contended then that there was nothing improper about their professional relationship – saying it is merely a happenstance that Mohip worked for a company that Sundstrom and Wise were taking over.
"When you look at the timeline, it just doesn't sync up," Mohip said during that August meeting. "I can't determine my life based on who is in what position five years down the road."
Relationships between curriculum companies and top school officials are being scrutinized elsewhere, too.
Verletta White, interim Baltimore County schools superintendent, was also paid by ERDI for consulting work while leading a school district, according to a Nov. 9 article in The Baltimore Sun. White told The Sun that sitting on a panel with a county contractor does not indicate anything improper.
"I don't think we can automatically draw the line from collaboration to corruption," she said. "Educators do not deserve that."
That is something that appears ethically questionable and "clubbish," said Diane Swanson, founding chairwoman of the Business Ethics Education Initiative at Kansas State University, told the Baltimore paper.
"At a minimum there's an appearance of conflict of interest," Swanson said. "Obviously, the private sector has the goal of more profit and that goal is not the same, I hope, as the educational system in the public sector."
Both White and former Baltimore County Schools superintendent Dallas Dance are under investigation for failing to disclose outside income.
The Sun also reported: "The [school] system's ethics code prohibits officials from holding jobs with companies that have contracts or are negotiating for work with the system. It also states that school officials may not 'hold any other employment relationship that would impair the impartiality or independence of judgment of the school official.'"
More like this from vindy.com