Shots for Tots' efforts keep rolling: Group collects 200+ bikes for kids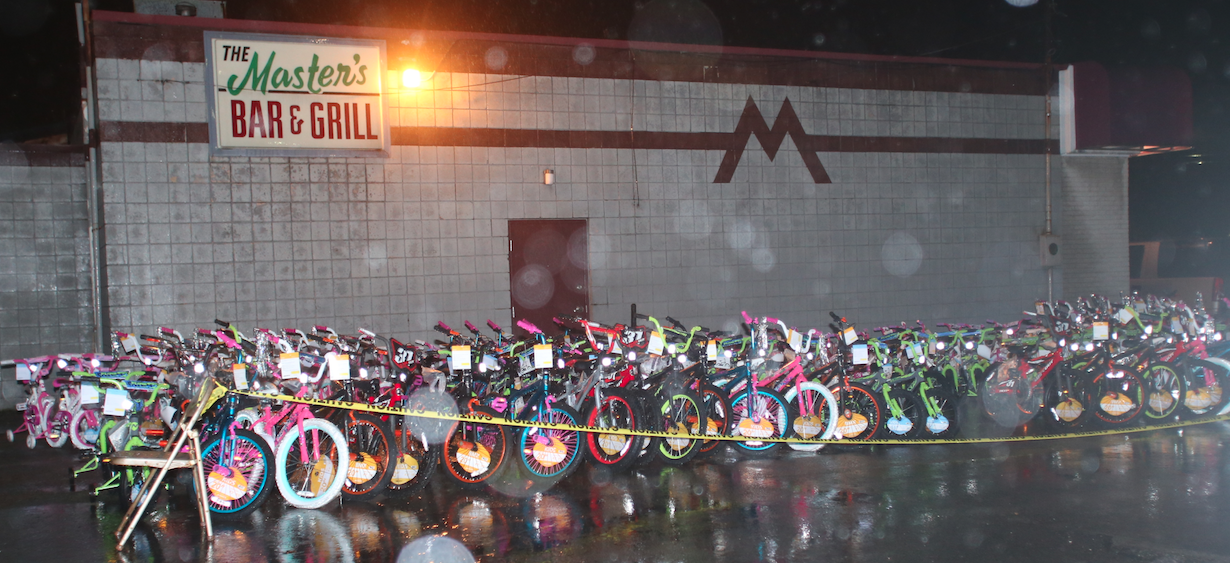 ---
By Sean Barron
LIBERTY
Sometimes only a few years are needed to see an individual effort toward brightening others' holidays mushroom into a community undertaking of generosity.
Just ask Debbie Minniti and Joan Dalessandro.
"People are very generous in this area. We could never do this without all these people in here," Dalessandro said, referring to the large donation of bicycles that will be distributed to area children in need shortly before Christmas.
Minniti and Dalessandro were among more than 100 people who celebrated the results of the yearlong charitable effort during Saturday evening's fourth annual Shots for Tots appreciation party at Master's Bar & Grill, at 1675 Trumbull Ave., just off Belmont Avenue.
The Shots for Tots nonprofit organization had 211 tricycles, mountain bikes and other bicycles outside of the restaurant that were bought this year at Walmart's Liberty store, courtesy of those who contributed to the effort. The bicycles will be donated to the Marines Toys for Tots program before being distributed to families in need, noted Dalessandro, who's self-employed.
The figure slightly exceeded the organization's goal of 200 bicycles, she continued.
Several years ago, Dalessandro and Minniti, a bus driver for Liberty School District, were at the restaurant and wanted to do something to bring added holiday cheer to youngsters in need. Consequently, they sold Jell-O shots and raised funds from which two bicycles were bought, Minniti recalled.
The idea gained momentum, however, and since then, money has been raised for the effort via individual donations and raffles, as well as the Shots for Tots organization's annual poker runs and golf outings, Minniti explained.
"Any way that helps us raise money to buy the bikes is big," she said.
Sgt. Jeremy Lehman, who's served eight years in the Marines and is stationed at the Youngstown Air Reserve Station in Vienna, said that after they're picked up and taken to a warehouse, the bicycles will be sorted by recipients' ages. This year, his unit is reaching out to eight or nine sites in Mahoning and Trumbull counties as part of the Toys for Tots program, and a certain percentage of youngsters at each site will receive the bicycles after they're raffled off, he explained.
Recipients likely will receive the bicycles about a week before Christmas, said Lehman, who praised Master's Bar & Grill and others for their charitable efforts.
"They do a good job, and great customers who come here really care about the community," he added.
Concurring with that assessment were Minniti and Dalessandro, who also thanked the Liberty Walmart store for assembling the bicycles for free.
More like this from vindy.com
November 19, 2017 12:07 a.m.