New welding school provides jobs, new starts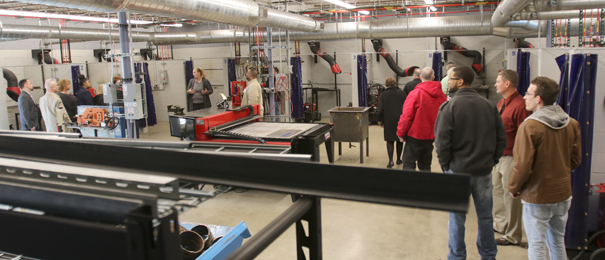 ---
By GRAIG GRAZIOSI
ggraziosi@vindy.com
YOUNGSTOWN
Centered in one of the most economically distressed areas of the city, Flying HIGH Inc.'s new welding school hopes to play a part in improving the area.
Flying HIGH Inc.'s Professional Development Center is a nonprofit organization that offers 15-week job-training programs for individuals seeking work in welding, nursing and machining based in Youngstown. The welding school celebrated its grand opening during a ribbon-cutting ceremony Friday at the North Side facility.
The new welding school, located along Bissell Avenue, enrolls 12 students, enough to fill all 12 of the facility's welding bays.
Mayor-elect Jamael Tito Brown was present at the ribbon cutting and spoke on the need for job-training programs to benefit the city's poor.
Inside the facility, each bay has its own welding unit, gas lines, power box and fumigation system, so each of the students gets hands-on familiarity with the tools and techniques involved in the trade.
After students – who are required to pass drug screenings and have access to services such as child care through the school – pass their 15 weeks of schooling at the facility, they are then brought on board by businesses that have partnered with Flying HIGH for an additional six months of specialized training.
Jeff Magada, executive director, said the program was intended for individuals who want to train or retrain for work in the most time-efficient way possible.
"Our school is for people who can't afford to wait for training," he said. "We provide the first 15 weeks of training, they earn their opportunity, and then our students go on to work alongside partner businesses who then spend six months training them specifically for the job they're going to do at that company."
Flying HIGH's program was made possible as a result of a $4 million grant from the U.S. Department of Labor. Tuition for students is $3,045, though those in dire financial need can qualify for reduced tuition thanks to the federal grant.
Magada describes the school as not just a training program, but also as a part of the solution to the region's economic and drug problems.
"Many of the ways we address the drug problem is by focusing on getting people rehabbed and back out into society, which we need," he said. "Flying HIGH is that next step. We're what's here for those people once they're ready to step back into the job market."
Magada said he chose the North Side location after reading an Economic Innovation Group report on the most economically distressed areas of the country, which mentioned the city's North Side.
"When people feel like they have a purpose and feel productive, they're less likely to relapse," Magada said.
More like this from vindy.com