Ohio artist visits BCIS to share inspiring story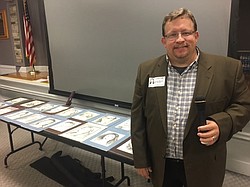 Photo
Neighbors | Submitted .Artist Ron Moore Jr. is pictured standing in front of graphite sketches of 15 of the victims of the recent Las Vegas shooting.  Moore says he plans to finish portraits of all 58 victims to send to their families.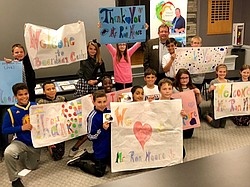 Photo
Neighbors | Submitted .Students made signs to welcome and thank the artist for visiting Boardman Center Intermediate School. Students pictured with artist Ron Moore Jr. are Bennett Sofran, Jayden Doerr, Isabel Klisiewicz, Laci Jurus, Thomas Amon, Eric Konik, Alec Dabney, Manny Munoz, Kennedy Smith, David D'Altorio, Mya Guesman, Lainey Beadle, Alexis Davis, Keira Buchman, Nathan Myers, Austin Gardner, Shahniwaz Ali and William Smith.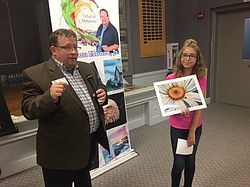 Photo
Neighbors | Submitted .Artist Ron Moore Jr. is pictured with student Madison Harding, holding "Petals of Hope" for hurricane relief.
Ohio artist Ron Moore Jr. visited Boardman Center Intermediate School on Oct. 11.
The Alliance native talked about his 14-year battle with Parkinson's Disease - how it robbed him of his ability to paint - and then how a brain operation and electrical implant called deep brain stimulation restored his ability to paint and ignited his passion to "give back."
More than 80 fifth-graders at Center asked questions about Parkinson's. Their teachers had presented a lesson about the effects of the disease in preparation for Mr. Moore's visit.
A cool connection that prompted this school visit was Center fifth-grade teacher Melanie Shirilla, who won a contest to name a special floral print of Mr. Moore's. Out of 200 entries, her title, "Petals of Hope" was the winner.
Moore told the students that sales of the print so far have raised $23,000 for recent hurricane relief efforts. He used it as another example of the importance of using your talents to help other and to always believe you can make a difference.
More like this from vindy.com