Struthers' Nebo neighborhood sign stolen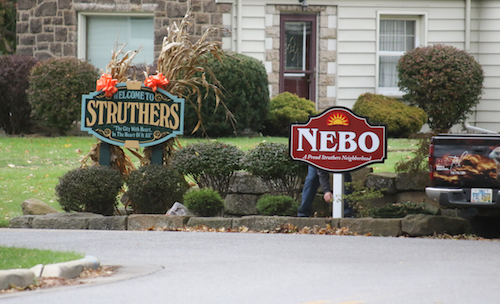 ---
Staff report
STRUTHERS
A sign welcoming visitors to the Nebo neighborhood on Wetmore Drive in Struthers was stolen just two weeks after it was installed.
The sign – bearing the Struthers colors of red and black with "Nebo" in white under a rising sun – was paid for by the Rotary Club of Struthers Community Corps and was one of three signs posted at the entrances to the neighborhood. A fundraiser is underway to purchase a fourth sign.
Each sign cost approximately $500.
Catherine Miller, president of the Rotary Club of Struthers Community Corps, said while members of the Rotary and other local supporters have offered to pull funds to pay for a new sign – including one business owner who offered to buy a new sign outright – the group is going to hold off on replacing the sign in hopes that the stolen property will either be returned or located.
"We're hoping someone will have some information and report it to the police," she said.
Miller said the theft prompted officials to ensure other signs posted throughout the city were firmly secured to their posts.
In addition to the Nebo neighborhood, other historic Struthers neighborhoods, such as Coke Alley, Pink Tea Hill and the North Hill, will receive their own signs over the course of the next several years.
Struthers police are asking for any information regarding who stole the sign or its whereabouts. Those with information can call 330-755-9849 or reach out to the Struthers police through their Facebook page. All information is kept confidential.
More like this from vindy.com