First Presbyterian Church's free Thanksgiving dinner more than a meal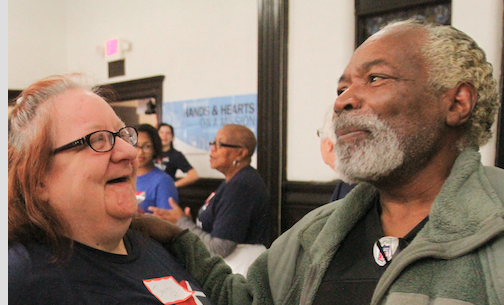 ---
YOUNGSTOWN
"Come in. Have a seat in the sanctuary and get warm," is the friendly greeting Doug Doyle gave the hundreds of people who came Thursday to enjoy a free community Thanksgiving dinner at First Presbyterian Church on Wick Avenue.
The sanctuary is the staging area where guests waited for their turn in the dining hall for the 37th consecutive community dinner for which the church, with the help of some 100 volunteers and donations from parishioners and the community, annually feed between 500 and 700 adults and children.
"We prepare to feed 700. The Thanksgiving dinner is one of the things our congregation as a whole rallies around, said the Rev. Rebecca Anne Kahnt, church pastor.
"Some guests say coming to our dinner makes them feel like they are at home and treated like family. Our goal is to make guests feel welcome and treat them like family," the Rev. Mrs. Kahnt said.
"With a heart for the city in the heart of the city" is the church motto, said Chet Cooper, clerk of sessions.
Irene Clark and her daughter, Michelle Clark, both of Boardman, waiting in the sanctuary to be called, attested to the friendly atmosphere.
"We feel very welcome here," said Michelle.
Hunter Bancroft, 16, of Cortland, Life Scout, and Adam Philips, 21, of Austintown, Eagle Scout and adult leader, were among 23 members of Boy Scout Troop 55, sponsored by First Presbyterian Church, who spent time Thursday helping at the dinner. "We get a chance to help people," said Hunter.
"It is also an opportunity to earn service points needed to advance in rank," said Philips.
Nancy Carson of Youngstown, a longtime member of First Presbyterian, has been handing out dinner containers and cheery greetings at the Thanksgiving dinner since the 1980s.
"It is important to make everybody feel welcome," Carson said.
First Presbyterian's Thanksgiving dinner not only supports community residents, it also supports area businesses from which it receives donations and from which it buys supplies.
For instance, pies were donated by Cafe Augustine, an inner-city evangelizing outreach for late teens/young adults; Thrivent Financial provided milk products; and sliced turkey and stuffing were purchased from ACME, said JoEllen Kieffer of Boardman, Pastor Kahnt's administrative assistant.
More like this from vindy.com
November 17, 2017 12:05 a.m.