Valley's food bank grows, as does need to help ease hunger in our community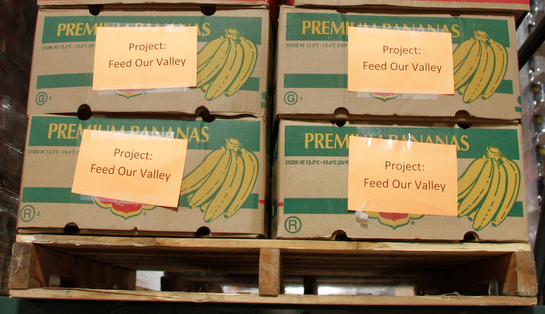 ---
Completion this month of a 2,000-square-foot addition to the warehouse of Second Harvest Food Bank of the Mahoning Valley should strike many as both encouraging and distressing.
It is encouraging in that the Valley's largest hunger-relief organization now has the needed ability to store an additional 500,000 pounds of food on site at its Salt Springs Road headquarters.
It is distressing, however, in that the expansion rises as yet another tangible reminder that hunger and helplessness stubbornly continue to be a way of life for increasing numbers of Valley residents, and few signs point to any significant turnaround anytime soon.
Those mounting needs can also be seen in other domains, such as continually rising unemployment levels in the Valley that today hover around 8 percent, more than double the national figure.
In fact, Trumbull County currently holds the ignominious distinction of the highest jobless rate among all 88 counties in the Buckeye State.
Fortunately for all, the steadfast staff and volunteers at Second Harvest have kicked into high gear once again this month to launch their annual holiday campaigns to raise food and funds to lessen the pangs of hunger during the season of joy.
The generosity and public-mindedness of Struthers Steel Services, which donated the land for Second Harvest's expansion, sets the stage for another bountiful year.
Luckily for the tens of thousands in need in cities, suburbs and rural areas in the Valley, Second Harvest and its legion of supporters are veterans at rising to daunting challenges. Over the past decade, demand for its essential services has continued to mushroom. Last year alone, the food bank distributed a record 10.5 million pounds of food to the hungry in Mahoning, Trumbull and Columbiana counties.
The food bank now regularly distributes more than 15,000 pounds of food each week. That's more than double the amount it gave away in 2007.
The draconian task of meeting such skyrocketing need results largely from this community's signature selfless and charitable spirit.
We're confident that spirit will accelerate into overdrive during the next two critical months.
FEED OUR VALLEY
Paralleling this period of heightened demand is an ongoing campaign called Feed Our Valley, spearheaded by 21 WFMJ-TV, The Vindicator's broadcast partner. The campaign, formerly known as Project Feed Our Valley, enters its 11th year of success this month and ranks among the most productive drives for the food bank.
Over that decade-long span, Project Feed Our Valley has provided more than 700,000 pounds of food and about $700,000 to make the Christmas season a bit merrier for the multitudes of those down on their luck.
Fortunately, there is no shortage of ways to help make this year's Feed Our Valley drive the best yet. Visit the agency's website (mahoningvalleysecondharvest.org) for information on how best to take part.
Special food and fund campaigns under the auspices of Feed Our Valley continue over the next month. Come Saturday, WFMJ personalities will accept monetary and food donations from 9 a.m. to 1 p.m. at the Super Kmart store on state Route 46 in Niles. FOV and the food bank are especially seeking such nonperishable holiday foodstuffs as boxed mashed potatoes, gravy mixes, canned vegetables, boxed stuffing.
Also on Saturday, those attending the opening of the annual "Memories of Christmas Past" exhibition at the Arms Family Museum of Mahoning Valley History on Wick Avenue in Youngstown will receive 50 percent off the standard admission price to the popular holiday attraction with a donation of nonperishable food items.
We encourage individuals and community groups to support Feed Our Valley and the broader holiday campaigns of the region's food bank. Their mission epitomizes the most noble spirit of the holiday season.
It is our hope that in the not too distant future, we will be able to celebrate a downsizing of Second Harvest's physical plant as a result of a marked decline in Valley residents' need for the critical and life-enriching services that the organization so effectively provides.
More like this from vindy.com
November 15, 2017 midnight