Trumbull prosecutor opposes parole for 2 convicted of 1988 murder, wants lie detector tests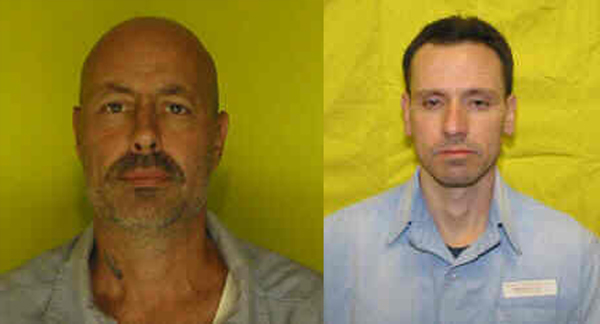 ---
By Ed Runyan
WARREN
Trumbull County Prosecutor Dennis Watkins, who will travel to Columbus today to oppose parole for two Trumbull County men convicted of a 1988 Weathersfield Township murder, has proposed a novel idea to the Ohio Parole Board.
In a letter to the parole board, Watkins has asked that the prison system administer lie-detector tests paid for by Trumbull County to Jeff McClure, 48, and Mark Badilo, 49, before they would be released on parole.
Badilo and McClure were convicted in 1992 of killing Badilo's brother, Tim Badilo, 23, of Deforest Road, on Feb. 24, 1988, at McClure's house on Broadway Street in Weathersfield Township. His body was found in a burned car in Hubbard Township. Mark Badilo and McClure were 19.
Watkins, Hubbard Township Police Chief Todd Coonce and former Howland Township Police Chief Paul Monroe (now Trumbull sheriff) have opposed Badilo's and McClure's release partly because of the danger they feel there would be to a witness whose testimony led to their conviction.
But Watkins wrote that aspects of the case still don't "add up or make sense" to him. "I think there is more behind this murder than has been disclosed," Watkins said.
Watkins has proposed that Badilo and McClure be required to answer three questions on a lie-detector test:
Have McClure and Badilo been totally truthful with the board when describing the murder and reasons behind all of the crimes?
Do they still think about or plan revenge against their friend or anyone else who turned them in?
Did Mark Badilo profit financially from the murder of his brother?
Watkins said he has reason to believe that Badilo may have profited, and the two should have to be honest about what happened before they can be released. Furthermore, they are relatively young and still could be capable of further violence, Watkins said.
Wednesday's hearing could be one of the last steps before potentially releasing Badilo and McClure. The board conducted a similar hearing in 2013 and ordered both to remain in prison at least three more years. Both have been in prison for 27 years on a sentence of 17 years to life.
Badilo has said the reason for the murder was because his brother had squandered the money from the janitorial business they were running, and Mark Badilo wanted his brother out of the way so he could take over the business.
McClure and Mark Badilo prepared for Tim Badilo's arrival at the Broadway home Feb. 24, 1988, by placing a pool stick in the backyard. After finding a way to get Tim Badilo to walk into the backyard, McClure hit him in the head with the pool stick, according to Vindicator files.
Mark Badilo then tackled Tim Badilo and wrestled with him, according to written and videotaped confessions. The statements suggest that an elastic strap from suspenders was used to strangle Tim Badilo.
McClure and Mark Badilo placed Tim Badilo's body in the trunk of Tim Badilo's car. Two days after the killing, McClure took the car to a gas-well road off Bell Wick Road in Hubbard Township, the confessions said. There, he burned the body while it lay in the trunk after pouring gasoline on it.
Though Watkins told the parole board he continues to oppose parole for Badilo and McClure, he asks that the lie-detector tests be administered if the parole board decides to release them this time or in the future.
Watkins included information regarding other jurisdictions that have used lie-detector tests on parolees and probationers, including in New Jersey, where paroled sex offenders were given the tests to detect and prevent parole violations.
Watkins also included a section of the Ohio Administrative Code titled "Conditions of Release" that he says would allow the use of lie-detector tests in cases such as this.
More like this from vindy.com