Tradition meets technology Whistle & Keg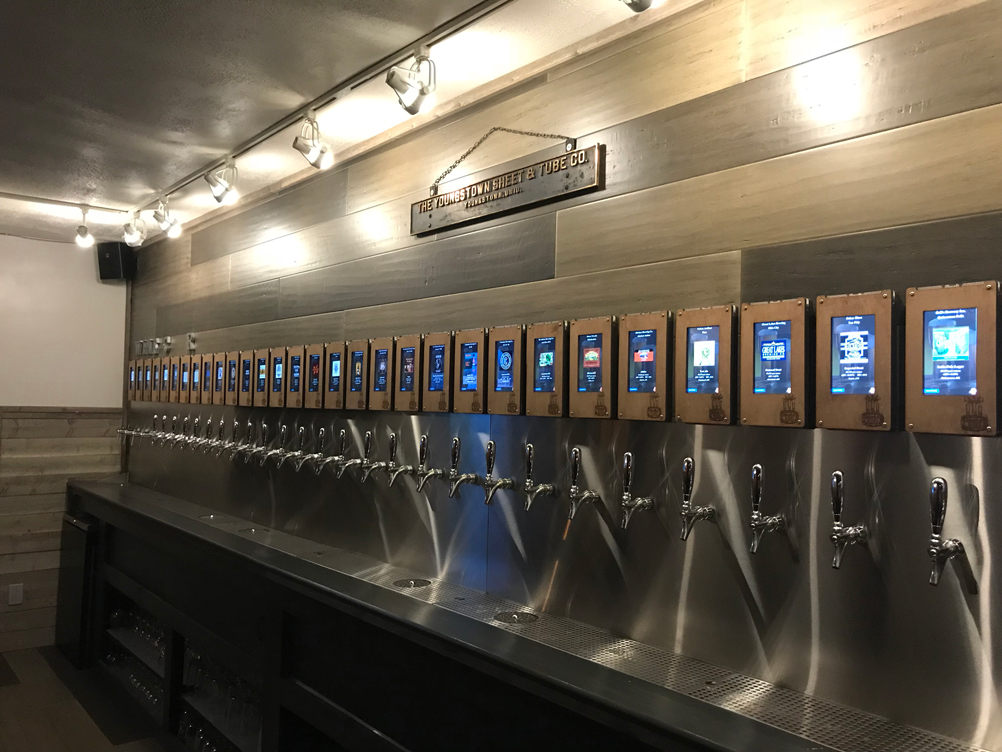 ---
If You Go...
What: Whistle & Keg
Where: 101 W. Federal St., Youngstown
When: Sunday-Wednesday, noon to midnight; Thursday-Saturday, noon to 2 a.m.
Facebook: Facebook.com/whistleandkeg
Walking into Youngstown's Whistle & Keg, craft beer lovers experience classic industrial flare with modern amenities.
A vintage steam whistle and signage from Youngstown Sheet & Tube Co. are on display, as is one of the most modern tap systems in Ohio.
It's a place where tradition meets technology.
Flash back to April. During a trip to the 2017 Masters Tournament in Augusta, Ga., Joe and Mike Thomas visited a self-service taproom. The brothers knew they needed to bring this unique concept to their hometown.
"We offer craft beers that aren't easy to find," Mike said. "Our customers can sample lots of rare beers. They're in control of their experience. That's what makes us unique."
The average customer pour is 3.5 ounces.
"That shows exactly what we were thinking," Mike said. "Craft beer lovers want variety."
Whistle & Keg has 44 taps, including craft beer, wine and cider. Locally sourced, handcrafted soda, tea and lemonade, as well as sharable dips, meat trays and snacks also are available.
Whistle & Keg's beer distributors include Cavalier, Heidelberg, Premier, R.L. Lipton and Superior.
"We get inspiration from our distributors and through research on what's new out there," Mike said. "Some offerings, like Three Floyds' Zombie Dust and Oskar Blues' Death by Coconut, have sold out in as little as a day."
There also are always a few Mahoning Valley breweries' beers on tap. Birdfish Brewing and Noble Creature Cask House beers were available during our visit.
"Our message to the local breweries is to please stop by and see us," Mike said. "We will buy your beer."
Mike is a financial advisor by day, and Joe is a dental rep. The two are involved in other family businesses as well.
Landlord Dr. Bill Begalla, who also had access to signs from various Youngstown Sheet & Tube plants for interior decor, supplied the old whistle.
"When we first blew the whistle, we were shocked at how loud it was," Mike said. "It rumbled the street and blew out our neon sign. We had to tone it down a bit."
VIDEO: Flight Crew visits Whistle & Keg
When the Flight Crew arrived for our visit, a table with snacks and wristbands (you touch your wristband to the tap of the beer you want to drink) was ready for us. We were in control on this mission, but what sounds like a craft beer lover's dream wasn't easy. Where do you start when you have nearly 40 taps of craft beer staring you in the face?
Once we got off the ground, we settled into one of the nicest selections we've been exposed to. Here's what we liked:
Oskar Blues Ten Fidy Imperial Stout (10.5 percent ABV, 65 IBU)
Joe Sanfilippo
"Choices, choices, choices – that's what was running through my head when I walked into Whistle & Keg. Ten Fidy by Oskar Blues in Lyons, Co., stood out for me. This Imperial Stout was loaded with flavor. It had a delicious blend of malt, chocolate and roasted barley, and it was very smooth. See if it stands out for you."
Noble Creatures Doobles Session IPA (5.0 percent ABV, 50 IBU)
Jim Cyphert
"I got to be part of history. I reviewed beer from the first keg ever sold by Youngstown's Noble Creature Cask House. We'd already sampled Doobles – we'd stopped by to say hi to Ira and Marcy and got a taste straight from the bright tank. This one's described as 'a crushable, juicy session IPA with loads of tropical, fruity and citrusy hops.' It's like Ira brewed it just for me!"
Odd Side Ales Bean Flicker Blonde (4.5 percent ABV, 21 IBU)
Jason Jugenheimer
"If you closed your eyes and soaked in the aroma and flavors of this beer, you might think you were enjoying a light Stout or a carbonated cold-brewed coffee. The Bean Flicker is neither. This slightly golden Ale is light and refreshing with coffee flavors, a hint of chocolate and just a little spice on the palate. It's smooth drinking with no lingering bitterness in the aftertaste. Bean Flicker is a unique beer that drinks well on a warm afternoon or a chilly evening by the fire."
Victory DirtWolf Double IPA (8.7 percent ABV, 60 to 70 IBU)
Roger Gillespie
"With so many choices, I finally settled in with DirtWolf Double IPA. DirtWolf comes to us from Victory Brewing in Downingtown, Pa., and delivers a not-so-subtle ABV of 8.7 percent. This 'Dangerously Satisfying!' brew is loaded with Mosaic, Citra and Chinook hops, giving it an intense aroma and an earthy flavor. All of this delivered on nitro made this an easy choice."
New Holland Dragon's Milk Double Imperial Stout (11 percent ABV)
Brian Long
"It was a tough decision with what we encountered, but I had to go with the Dragon's Milk, an American Double Imperial Stout from New Holland Brewing out of Michigan. With a slight chill in the air, this was just what I needed. This 'bad boy,' with a hefty 11 percent ABV, has a lot going on – a perfect balance of malts, caramel, coffee and bourbon, yet drinks as smooth as silk. A side note: It warms you up rather quickly."
BrewDog Elvis Juice (6.5 percent ABV, 40 IBU)
Dave Shively
"With nearly 40 beers on tap, I found myself gravitating back to Elvis Juice from BrewDog. This beer comes from a brewery across the pond in Scotland. However, it's actually brewed in Columbus. It smelled like a freshly peeled red grapefruit and poured out hazy orange in color. The balance on this American IPA is what sets it apart. It's a perfect combination of fruit and hops. I guess you can say, 'I Can't Help Falling in Love' with Elvis Juice."
Our counsel: Don't hesitate to get over to Whistle & Keg and create your own unique craft beer experience.
More like this from vindy.com