Poland grad shares real-life "Wonder" experience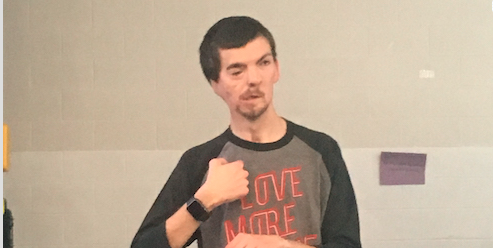 ---
POLAND
"I am Auggie Pullman," dozens of people proclaim in a video made by the Children's Craniofacial Association.
Auggie Pullman is the protagonist of "Wonder," a book by R.J. Palacio that has been adapted into a film starring Julia Roberts, Owen Wilson and Jacob Tremblay. "Wonder" tells the story of a young boy living with a craniofacial difference, which, according to CCA, refers to an abnormality of the face and/or head.
Fifth- through eighth-grade Poland students have been reading the book in class. Teachers and guidance counselors are using the book to combat bullying.
"Despite our differences, we need to be kind to one another," English teacher Lori Moncilovich said. "The fact that we are all different and unique is something that should be celebrated."
On Tuesday, the school hosted an "Auggie Pullman" of its own: Freddie Seitz, 25, a 2011 Poland Seminary High School graduate. He, his mother, Rose, and brother Robbie shared their experiences of living with Freddie's craniofacial difference. The family also will visit South Range schools next week after students there view the "Wonder" movie.
Within the first five years of his life, Freddie had 19 surgeries. In all, he's had more than 50. As his mother explained, children with craniofacial conditions often require surgeries to help them breathe and eat.
Rose said that her son first began to notice he was different when he was in the second grade. Freddie recalled, too, how he sometimes was bullied or stared at by his classmates.
Something that helped him cope was participating in CCA beginning at a young age, which allowed him to see there were many other people just like him.
Freddie also answered questions from students. Seventh-grade student Evan Stefancin asked if people were mean to him or if they ever act differently around him.
Freddie recalled one example from sixth grade, when another student continuously stared at him.
"He was looking at me like there was something wrong with me," Freddie said in sign language, interpreted by Rose.
He recalled a college classmate who refused to acknowledge him.
"Like I was a ghost," he said. "There was no reason for anyone to do that to anyone, just because I have a different face."
As an adult, he's come to accept himself for who he is and isn't bothered by how his face looks or what anyone else thinks of him.
His facial difference has not stopped him from living his life, either. He went to prom. He graduated from Poland, then attended a selective technology program. He traveled by himself to Croatia. He recently graduated from the University of Akron with a bachelor of science degree in electrical engineering, and now is looking for a job. He has a girlfriend, who also has a craniofacial difference.
"It's a fact that I have a facial difference. But my perspective is, I don't judge people, and it doesn't really bother me or make a difference to me," he said. "That's it. It's who I am."
More like this from vindy.com