YBI chosen as first US site for new additive technology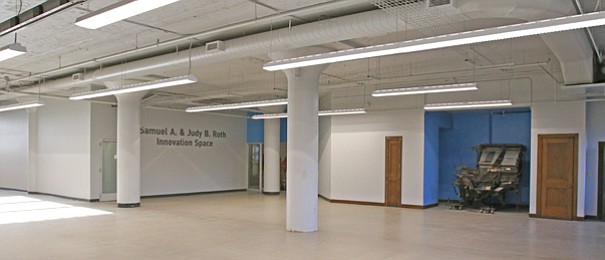 ---
By KALEA HALL
khall@vindy.com
YOUNGSTOWN
A connection that began in Israel has led Youngstown to be selected as the first U.S. city to house a transformative piece of additive manufacturing equipment.
The Youngstown Business Incubator is the first customer site for XJet Ltd., an Israel-based additive manufacturing company. XJet will locate here its Carmel 1400 additive manufacturing system, which features the patented NanoParticle Jetting technology for the production of metal or ceramic parts through inkjet printing.
"This really affirms Northeast Ohio as a world leader in additive manufacturing," said Barb Ewing, chief executive officer of YBI.
The system will be installed in YBI's new Tech Block Building No. 5 at the corner of Boardman Street and Vindicator Square in January. The system will be utilized for ceramic materials for research and development and parts production. Ceramics have applications in both the aerospace and biomedical industries.
"We have historic strengths in biomedical and aerospace," Ewing said. "We know we can make these companies more competitive."
Though Ewing couldn't say for certain how many new jobs the technology could lead to, she explained it will help companies develop new products and make their existing product line more competitive.
"In many instances, it keeps their doors open," Ewing said. "In some instances, it means they do hire more employees."
Ceramics is the next wave of additive manufacturing material. First, there were plastics and then metals and now ceramics.
Ewing and Brett Conner, director of of the Advanced Manufacturing Research Center and associate professor of mechanical and industrial engineering at Youngstown State University, met with XJet when they went to Israel in January for a trip sponsored by the Youngstown Jewish Federation and the Thomas Family Federation.
"They [XJet] became very impressed with the resources we had," Ewing said. "It just became a natural partnership."
XJet is a fairly new company formed by Hanan Gothait, an inkjet printing industry veteran. XJet says its Carmel product line is redefining the industry because it "allows manufacturers to produce ceramic or metal parts with complex geometries with the ease and versatility of inkjet printing."
"Their technology is very exciting," Conner said. "You get exceptionally precise control. There's nothing like this in the Americas."
The technology is expected to bring in companies from all over the world, which will bring in revenue for YBI and its partners because they will pay to use the system.
"The Youngstown Business Incubator is an ideal first customer in North America," said Gothait, CEO and founder of XJet. "Ohio has a very rich history of traditional manufacturing, and YBI is positioned at the vanguard of new manufacturing technologies and techniques that will drive manufacturing in the 21st century."
The project was made possible with the support of JobsOhio, a private, nonprofit corporation that promotes job creation and economic development in the state.
More like this from vindy.com