Operation Christmas Child seeks to give 12 million gift-filled shoeboxes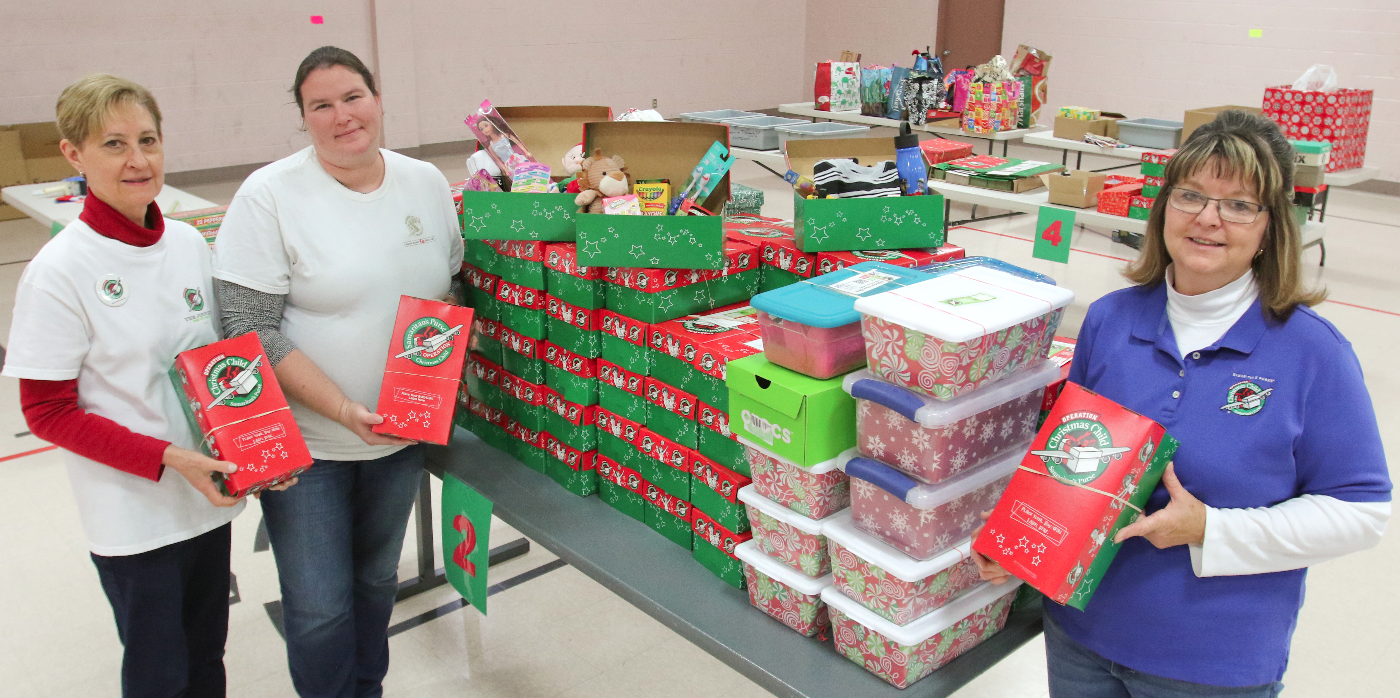 ---
By Kalea Hall
AUSTINTOWN
Crayons, a stuffed animal and a slinky.
The child who opens this particular Operation Christmas Child shoebox was meant to receive these gifts.
That's what the volunteers at Tabernacle Evangelical Presbyterian Church on South Raccoon Road in Austintown believe.
"Our word for this season of collection is 'believe,'" said Penny Huffman, Operation Christmas Child coordinator for the church. "We believe that God knows the child you are packing for."
Through Monday, volunteers at the local church will accept gift-filled shoeboxes and prepare them to deliver to children in need overseas for the yearly Operation Christmas Child shoebox drop-off week.
Here's how it works: Find a shoebox, pick an age range to buy for, buy gifts to fill the box and drop off the box at an area drop-off location.
The items inside the boxes are more than tangible gifts – they provide a feeling of love for the children. Often, the box is the first gift they have ever received.
Operation Christmas Child exists "to show God's love through a simple message of a shoebox," Huffman said.
Since 1993, Operation Christmas Child, a Samaritan's Purse project, has collected and delivered more than 146 million shoebox gifts to children in more than 160 countries and territories. Last year, about 11.5 million shoebox gifts were collected worldwide, with more than 9.1 million collected in the U.S. This year, Operation Christmas Child hopes to collect 12 million gift-filled shoeboxes for children in countries such as Peru, the Philippines, Rwanda and Ukraine.
The shoebox effort has more 500,000 volunteers worldwide. At Tabernacle, there are 12.
"It was my opportunity to continue helping others and spreading God's love," volunteer Nancy Bare said.
Tabernacle Evangelical is a part of a five-county district effort to collect 21,001 shoeboxes.
That one box is "to emphasize the importance of one box for whom it can make an eternal difference," Bare explained.
Inside the drop-off center at the church, it's like Christmas morning for volunteers packing, prepping the boxes and praying over them.
"It's kind of an excitement just anticipating who's going to get the box," Bare said. "It sets up a season of giving for people."
More like this from vindy.com