New initiative Opioid Network lobbies legislators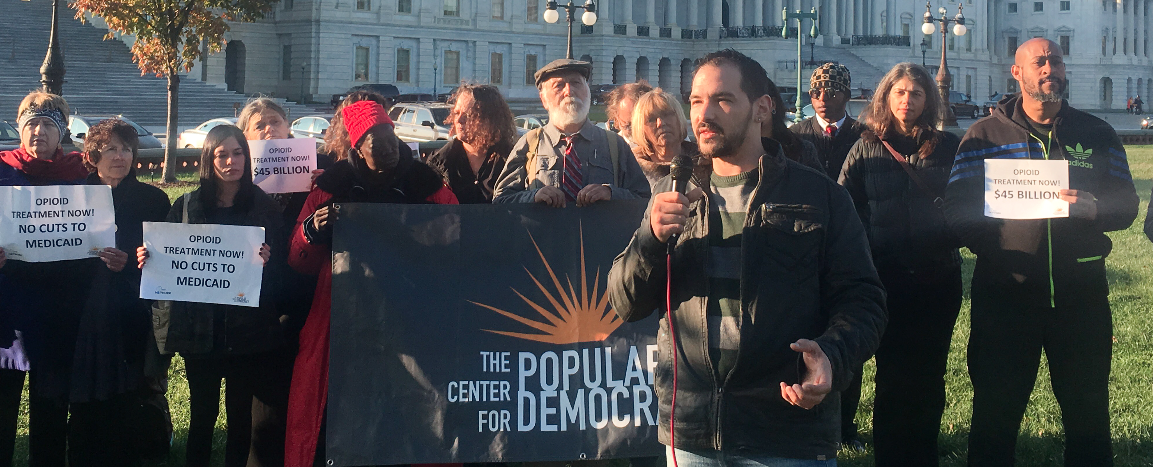 ---
WASHINGTON
Standing in the marble-floored hallway of a U.S. Senate building, Don LoGiudice of Boardman recalled the morning he found his son, Donny, dead from a drug overdose.
He described the way his son sat slumped over in his bed and the look of horror on Donny's face that he will never forget.
Two and a half years since that tragic morning in April 2015, LoGiudice brought his fight against the opioid epidemic to Congress.
VIDEO: Valley locals visit D.C. to oppose addiction treatment cuts
He was among several dozen people who visited Capitol Hill on Monday as part of a new initiative called the Opioid Network. The network brings together community-organizing groups from across the country. Monday's event drew participants from Delaware, New Hampshire, Alaska, Vermont, New York, Indiana and other locations. Numerous Ohioans attended, including six from the Youngstown area. Participating groups included Valley Voices United for Change and Ohio Change Addiction Now.
The purpose of the event was to lobby members of Congress on several points. The network is asking senators to support the Alexander-Murray bill, which was introduced last month by Sens. Lamar Alexander, R-Tenn., and Patty Murray, D-Wash. The bill would fund for two more years subsidies to insurance companies that were allowed under the Affordable Care Act.
The group also is asking Congress to include $45 billion in funding for opioid treatment in the bill and not to support any tax-code changes that would reduce funding for programs such as Medicaid.
The network also supports public health policies such as providing drug users with safe injection sites, syringe exchanges and increased access to overdose-reversal medication.
"The opioid epidemic is the public health crisis of our time," said Jennifer Flynn Walker, Opioid Network coordinator and director of mobilization and advocacy for the Center for Popular Democracy.
She said that while CPD advocated across the country in support of the ACA, the group often heard from people that the health care program is important to them because it's helped loved ones get substance-abuse treatment.
"We saw that it needed an organizing response," Flynn Walker said.
Monday's event marked the Opioid Network's first event, with plans for another one next month.
The effort drew people in recovery, others who have a loved one who is addicted or dead because of opioids, and others with different connections to the issue.
The day began at Senate Majority Leader Mitch McConnell's office. The group streamed into the Kentucky Republican's office, brandishing protest signs. As staff members in the office ignored them and called security, the group rotated between speakers who told their personal stories about opioids, the rest of the group repeating the stories in unison.
They did the same at the office of Sen. Todd Young, R-Ind.
"I lost my son, Donald, at age 28 to tainted heroin," LoGiudice shared. "He had no help. If he did, he might be alive today, and I wouldn't be here."
"I'm a personal story of what Medicaid does for people in addiction," said Phil Krauss, 35, of Boardman. Krauss abused heroin for more than a decade and now has been in recovery for nearly three years.
"I'm alive today and so many aren't. I knew Donald. If he had the care he needed, he might be with us today," Krauss said. "I will continue to be a voice and lift the stigma off this crisis. I'm a survivor and I will continue to fight."
The Opioid Network also conducted meetings with staff members from several senators' offices, including Ohio Sens. Rob Portman and Sherrod Brown.
A spokeswoman for Portman said the Republican senator supports the proposal for $45 billion in additional funding for opioid treatment and supports the concept of the Alexander-Murray bill but "believes more must be done to lower health care costs in the proposal."
Also among the Ohio participants was Maggie Cook, 16, of East Liverpool.
Cook came as a representative of the Ohio Organizing Collaborative, but the teenager also has a very personal connection to the issue: Both of her parents are addicted to opioids.
"The reason I do all this is because I have parents who have drug problems. I've seen them overdose. Me and my best friend found her stepdad – he overdosed and died," Cook said. "A lot of stuff has happened and it's not OK. We don't have the right resources in East Liverpool."
Cook said the city in Columbiana County does not have adequate rehabilitation or re-entry programs to help people get their lives back on track.
"There needs to be more resources in smaller towns so that we can actually get people to get better and not just put them in jail," Cook said.
LoGiudice said he attended Monday because something has to be done about the drug epidemic.
"Too many drug overdoses are happening," he said. "Too many young people are dying, and I will do whatever I can in my son's honor to try to stop people from killing themselves."
More like this from vindy.com