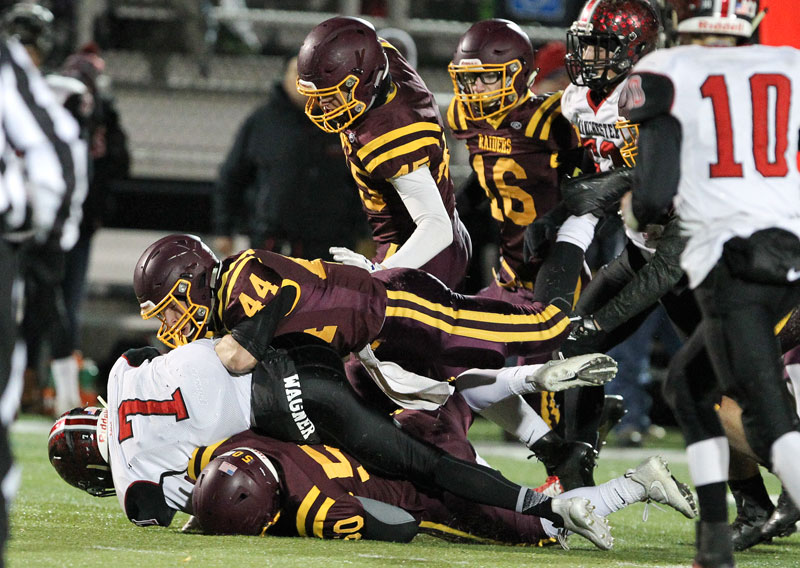 ---
Waid, Remish, Mosora earn top NE Inland honors
Staff report
The Mahoning Valley's passing leader and two of its strongest tacklers have been acknowledged with district Player of the Year honors.
Girard quarterback Mark Waid, South Range linebacker Peyton Remish and Hubbard linebacker Lukas Mosora received top honors in the All-Northeast Inland District football teams announced today.
The teams were voted on by a media panel from the district.
Canfield coach Mike Pavlansky, whose Cardinals are undefeated and will play Akron St. Vincent-St. Mary on Friday in Salem, was named the Div. III Coach of the Year. Girard coach Pat Pearson received the same honor for Div. IV.
Waid, a junior, was voted the Offensive Player of the Year while Mosora, a junior, was named Defensive Player of the Year in Div. IV.
In the regular season, Waid threw for 2,741 yards by completing 156 of 251 passes. He threw 31 touchdown passes and three interceptions as the Indians (10-2) won their first nine games.
Girard finished sixth in Region 13 then defeated third-seeded Lakeview in the first round of the playoffs (33-31). The Indians' season ended Friday with a loss to Perry (50-21).
Waid's top target was Michael Belcik, who made first team as did lineman Haeden Gump. Also for Girard, lineman Jack DelGarbino and linebacker Jamil Bannister made first team for defense.
Mosora's Eagles went 5-5 to finish 15th in the region. He made 102 tackles including 20 for loss. He made five sacks and forced three fumbles.
Remish's varsity season is not over. His Raiders are undefeated and the top seed in Region 17. Friday in Canal Fulton, South Range will play third-seeded Sullivan Black River.
In South Range's first 11 games, Remish made 11 tackles including 26 for loss.
On offense, Remish rushed for 1,312 yards in the regular season, scoring 15 touchdowns. Joining Remish on the first team were teammates quarterback Aniello Buzzacco, wide receiver Mathias Combs and defensive lineman Anthony Czap.
Canfield (12-0) had four players receive first-team honors: quarterback Vinny Fiorenza, linebacker Angelo Petracci and defensive backs Paul French and Paul Breinz.
More like this from vindy.com