Muntean ends Wooster career at the top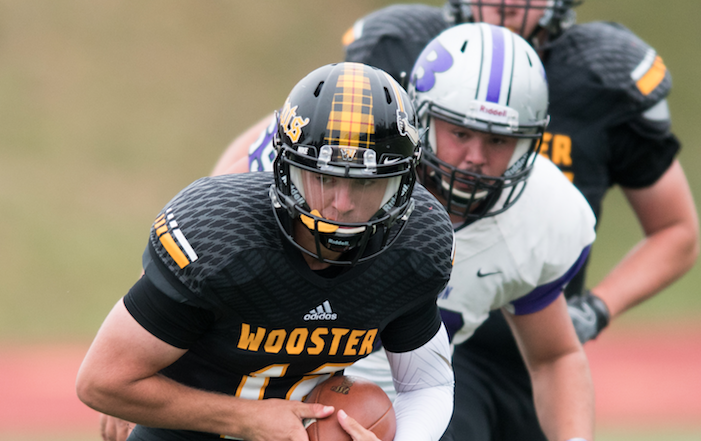 ---
Former Struthers standout statistically best Fighting Scots QB
By Dan Hiner
Gary Muntean always had a chip on his shoulder. The 6-foot-0, 187-pound quarterback was considered a good football player during his years at Struthers High School, but he wasn't a physically imposing prospect.
Now, Muntean is statistically the best quarterback in Wooster College history.
"I think [the chip on my shoulder] drives my game," Muntean said recently. "Knowing that I can play at any level, no matter what people think of me and how tall I am.
"It really doesn't matter," he said. "I'm gonna do the best I can, and believe in my abilities and just prove people wrong."
Wooster head coach Frank Colaprete said Muntean's build led college football teams to shy away. But Colaprete was impressed with his accuracy and his quick throwing motion.
And after Muntean arrived on campus, Colaprete noticed other intangibles that others missed.
"Since he's been here, what he's been amazing at is not only having a feel for the game, but an understanding of what's about to happen," Colaprete said. "He can dissect a defense, know what he sees and know what offensive play was called and know the situation and throw it to the right read."
Muntean solidified his place in the Wooster record books as the Fighting Scots' season came to an end on Saturday.
Muntean's the all-time leader with 8,119 career passing yards and 62 career touchdown passes.
He finished second with 636 career completions, just three completions behind Richard Barnes' record of 639 set in 2014. Muntean's 62 percent career completion percentage set the program record.
Muntean said he doesn't think of the stats and just wants to enjoy the game and continue playing as long as possible.
"It's pretty crazy that a kid from Struthers, Ohio, is gonna be able to leave his mark on a program as special as Wooster," Muntean said. "But that's why I play the game, to leave a mark on whatever I do.
"It is truly special."
He already left his mark on his high school alma mater. Struthers football coach Curt Kuntz credits Muntean with the Wildcats' recent turnaround.
Kuntz took over the program during Muntean's junior season and said Muntean pushed his teammates to get better. He called his former quarterback a "true leader on and off the field" and just wanted to win.
"If he has to hand the ball off 50 times, he doesn't care. He just wants to do whatever it takes to win," Kuntz said. "He is one of the truest competitors I've had the pleasure of being around."
Despite Muntean's height, Kuntz always knew Muntean would succeed at the college level.
"His height kinda hurt him a little bit and we weren't a powerhouse when started playing his sophomore year," Kuntz said. "His junior year was our first winning season in 12 or 15 years, and in his senior year he led us to a 9-2 record. And it kinda got the ball rolling.
"Without a doubt I thought he could play football, play baseball at that level. He was talented in both. When he got to a level where everybody else was talented, I knew he had everything he needed off the field."
Muntean called his final game at Wooster his "last ride." He hopes the record books reflect the impact he had on the Wooster program and the community, similar to his impact during his time at Struthers.
"[I want people to say] 'he gave it everything he got, and left it all out on the field for his teammates each and everyday at practice, every game. And he cherished the time with his teammates and truly left his mark,'" Muntean said.
More like this from vindy.com