YSU vs SIU football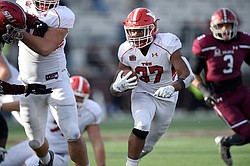 Gallery
By Dan Hiner
With 1:44 remaining, Youngstown State defensive end Justus Reed sacked Southern Illinois quarterback Matt DeSomer and the ball popped loose. Reed picked up the ball and returned it 21 yards for Saturday's game-clinching touchdown in Carbondale, Ill.
Reed's score pushed the Penguins' lead to 28-20 and YSU held on for its second win in as many weeks.
"That was big," YSU head coach Bo Pelini said. "That was a big play by Justus. We played well defensively. There were a couple things here and there, obviously, but we had some short fields that we defended.
Photo Gallery: YSU vs SIU football
"Obviously, Justus made that play in the fourth quarter. Unfortunately it was a lot closer than I think it should have been. But heck, every games a little different and our kids answered when they needed to."
YSU (5-5, 3-4 Missouri Valley Football Conference) had a 21-10 lead in the with three minutes of the third quarter. But Southern Illinois scored 10 unanswered points to cut the lead to 21-20 with 9:21 left to play.
DeSomer caused some problems for the Penguins on the ground. He ran for 140 yards and two touchdowns on 19 carries. But the Penguins held DeSomer to 6 of 19 passing for 81 yards.
Tevin McCaster ran for a game-high 158 yards on 26 carries and a touchdown for the Penguins. It was McCaster's second-highest rushing total for the year. He ran for 183 against South Dakota State.
YSU's receivers Damoun Patterson and Stefan Derrick combined for 11 receptions for 162 yards. Patterson had four catches for 82 yards and two touchdowns, including a 48-yard touchdown for YSU's first touchdown in the second quarter.
YSU used two quarterbacks during the game. Hunter Wells completed 11 of 23 passes for 160 yards and two touchdowns. Ricky Davis was 2 of 4 for 24 yars and carried the ball eight times for 28 yards.
"We don't throw the ball like some of these teams where they throw it all over the place, but we've been pretty efficient," Pelini said. "When we have to, they make plays, and I thought they did today. I thought Stefan had a heck of a game. I thought Damoun, obviously made some plays but he had a couple he'd want back. Kevin Rader had a couple big catches, Avlin Bailey you know — we had a couple guys step up and make plays for us. And I thought the quarterbacks both played well."
Wells was also intercepted early in the third quarter by Southern Illinois cornerback Craig James.
Wells' interception was only one of four YSU turnovers. Pelini said the team could have played better and thought the turnovers "came in waves" after taking care of the ball most of the season.
"It was one of those games where we dominated the game," Pelini said. "Obviously, we had four turnovers — two of them in the redzone, one of them going into the end zone. The penalites that happened when we took the 11-point lead, we had a 30-yard penalty. We did a lot of things that kept them in the game. We had a chance to put the game away, create some distance, and we didn't."
Pelini said the players still made plays in crucial situations.
One of those players was YSU defensive back DJ Smalls started his first career game. Smalls has played in all 10 games this season. He finished with four tackles and a team-high two pass breakups against the Salukis.
"We were ready for whatever because we were put in those situations all day," Smalls said. "We had to hold it down, and we did."
Smalls said defensive backs coach Richard McNutt had some advice for him before the game.
"He said "just do what I do". I got put in this position for a reason," Smalls said. "He was confident in me, and that helped me get more confiendent in myself. I went out there focused and was ready to play."
Smalls said the win over SIU and last week's win over Indiana State are proof that the players haven't given up.
"It just shows what we're really about," Smalls said. "Even when we were 3-5, we bounced back with Indiana State. We had a tough game here and it just shows how no body gave up. We continue to fight — no matter how it looks, no matter how we start — it's about today. We were 1-0 today."
More like this from vindy.com