VINDICATOR EXCLUSIVE
By ED RUNYAN
runyan@vindy.com
WARREN
Hamad Case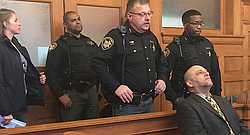 Video
On Oct. 5, 2016, one month before a dispute between Nasser Hamad and his girlfriend's family came to the attention of Howland police through multiple 911 calls, Hamad got a stiff rebuke from a Trumbull County Common Pleas Court magistrate over his behavior toward a former business associate.
On Oct. 5, 2016, one month before a dispute between Nasser Hamad and his girlfriend's family came to the attention of Howland police through multiple 911 calls, Hamad got a stiff rebuke from a Trumbull County Common Pleas Court magistrate over his behavior toward a former business associate.
Magistrate Patrick McCarthy approved a five-year protection order against Hamad that day, ordering him to have no contact with Chris Sullivan of Howland, who requested the order. It appears to have quieted that dispute.
The words McCarthy used to admonish Hamad in 2016 – about four months before the now-infamous Feb. 25 fatal shooting in Howland – were similar to the ones Judge Ronald Rice of common pleas court would use 13 months later as Hamad was sentenced to a minimum of 36 years in prison.
"You did things you shouldn't have done," McCarthy told Hamad in audio recordings of the 2016 hearing obtained by The Vindicator. "I see it in your text messages. You don't take any responsibility for anything. All you want to do is point fingers."
Police records show the dispute involving Hamad and his girlfriend's family began just a few weeks later.
It festered for several more months, culminating in Hamad shooting to death two young men and injuring three others who came to his house on state Route 46 on Feb. 25 to fight him, including his girlfriend's son, Bryce Hendrickson, 19.
Hamad was sentenced to 36 years to life in prison Thursday on two counts of aggravated murder and six counts of attempted aggravated murder. Killed were Joshua Haber, 19, and Joshua Williams, 20. Injured were April Trent-Vokes, 42, Bryce Hendrickson and John Shively, 17.
When handing out the sentence, Judge Rice noted the "juvenile exchange" on social media that led to the fatal confrontation.
"It is unfortunate that after 47 years of dedicating yourself to your family … you allowed such foolishness to reduce you to such a state," the judge said. "Your severe overreaction to the melee from which you escaped is what brought you to this point in life and to this courtroom today."
PAST IS PROLOGUE
The audio recording of the protection-order hearing gives insight into the aggressive and punitive way Hamad, then 47, handled a dispute with someone else he didn't like.
After McCarthy heard evidence in the protection-order case, he described Hamad's many text messages to Sullivan as childish and illegal. One of the magistrate's observations was that Hamad appeared to obsess over minor slights, especially "smirks" Hamad said his adversary had given him.
Evidence at Hamad's murder trial indicated before the shootings, Hamad also noticed what he called a "smirk" on the face of Shively and soon thereafter tackled Shively to the ground, starting a melee. The deadly gunfire followed, with Hamad getting a gun from the house and shooting the five as they prepared to drive away.
At the 2016 protection-order hearing, Hamad protested the magistrate's decision until McCarthy threatened to have Hamad arrested.
"Legally, I'm right," Hamad yelled.
"You want me to bring the deputies up here?"
McCarthy asked.
"Why are you going to bring the deputies up here?" Hamad said.
"You have convinced me more than ever why there needs to be a protection order against you because you're like a 13-year-old who wants to get in fights with somebody who does things you don't like," McCarthy said.
Embroiled anew
Despite McCarthy's words Oct. 5, Hamad became embroiled in a dispute with Brian Hendrickson of Dawson Drive and his sons, Bryce, 19, and Dylan, 18, a short time later. The Hendrickson home was a short distance from Hamad's home.
The Hendrickson dispute came to a boil Nov. 6, 2016. It was over Tracy Hendrickson, 47, leaving her husband, Brian, 47, in late October and becoming friends with Hamad. She would move in with Hamad in early February.
Howland police reports from Nov. 6 say Hamad and Brian Hendrickson called 911 that day on each other. Hamad said he believed the Hendricksons were vandalizing his property. Brian Hendrickson reported hearing Hamad make a threat toward him during a cellphone call between Tracy Hendrickson and one of her sons.
It simmered a few months, then flared up again Feb. 25, when Hamad replied to a post from Bryce Hendrickson on the Warren Buy Sell Trade site on Facebook requesting that someone sell Hendrickson a drug.
Hamad's post said Central District Court in Cortland, where Bryce Hendrickson had a pending DUI charge, would be interested in knowing about Bryce Hendrickson's drug-seeking behavior.
From there, Hamad and Bryce Hendrickson posted more than 80 messages to each other on Facebook. The posts from both sides were filled with vulgar language and threats.
At some point, Bryce's cousin from Florida, John Shively, joined the messaging. Shively and his mother, April Trent-Vokes and Shively's brother, Josh Haber and another brother had moved to Warren 12 days earlier.
About 4 p.m. that day, after Shively showed his mother some of the posts, she took Shively to Hamad's house on state Route 46 in Howland, not far from the Hendricksons' home to confront Hamad about Hamad's posts.
She also took her other son, Haber, and picked up Bryce Hendrickson and a cousin visiting at Bryce's house, Joshua Williams.
The confrontation involved Trent-Vokes yelling at Hamad, a fistfight near Hamad's front door between Hamad and Shively, then the three other males getting out of Trent-Vokes' van and joining the fight. They assaulted Hamad, who then went in the house and got his gun.
The resulting gunfire killed Haber and Williams and badly injured Trent-Vokes and Bryce Hendrickson. Shively had a grazing wound to the back.
earlier dispute
The dispute between Hamad and Sullivan began in early February 2016, not long after Hamad and Sullivan started working together on construction of a jewelry store. Sullivan had hired Hamad, but Sullivan agreed to serve as Hamad's helper. The two men had known each other at Howland High School, Sullivan, 50, testified.
According to a recording of the protection-order hearing and McCarthy's reading of text messages, Hamad texted Sullivan from a drywall supplier Feb. 12 asking Sullivan "where are u?" Hamad said Sullivan was supposed to help him load drywall.
Hamad texted a curse to Sullivan, who replied, "I don't see what your problem is."
From then on, Hamad wrote Sullivan a stream of vulgar and threatening messages. "It's on now, big boy," Hamad said in one.
"To avoid conflict, I will not be around," Sullivan texted Hamad, who replied with more curses and said it was "too late, conflict there till I damage you for life ..."
"I have no idea what you are upset about," Sullivan replied.
Hamad continued to call Sullivan more names and said he would give Sullivan a fight "with a real deal player. It's unavoidable now."
Sullivan responded later: "I don't want to do this. I'm sorry I upset you. You need to let this go."
The messages ceased for a while, but Sullivan got one or more in March, after which he called Howland police to report the messages from Feb. 13.
Howland police asked Hamad to have no further contact with Sullivan. The situation apparently calmed down for several months.
When the messages began again in early September, Sullivan filed for a protection order against Hamad on Sept. 12, 2016. McCarthy had an 80-minute hearing at the courthouse Oct. 5, 2016, and listened to evidence from both men. A large part of the evidence was McCarthy reading aloud text messages from Hamad's phone.
At the end of the hearing, McCarthy ruled Sullivan's complaint was supported by evidence and Hamad was guilty of menacing.
McCarthy said the text messages "clearly and quite unequivocally show you to be the continuing aggressor in making threats of causing serious physical harm against Mr. Sullivan."
McCarthy said the threatening text messages from Hamad began in February, and "you continued to do the text messages in March. You continued to do it with more text messages in September."
'incredibly immature'
McCarthy said to Hamad: "Real men don't solve their arguments by fighting one another. That's for kids in high school.
"You're sending these ridiculous threats to [Sullivan] over text messages, using this foul, childish language that is incredibly immature."
McCarthy told Hamad his actions were an attempt "to intimidate [Sullivan] and make him think you're going to come after him."
Hamad was allowed to question Sullivan at the hearing. He asked Sullivan, "On Sept. 13 ... when you went to the police again and told them that I threatened you, did you drive by my house and smirk?"
"No, never," Sullivan said.
McCarthy later told Hamad he needed to stop making a big deal out of people "smirking."
"I don't care if he is riding by smirking at you,"
McCarthy said. "You can smirk at me all you want. I'm not going to come try to fight you."
McCarthy added, "Let's say he goes by and smirks at you a couple of times, and he's been disrespecting you all this time. You think that somehow justifies you writing to him and making threats of physical harm against him? I don't understand that mentality. It's not the mentality the court is going to condone. You don't make threats of physical harm because someone is making faces at you. That's what little kids do."
The night of the killings, when Hamad told investigators about the harassment he says he took from the Hendricksons over the previous several months, they asked why he didn't file police reports or seek a protection order.
"I try not to make too many police reports," Hamad said. Then he explained that people like Brian Hendrickson and Sullivan get the better end of things than him in that kind of environment because they talk better.
In explaining why he didn't seek a restraining order, Hamad said Sullivan convinced a magistrate to give Sullivan a protection order against him "just because ... I said 'I'll see you later' or similar words."
Hamad suggested that he would rather handle his disputes with people like Brian Hendrickson and Sullivan physically than with words.
"If I got to go fight and s--- like that, I mean, I'll deal with it."
Hamad testified Oct. 27 at his murder trial that when Trent-Vokes and Shively approached him in his front yard Feb. 25, he didn't know who either of them was. Trent-Vokes was yelling at him about "threatening my 17-year-old." Shively, 17, was standing nearby.
"I just had to do something, so I grabbed [Shively] because he had that smirk," Hamad said of a look on Shively's face that Hamad said he noticed as soon as Shively walked up.
"He was up to something. You could tell. His hands were still in his pocket ... so I grabbed him and held one arm ... and threw him in the air, went with him so he could slam pretty hard," Hamad said.
"Before I could get back up, they were all on me," he said of the four males.
While sentencing Hamad, Judge Rice called Hamad's decision to use his gun after being assaulted by the four males a "severe overreaction."
"Mr. Hamad, you had choices that day. You could have blocked their text messages and/or Facebook posts. You could have stayed in your house after the fight. You could have called police," the judge said.
More like this from vindy.com