Ballet Western Reserve takes new approach to holiday show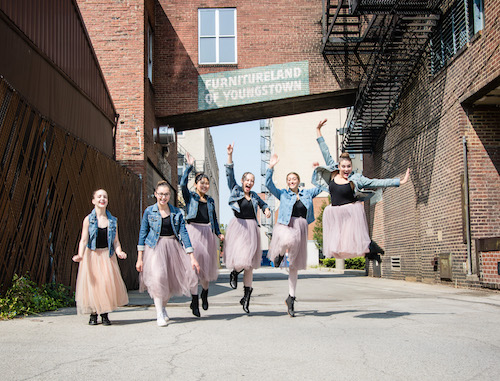 ---
By GUY D'ASTOLFO
YOUNGSTOWN
Area dance fans are in for something new when Ballet Western Reserve presents "Classic to Contemporary: A Holiday Celebration of Dance."
It's a three-part mixed repertory show that starts with an excerpt of the classic comedic ballet "Coppelia," followed by a modern-dance and contemporary ballet segment, and then closing with a holiday revue with a retro vibe.
The annual holiday concert is the showpiece of the BWR season, and it's typically a seasonal favorite such as "The Nutcracker." Last year it was "The Wizard of Oz."
Rachael Palermo, who moved into the long-vacant artistic director chair this summer, gets credit for throwing a curveball.
"Classic to Contemporary" will be performed at 2 and 7 p.m. Saturday at Powers Auditorium downtown, with an additional show for school students Friday.
Each of the three segments will be distinctly different, with different backdrops and set pieces.
The show will start with Act 2 of "Coppelia," which will be given a holiday flavor in its look.
"Coppelia" is about a doll, created by Dr. Coppelius, that is so life-like it could pass for a real person.
"Our scene takes place in Dr. Coppelius' workshop," said Palermo. It features BWR dancer Lexi Burdman as lead dancer.
For the show's second part, Palermo enlisted the Movement Project, a professional modern dance company based in Cleveland.
"They did a residency [at BWR] for a few weeks, and our dancers learned the choreography from them," said Palermo. "They got to learn from a professional dance troupe."
The second part is couched in '80s music and pop culture. "It's fun and light," said Palermo. "We want the audience to be dancing in their seats."
The show will close with a segment titled "Merry and Bright" that was created by Palermo. It's a holiday-themed piece that includes retro music, and a surprise finale. Expect to hear songs by the likes of Billie Holiday, Bing Crosby and Peggy Lee.
"Merry and Bright" has three scenes, each with its own feel. It also has the dancers in some new – but vintage-looking – clothing. "We wanted the costumes to match the music," said Palermo.
Guest dancers from Stage Left Dance Academy of Canfield also appear in the final third of the show.
For tickets, call 330-744-0264 or go to youngstownsymphony.com.
More like this from vindy.com
November 12, 2017 12:04 a.m.