Raiders' defense controls Panthers in rematch
High School Playoffs Week 12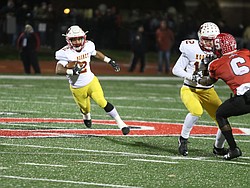 Gallery
By Tom Williams
LOUISVILLE
After Ethan Wright gashed South Range for 172 yards nine weeks ago, the Raiders' mission for the rematch was to contain the Akron Manchester running back.
Mission accomplished.
The Raiders defense stifled the Manchester back, limiting him to 105 yards on 18 carries in rolling to Friday's 34-14 victory in a Division V, Region 17 semifinal at Louisville Leopard Stadium.
Photo Gallery: High School Playoffs Week 12
"We focused on him all week," senior linebacker Peyton Remish said. "He had a big game last time we played them.
"They ran the same stuff, pretty much. It was just basic power football and we shut them down in the trenches."
On offense, the Raiders dominated, rushing for 380 yards on the legs of Remish and senior quarterback Aniello Buzzacco.
"Our defense stepped up and played well, [holding] them to 14 points," South Range coach Dan Yeagley said.
In the first game, South Range won 42-36, rebounding from a 24-7 deficit. This time, South Range never trailed.
"We had to control the offensive and defensive line," Yeagley said. "That was our goal. Last time we played them could have been improved on. We did a better job up front."
After the Raiders forced a three-and-out, Buzzacco sparked a 70-yard drive with runs of 17 and 38 yards, setting up Remish for a 2-yard score and 7-0 lead.
The advantage lasted just 10 seconds as A.J. Johnson returned the ensuing kick 67 yards for a tie game.
The Raiders (12-0) weren't fazed. Four offensive plays later, Buzzacco escaped for a 55-yard touchdown and 14-7 lead.
"They were really keying on Remish, which really helped me open up my running game," said Buzzacco, who rushed for 234 yards on 21 carries. "The line really just blocked everyone and opened up the holes for me. With everybody following Remish, it made it easy to make some nice runs."
Creating the blocks were Matt Brooks, Brian Robinson, Jordan Lowery, Christian Maust, Tyler Dolak, Ryan Davenport and Jacob Gehring,
"It's a great feeling, knowing that we're talented enough to make these big plays right off the bat," Buzzacco said,
The Raiders scored again early in the second quarter with Buzzacco hitting Brennan Toy for a 15-yard touchdown and 21-7 edge.
The Panthers (9-3) responded with a 67-yard drive capped by Wright catching an 18-yard pass from quarterback JoJo France.
The Raiders opened the second half with another long drive, moving 75 yards on nine plays. Remish scored from the 3 for a 28-14 lead.
In the fourth quarter, Remish scored again, this time a 66-yard run that erased the Panthers' hopes for a rally.
"It fell real good," Remish said. "Our offensive line did a great job all night. "We said we had to win the battle in the trenches and that's exactly what we did."
Remish ran for 146 yards.
The Raiders' defense limited the Panthers to 110 yards rushing and 98 passing.
"We knew what was coming, we knew how good they were," said Remish of playing a second time. "It helped a lot."
South Range will play Sullivan Black River on Friday night for a trip to a state semifinal. The site will be announced Sunday.
Yeagley said South Range played Black River 18 years ago.
"I'm very proud of how [we] fought," Yeagley said. "You beat a very good team like Akron Manchester twice in one season, that's just unheard of.
"The first time around, we made some mistakes," said Yeagley, calling Wright "phenomenal". "We keyed on him more — he's for real.
"He got hit a lot tonight. That's the guy who got them here and I don't blame them. I would have done the same thing. Our defense stepped up."
More like this from vindy.com