Girard's run ends against powerful Perry
High School Playoffs Week 12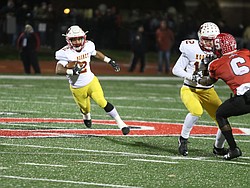 Gallery
By BOB ETTINGER
TWINSBURG
Perry quarterback Kolston Brewster has made a habit of dissecting defenses for the better part of two seasons.
The senior continued to build upon his legend in tying his own school record for touchdown passes in a game as he led the Pirates past Girard, 50-21, in a Division IV, Region 13 regional semifinal at Tiger Stadium on Friday night.
Brewster was key when it mattered — on third downs — and threw six touchdown passes in the victory.
Photo Gallery: High School Playoffs Week 12
"It was just a matter of matchups," Perry coach Matt Rosati said. "We were able to get them into some situations where it was going to be difficult to cover our guys. We've been saying all along we've got some pretty skilled guys. For people to match up with them man to man is pretty tough. We were fortunate. Kolston made some great throws and our guys were able to catch it and put it in the end zone."
The Indians (10-2) fell short in their return to the playoffs after two rough seasons.
"I'm so proud of our senior group," Girard coach Pat Pearson said. "They came in as a playoff group as freshmen and leave as a playoff group as seniors. We've battled the last two years. It's been a heck of a fall. We fell short in a couple games, but that's what it is. I'm so proud of these guys. I told the seniors they've brought Girard football back. ... They're part of our family for life."
Perry (12-0), seeded second, will battle top-seeded Steubenville (12-0) on Friday night for a spot in the Final Four where the matched up a season ago.
"We've been looking ahead to that matchup for 350 days," Rosati said. "That's all we've talked about. It's all we've gameplanned for. Our entire summer was spent to matching up with them again. As soon as we knew they were in our region, that's all we talked about. We knew we were going to play them again. This is what we waited for. Last year in the Final Four, they physically abused us so this is what we've waited for. This is what we've worked so hard for. We're glad we've got another matchup."
Brewster was 16 of 20 for 370 yards to go with the six scores. Jacob Allen caught five passes for 123 yards and three scores. Jaylen Anderson caught three passes for 107 yards and a touchdown and Jacob Peteritis had three catches for 104 yards and a touchdwon. Josh Martin added a score of his own and Tyler Horvath rushed for the other touchdown for the Pirates.
"It wasn't holes [in the defense], we were almost on every one," Pearson said. "It wasn't our night. Their kids made plays and our kids played with as much heart, as much character as you want. At the end of the day, they made more plays than we did."
Mark Waid was 32 of 51 for 373 yards with three touchdowns. Michael Belcik finished with two touchdowns and 153 yards on 11 receptions while Aidan Warga also had 11 catches for 76 yards. Nick Malito scored the other touchdown for the Indians.
"Our offense, at times, looked really good," Pearson said.
"Their defense, at times, was able to make some pressure and sometimes the pressure got home. We made some big plays on defense. A couple third downs, if we make plays, we might have turned things around, but at the end of the day our kids played like Girard Indians. They played with class and character. We're proud of them. [Perry] just made more plays than we did tonight."
More like this from vindy.com