East's JROTC honors veterans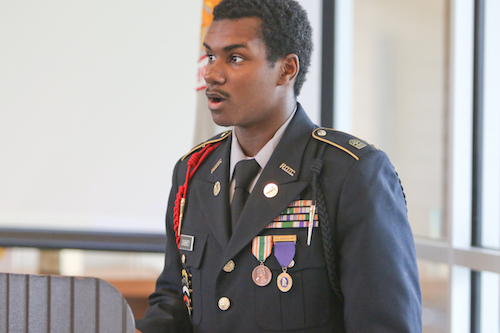 ---
YOUNGSTOWN
East High's JROTC cadets showed their patriotic pride in a Veterans Day ceremony in East's library Friday morning.
Retired Army Master Sgt. Douglas Moon, East Junior Reserve Officer Training Corps instructor, said Veterans Day events help educate students about the value of a soldier.
"We are teaching the youth the importance of Veterans Day and why we should honor veterans for their dedication and sacrifices," Moon said. "They need to understand that life's not free and someday they may be asked to make the ultimate sacrifice."
Retired Army Maj. Brian Dugan, East JROTC senior instructor, said he enjoys seeing his cadets showcase such a great program.
"We have a lot of great cadets who are very motivated," Dugan said. "We tell the cadets, 'This is their program and we are just here to provide guidance.' It sets them up for success by giving them the tools to be successful after high school."
Parents and students echoed both sergeants' sentiments.
"It's nice being a part of JROTC because we get to honor America," said JROTC student Antowin Dabney.
Ray Horace, former Marine and parent of cadet Daviana Flanagan, said he couldn't be prouder of his daughter choosing to follow in his footsteps.
"I didn't even expect her to join the JROTC," he said. "When I would talk about the military at home, I would keep it at a minimum because I don't want what I've done to influence my children's decisions, but I'm more than happy to come and support her in this every chance I get."
Tylend Lewis, another JROTC student, said he just loves being a part of such a strong program and learning about the pride he should have for his country.
"We try to get [students] to understand their ability to lay their heads on their pillows each night comes at a sacrifice," Dugan said. "Every day, someone's out there. When it's raining and cold, someone's out there guarding this nation."
More like this from vindy.com
November 11, 2017 12:09 a.m.