Gruber-led Mooney rally falls short against Big Red
High School Playoffs Week 12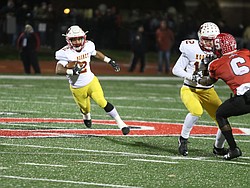 Gallery
By Dan Hiner
Salem
The Cardinal Mooney football team committed penalties and turned the ball over during crucial drives in the second quarter in its 19-14 loss to Steubenville in a Division IV, Region 13 semifinal Friday night at Reilly Stadium.
The Cardinals scored first, but The Big Red scored 19 unanswered points to put the game out of reach in the first half.
Photo Gallery: High School Playoffs Week 12
"We kinda thought we had it once we scored," Mooney quarterback Antonio Page said. "We [thought] we were just gonna go up by a lot of points. That really didn't seem to happen."
The Cardinals had Page after the coaching staff ruled him "day to day" because of a torn meniscus in his knee.
Page ran for 38 yards on 16 carries and was held to 18 yards on 4-of-11 passing.
The Cardinals fumble twice in the second quarter and committed several penalties which ended drives.
Steubenville (12-0) capitalized on its chances in the second quarter. The Big Red jumped out to a 19-7 lead by the end of the first half. Steubenville running back Jacob Bernard scored twice in the final six minutes and quarterback Javon Davis found Dajuan Jones for a 12-yard touchdown pass.
Bernard finished with a game-high 186 yards rushing on 37 carries. Davis had 48 yards on 4 for 11 passing.
Mooney had success getting to the corner on outside runs in the first half, but Steubenville made adjustments and shut down the Cardinals' run game in the third quarter.
The Cardinals (7-5) attempted a comeback in the final three minutes but Mooney struggled to protect Page. The drive stalled at the Cardinals' 48-yard line.
Mooney head coach P.J. Fecko said the comeback against the top-seeded team in the region should define the senior class and the team as a whole, even though the Cardinals lost.
"I think the lesson is our guys really battled and really fought hard with a great amount of determination," Fecko said.
"It's a life lesson. They'll understand what hard work will do for them, and just keep plugging away. And that's what you need to do in the game of life. These young men have represented themselves so well, they've matured so well over the course of the season. They're gonna have a lot of success in their lives in the future."
The Cardinals' defense caused a few turnovers themselves. Mooney recovered three fumbles and intercepted a pass on Steubenville's first drive.
"I think our defense played well all night," Fecko said. "They were put in some pretty horrendous situations with turnovers, but not only turnovers, but in our own territory. I think we had three in our own territory in the first half, and two led to scores. You can't turn the ball over, especially in your own territory against a team like Steubenvile or you put yourself in a really difficult situation."
Chris Gruber provided several big plays including an 80-yard touchdown run in the first quarter to give Moody its only lead of the game. He also scored on a 30-yard run with 6:15 remaining to cut the Big Red lead to 19-14. He finished with a team-high 157 yards rushing and two touchdowns on 11 carries.
Gruber credited Steubenville for a physical game, but felt Mooney had a missed multiple chances. He made a vow after the Cardinals' season officially came to an end.
"We'll come back next year, and hopefully we'll win state," Gruber said. "That's a promise."
Steubenville will play Perry in the regional final on Friday at 7:30 p.m..
More like this from vindy.com