Paul Breinz' two TDs lead Canfield past NDCL
High School Playoffs Week 12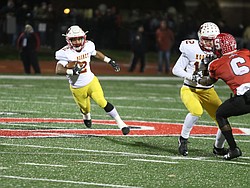 Gallery
By Brian Dzenis
WARREN
Chardon Notre Dame-Cathedral Latin brought its two-quarterback option system to Warren Harding's Mollenkopf Stadium Friday night, but Canfield turned out to be more versatile side.
Photo Gallery: High School Playoffs Week 12
The Cardinals used creativity and guts to beat the Lions, 22-7, to a Division III, Region 9 semifinal. Akron St. Vincent-St. Mary is next in a regional final at a site to be announced.
Numbers don't quite tell the whole story of Paul Breinz's 174 rushing yards and two touchdowns. If you ask Canfield coach Mike Pavlansky, numbers don't adequately explain his season.
"Paul Breinz is a heck of a running back, there's no doubt about that. He's also the most unselfish kid on the team," Pavlansky said. "He could be a tailback full-time, but he's only had about 100 carries in 10 ball games. When you're a starting tailback, you expect more.
"Tonight showed that when the game is on the line, you want the ball in his hands."
The reason he's a part-time back is because he also gets reps on defense. Against the Lions, he was getting reps at quarterback. Starter Vinny Fiorenza would go out wide as a receiver and it drove the Lions nuts. With Fiorenza acting as a decoy, Breinz was able to gain huge chunks of yards to set up two fourth-quarter touchdowns to put the game away.
"Our quarterback, he's a stud. He can play any position on that field and him being in the slot takes a lot of pressure off me," Breinz said. "When they're out there double-covering him and me throwing the ball to him, it opens things up for me."
Canfield (12-0) seized the momentum early. Tyler Dobrindt intercepted NDCL's first pass of the game to put the Cardinals at midfield for their first offensive series. The Cardinals promptly marched down the field and Breinz punched in a 1-yard touchdown run.
Pavlansky said that in the days leading up to the game, he told his team that if he saw NDCL line up a certain way on extra points, an extra two points could be had. It took only one attempt for Nick Ieraci to prove that theory correct.
"When they had all their guys on the line, I knew they were coming after [the kick]," Ieraci said. "I knew the outside would be there and I just tried to go in,"
Ieraci, the holder on the play, and kicker Sam Accordino sold the fake well and the senior trucked an NCDL defender at the goal line to get two points.
NDCL (9-3) got on the board in the second quarter when tailback Josh Peroni broke a 78-yard touchdown run. It was the first points conceded by Canfield in three games and Peroni's TD was the only low point in what was another stellar performance from the Cardinals' defense. Tyler Stein collected a sack, Dominick Galonese recovered a fumble and Will Dawson added an interception in the win.
Pavlansky said his defense was the same regardless of whether Lions senior Charles Forbes or junior Nick Gattozzi was under center. The pair combined for -5 yards and a pick in the first half and didn't get much better. Forbes finished with 41 passing yards and two interceptions and Gattozzi rushed for 15 yards and had six passing yards. Peroni rushed for 110 yards in 15 carries.
In the fourth quarter, Breinz had a 53-yard run to set up his 5-yard score. Working out of the shotgun, Breinz had a 41-yard run to put the Cardinals in the red zone in the game's final minutes.
"My o-line, I can't believe how great of a job they did. They're opening holes for me and they trust me and we trust them, it's just unbelievable," Breinz said. "I'm just speechless. I can't process it all right now."
Fiorenza ran 8 yards to the end zone, but lost the ball at the goal line. Wideout Matt Zaremski recovered the fumble in the end zone.
Dawson's interception on the ensuing NDCL drive sealed the win.
More like this from vindy.com
November 11, 2017 12:10 a.m.